About Us
At müv, we make the experience enjoyable by providing reliable moving and storage services tailored to your needs.
Get Your Moving Quote
"*" indicates required fields
Committed to providing a better customer experience and transparent pricing through the use of cutting-edge technology, müv was established in 2015. Our reputation has quickly earned us the title of Top 10 Relocation Service Provider, according to Yelp. And we maintain a high satisfaction rating among customers throughout Florida. We also attribute our success to the expertise of our highly trained and thoroughly screened professional moving team, and seamless operations model – placing customer satisfaction at the forefront of everything we do.
Dedicated to completing every job to the highest standards of quality, we pride ourselves on having high customer return rates as well as significantly lower than average damage claims. Safely moving your belongings is important to us. That's why we've invested in all-new state-of-the-art equipment and truck fleets equipped with leading technology to protect your items while reducing our carbon footprint.
Regardless of your unique needs, müv has you covered with our complete moving services, including:
Business Logistics and Consulting
We believe in giving back to the communities we serve
We have a tradition of corporate giving at müv that is inspired by making a difference in our communities by providing food and shelter to people and animals in need. We work with community-based partners like Snack Patrol, to help provide food for the homeless, donate to area animal shelters, and hold food drives throughout the year. At müv, we're committed to improving the communities we serve through corporate giving, a goal that moves us daily.
Experience a safe and simple move with experienced Florida movers by your side
Be sure to reach out to us at müv and let us know your unique moving needs. Rest assured that our trained moving experts will have the best moving and storage solution ready for moving day.
Few simple steps
Contact our business
Reach out to our Florida movers by phone, email or through our website.
Get your free quote
Give müv the details of your upcoming relocation and receive a no-obligation moving quote and a tailored plan of action.
Enjoy your relocation
Forget about the stress of moving while one of the top moving companies in Florida handles your move.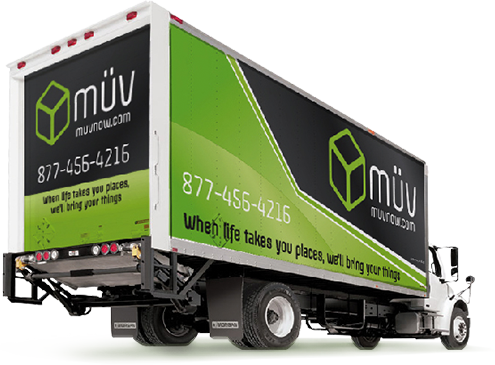 Sales Center Hours of Operation:
Monday - Friday: 9am-6pm
Saturday: 9am-1pm