What To Expect
Get Your Moving Quote
"*" indicates required fields
The team at müv has used its years of experience to gather some useful pieces of information you can use to organize your upcoming move. Contact us directly with your questions and comments and let us make you a relocation plan.
Make plans for small children & pets
Keep in mind that your movers will need to be able to leave the front door open to load and unload your belongings – making it easy for small children and pets to escape outside. We highly recommend hiring a babysitter, daycare, family member, or friend to watch your small children during your move and find a secure place for your pets like a crate or pet sitter.
Measure & prepare your furniture
More often than not, your professional movers won't have any issues moving your furniture out of your home or office. However, please make sure to measure your larger belongings like couches and television stands to make sure they'll fit through your door or a large window. If you need your furniture disassembled or reassembled, our movers come equipped with basic tools including a Phillips and flathead screwdriver, standard size Allen wrench, and pliers. If your furniture requires a special tool outside of what we offer, it will be your responsibility to provide it to us before we can disassemble or reassemble your items.
Televisions & mattresses
We require televisions to be placed in a television box to prevent any damage from occurring. Mattresses and box springs must be placed in a mattress and box spring bag to maintain hygienic standards. If you don't have your original television box for moving or a mattress and box spring bag, we have them for purchase for your convenience.
Reserve your elevator
Most management companies don't allow multiple moves to take place during the same time. Therefore, if you have an elevator that we'll need to use during your move, please make the necessary reservation arrangements before moving day. We suggest asking for the exclusive use of it for the entire duration of your move.
Get in touch with dedicated Central Florida movers
Whether you are moving your entire two-story house or small apartment, there is much work to do. Choose reliable and trustworthy Florida movers who can organize the whole process from start to finish. Contact us by phone, e-mail, or through our contact form.
Few simple steps
Contact our business
Reach out to our Florida movers by phone, email or through our website.
Get your free quote
Give müv the details of your upcoming relocation and receive a no-obligation moving quote and a tailored plan of action.
Enjoy your relocation
Forget about the stress of moving while one of the top moving companies in Florida handles your move.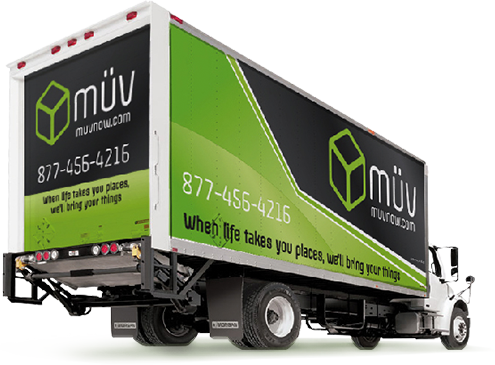 Sales Center Hours of Operation:
Monday - Friday: 9am-6pm
Saturday: 9am-1pm