Commercial Movers Tampa
Best commercial movers in Tampa will always move you swiftly, ensuring minimum downtime and maximum efficiency.
Get Your Moving Quote
"*" indicates required fields
Moving your business is a task for a professional. You need someone that you can trust to help you move your business equipment and documents. Luckily for you, you are at the right place! We have one of the best office movers in Tampa that can move you and your office in record time. müv has been in the business for more than seven years. During all those years we have perfected our craft and elevated the quality of our services. With our commercial movers Tampa, you will be able to move your business in little to no downtime. All you have to do is contact us and we will start working on your moving plan.
Professional commercial movers Tampa know what they are doing
There are many scammers out there that just want to take your money. This is why it is important to only book your move with a licensed and insured moving company like us. We encourage people to check our reviews on BBB and various other trustworthy sites. We have nothing to hide. On the contrary, being transparent is our number one priority. By taking a look at our testimonials you will see comments of satisfied clients. We truly are the way we present ourselves- honest, trustworthy and reliable.  
As a successful business, we understand what it's like to run a business and how important it is to have a swift relocation. This is why once we started our company we decided to include commercial moving services in order to provide businesses with the best moving experience possible. Our office movers from Tampa know their job very well, they have already moved thousands of businesses. Our crew will treat your belongings as if they were their own, with utmost care and respect. müv is the loyal moving ally that will make this task simple for you, therefore don't hesitate to give us a call and let our movers work their magic.
Moving services for every occasion
Moving a business and moving a house are two completely different things. This is why we offer other moving services apart from the commercial:
Since every service is different and requires a different approach it is important to reach out to us and tell us what type of move is yours. Sometimes commercial moves require special gadgets and more people in order to move expensive business equipment safely. During the consultation, we will provide you with a free moving quote. Our quotes are totally free and non-binding; therefore there is no pressure at all. We are here to help you and guide you, and once you are ready we will start working on a unique moving plan.
Get the help from our office movers in Tampa and save your time on packing
Packing can is one of the moving tasks that requires a lot of time. You will need weeks to pack your entire business. This means more work for you and your employees. But time is money and as a serious business owner, you shouldn't waste it. Instead, opt for our packing services in Tampa and let our commercial movers Tampa takes pride in deal with it. Our packing crew uses the latest skills to pack and protect your items. No matter how fragile or bulky some of them may be, our professionals will take care of them. We use high-quality packing supplies; therefore you can rest assured that your precious items will stay safe throughout the move.
Opt for our storage services to declutter your space
Moving to a new office space is a great opportunity to declutter. This is not the most fun part but it is necessary. Get rid of everything that you no longer need. If you have a lot of documents that need to be archived consider renting a storage unit. Our facility is clean and safe. Your items will be safe and sound with us, whether you decide to only store documents or some pieces of furniture too. We offer long-term and short-term storage services, which is very convenient. Having a nice and organized office helps employees be more productive, plus it will leave a good first impression on your clients.
Our Tampa movers can help you prepare and transport everything to the unit of your choice. All you will have to do is show us what you have planned to store and we will take care of it. We can help you decide which unit to rent. Our office movers from Tampa will help you choose the right size, that will be perfect for your items.
Tampa is a popular tech city
This popular business hub has a population of around 384,959. Over the last few years, the city of Tampa has become one of the most popular tech cities. Making connections is easy. Many fortune 500 companies and many investors have chosen this charming city as their home.
Apart from being famous for the booming tech scene, Tampa is also known for its museums and art scene. One of the biggest perks of living here is the beach. After a long day of work, there is nothing better than going for a walk by the water to relax.
Reach out to us to secure a move with one of the finest office movers in Tampa
We are a reputable moving company that has one main goal, and that is to make each and every client happy. Nothing motivates us more than seeing the satisfaction on our customer's faces after the move has been done successfully. You are like a family to us; therefore, we only want the best for you. Here at müv, we are going to the all it takes to make this moving experience a memorable one. Contact us today and our commercial movers Tampa relocate your business swiftly and efficiently.
Few simple steps
Contact our business
Reach out to our Florida movers by phone, email or through our website.
Get your free quote
Give müv the details of your upcoming relocation and receive a no-obligation moving quote and a tailored plan of action.
Enjoy your relocation
Forget about the stress of moving while one of the top moving companies in Florida handles your move.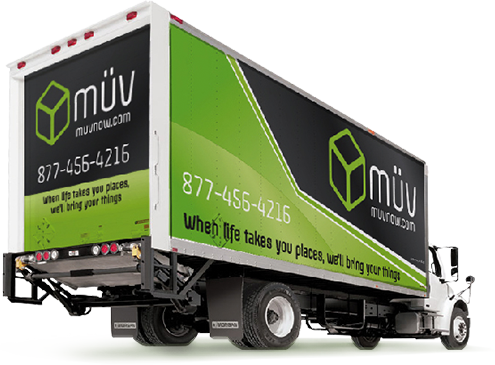 Sales Center Hours of Operation:
Monday - Friday: 9am-6pm
Saturday: 9am-1pm