Packing Services Tampa
Let our müv experts guide you in exploring a wide range of
moving and storage Tampa solutions
Get Your Moving Quote
"*" indicates required fields
You only realize how much stuff you own when you have to pack it up. Packing for a move is always a time-consuming process. Depending on the size of your home, it could take days or even weeks. It is a huge undertaking and requires both mental and physical effort! For these reasons, many people turn to professional packers to get the job done. Experts will be able to quickly box up your belongings and safely transport them to their new home. Instead of wasting precious time, consider hiring a reliable packing service Tampa residents recommend. At müv, our packing experts will use their extensive knowledge and expertise to make your move more enjoyable. Contact us today, and request a free quote.
Make your relocation easier with the premium packing service Tampa movers offer
Packing your belongings is the most energy-consuming part of your relocation. If you ever moved before, you will understand how complicated it gets. It is stressful, emotionally draining, and requires a lot of time. But, if you decide to hire some of the best packers in Tampa, you can make your life easier. Your time is valuable, and you should spend it doing more important matters. No matter the reason, the müv team is by your side.
If there is one thing you should know about us, is that we are committed to providing the best possible service to our clients. We can customize your Tampa packing service plan according to your needs and budget. When you hire our Tampa moving experts, expect a tailored service. We understand that each move is unique, and thus we plan accordingly. Our professional packers will do a supreme job of getting your items ready for moving.
Get in touch with müv in a few easy steps
Contacting our customer service team could not be more simple. When you are planning a relocation, you already have enough on your plate. We think there is no need to complicate things further. When you are ready to embark on your next relocation just call us. Or you can request a quote online. Then, you will need to give us some information about your move. Just the basic details like the number of rooms, size of the inventory, etc. Finally, you will receive your customized moving plan. Then all you need to do is relax and let professionals take over.
Our packing service in Tampa includes quality materials and tools
The most crucial aspect of any packing process is the safety of your belongings. Our Tampa packers use high-quality materials. This is to ensure optimal protection of your items during transport. We understand that your items are important to you and hold sentimental value. You can sleep safe knowing they are in the hands of qualified professionals.
Our diligent team of packers in Tampa is equipped with knowledge and expertise. Every single one of our employees has been trained in proper packing techniques. Alongside this, we use sturdy boxes, moving tape, and proper padding. When it comes to packaging delicate items, we will put in extra effort to make sure nothing breaks during moving. Shipping fragile glasses, big furniture, or documents is tricky, but we have experience on our side.
Explore our catalog of moving services in Tampa
Moving includes many different tasks. Packing items for transport is just one of the things we can do for you. The goal is to turn your entire move into a pleasant experience. Moreover, our friendly staff is always here to answer any and all of your questions. If you are unsure of which services you need, contact us and we can advise you on the best course of action. Below you can find other things we specialize in:
These services are available to all of our Tampa clients. müv is locally operated and owned, which makes us your best moving partner. As one of the most trusted moving companies in Florida, we know the whole area like the back of our hand, giving us an advantage in every project. Moreover, it ensures your relocation will go smoothly and without delays.
Tampa packers can prepare your items for storage
You might think storage services are not for you, but they can be quite useful. Having a place to store items comes in handy during moving. It's a great option if you are moving into a smaller apartment for example. If needed, Tampa packing service experts can pack, seal and label your items before being put away into storage, which can save you additional time and stress when moving. 
There is no need to get rid of your prized art, sentimental items, or bulky furniture. With müv, you can safely store them in our on-site facilities. Our units are climate-controlled to ensure your items remain unaffected by the State of Florida changing weather. Moreover, we offer both long and short-term storage. This means whatever your situation requires, we've got you covered.
Sleep easy knowing you hired some of the best packers in Florida
Getting your items ready for a move is one of the toughest steps of relocation. When you are preparing for a big move, there is never enough time. With a million different tasks you need to complete, packing can easily become too much of a hassle. The professional packing service Tampa offers is a perfect solution for this difficult problem. Instead of wasting time on buying supplies and rummaging through your possessions, you can let our knowledgeable packers at müv take over. They understand that time is of the essence, and can efficiently pack your home or business for an upcoming move. To get started, contact us today and request a free quote.
Few simple steps
Contact our business
Reach out to our Florida movers by phone, email or through our website.
Get your free quote
Give müv the details of your upcoming relocation and receive a no-obligation moving quote and a tailored plan of action.
Enjoy your relocation
Forget about the stress of moving while one of the top moving companies in Florida handles your move.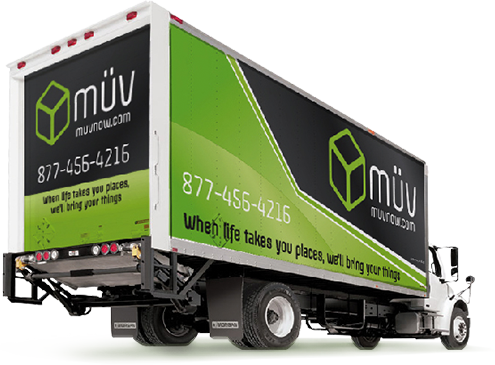 Sales Center Hours of Operation:
Monday - Friday: 9am-6pm
Saturday: 9am-1pm