Storage Orlando
Secure your belongings with climate-controlled and monitored storage solutions in Orlando.
Get Your Moving Quote
"*" indicates required fields
Finding storage space that suits your needs can be difficult. After all, there are many smart storage solutions nowadays people use. From putting unwanted stuff in the attics and basements to using sheds and even cars as storage, all these solutions may seem just a tad unfortunate. However, if you need a single solution that will definitely be of great help, you can't go wrong with searching for storage units in Florida that are specifically designed to fit anything you want. It may seem a bit over the top, however, what other choice do you have? You can't live in a cluttered home. Therefore, asking around for storage Orlando FL residents rely on is the way to go. And luckily for you, we at müv can prove just that! All you need to do is get in touch with us.
If you have too much stuff lying around, we can help you sort it out
Once you start to notice the clutter in your home, you will hardly be able to see anything else. It's only during the big decision that concerns living arrangements that most people start to notice just how much stuff they have that's just lying around. The stuff they don't really need and stuff that they don't know what to do with. Therefore, chances are that you're currently redecorating, going through spring cleaning, or relocating. That's all great, no matter which one of the three we're talking about, but the clutter can be a real problem. Hiring professional Orlando Movers before deciding what you actually want to take with you won't do at all. You need to have a plan. Therefore, relying on storage units does seem like your only logical choice at this moment.
müv

offers the best storage Orlando FL is proud to have

Nowadays, you can pretty much for any kind of service and get it in a matter of hours. The same is true once you start to notice that your home is infested with clutter. Don't take this matter lightly. It can be rather scary to realize that you have a lot of items that you don't have any idea what to do with. Things like old clothes that you don't have the time to donate, old house decor, and valuable art pieces you can't pack in time for relocation, those things are ideal for storage. And if you can't think of a safe place to store them, then we have an idea where you can start! All you need to do is ask around for reliable storage services in Florida. You should look for:
monitored warehouses with good security

spaces that are neat and clean, completely pest-free

large warehouses that can fit whatever it is that you're storing

a reliable service provider that you can count on

storage units in your vicinity
Luckily for you, we at the müv are your friendly neighboring moving company that is here with any kind of moving-related issue. Furthermore, we offer safe and monitored storage units near you. Simply get in touch with us and you'll find exactly what you're looking for.
You can count on us because we care about solving the challenges you face
Having a safe storage unit can be a real life-saver. And there are plenty of reliable ones in the city of Orlando. Moving companies in particular are constantly coming up with new ways of improving their services, and more often than not, you get a package deal. However, what sets us apart is not only our dedication to excellence but the love for the work we do as well. We at müv are never happier than when we are able to help people in their hour of need. It's only then to we feel our purpose is truly fulfilled. Furthermore, we treat each and every one of our clients with respect. We will take care of your belongings with care and attention to detail. You can trust us completely.
We offer much more apart from the best storage Orlando FL has
Apart from offering a safe place for all the items you don't have the room for in your home, we at müv also offer a variety of services to all of Orlando and beyond. You can count on us for any kind of help during relocation. We work primarily as a moving company that is here to help people relocate to their new homes. Therefore, no matter what kind of situation you find yourself in, just know that we can help you. Whether you have a cluttered attic, or you just don't want to transport all of your belongings all at once, you can count on us. Furthermore, we understand that relocation is a big expense and that's why we're offering a free moving online estimate – free of charge. Apart from storage services, you can also count on us when you need: 
commercial movers Orlando
packing service Orlando
Get in touch today!
Say goodbye to cluttered closets and moving stress. With our help, you will have a neat and tidy home to return to at the end of a long day. We at müv are dedicated to the work we do and we don't take any part of that work lightly. If you're looking for the best storage Orlando FL has to offer, then you've come to the right place. Contact us today and get started!
Few simple steps
Contact our business
Reach out to our Florida movers by phone, email or through our website.
Get your free quote
Give müv the details of your upcoming relocation and receive a no-obligation moving quote and a tailored plan of action.
Enjoy your relocation
Forget about the stress of moving while one of the top moving companies in Florida handles your move.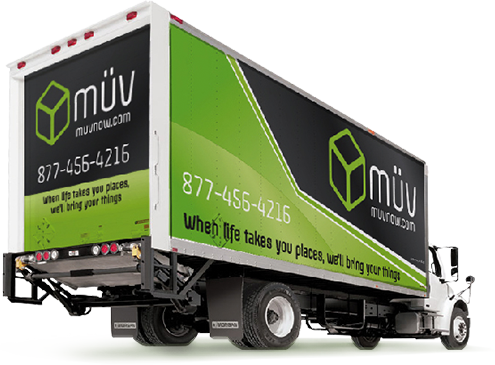 Sales Center Hours of Operation:
Monday - Friday: 9am-6pm
Saturday: 9am-1pm