Residential Movers Tampa
The most reliable residential movers in Tampa will move your household quickly and completely hassle-free.
Get Your Moving Quote
"*" indicates required fields
If you are moving your home in Tampa and you want to have everything handled in a smooth and professional manner, give us a call. müv is one of the best moving companies in Florida when it comes to residential relocations and right now we are serving in Tampa as well as Orland and Space Coast. If you want to experience a smooth and stress-free move, assisted by a team of the best residential movers Tampa has to offer, we are at your disposal. Simply give us a call to talk to our agents, or contact us through our webpage where you can get a free moving estimate and all the necessary details regarding our services.
We are one of the most trusted residential moving companies Tampa has to offer
Finding reliable residential moving companies in Tampa that you can trust is getting harder every day. And people would think that with so many moving companies on that market that finding some trustworthy residential movers Tampa offers, would be easy and simple. Unfortunately, with so many new companies opening every day, distinguishing those that offer quality services from those that are only after your money is not an easy task. Luckily, you have found müv, a residential moving company from Tampa dedicated to providing top-quality moving services and ensuring every customer gets a service of the utmost quality. To secure our help for your upcoming move, be sure to get in touch with us as soon as you can.
Our residential movers in Tampa are fully equipped to handle relocations of all sizes
We know that every relocation is different and requires a different approach. However, no matter how skilled and ready your movers are, if they do not have proper equipment and vehicles, the chances are that you will not enjoy your upcoming move too much. That is why we invite you to hire müv for your next move and ensure the help of trained and properly equipped movers. Yes, we are investing a lot in our equipment. We want to be ready to help in every situation. And proper equipment is helping us complete tasks that would be out of reach for other moving companies. Also the proper equipment and vehicles and helping us ensure safety during the moving process that we conduct.
Moving services we offer
As we already mentioned, müv wants to be able to help everyone in need. That is why we have organized our moving services in such a manner that they cover all types of relocations for individuals as well as commercial entities. We are relocating home, regardless of whether it is a single-family home, an apartment, or a villa. However, we also handle commercial relocations with much success. In addition, we offer packing as well as storage – services that will help your relocation process be smoother and simpler. Here are some of the moving services we offer:
Residential moving services in Tampa
No matter whether you are moving a single-family home, apartment, or mansion, we have a team of the best residential moving pros Tampa has to offer.  Our movers are trained in handling all types of domestic items. And they will be able to safely relocate your home furniture, appliances, electronics, fragile items, books, clothes, as well as other items that may be specific for your relocation. The good thing to know is that our residential movers are trained professionals dedicated to providing top-quality moving services regardless of the circumstances. They are polite, caring, friendly, and well-mannered. And they will make sure that your upcoming residential move goes in a stress-free and enjoyable fashion.
We have commercial movers as well
müv also has a team of commercial movers that are handling office relocations in an efficient manner. We have a team of coordinators that carefully plan every commercial move so we can ensure it is finished efficiently ensuring minimum downtime for your business.
Let us pack your items and ensure their safety during the move
We know that packing is the most difficult part of the move. And we wouldn't be one of the best residential moving companies Tampa has to offer if weren't offering professional packing services. Yes, if you want to have a smooth move without too much stress and physical effort, give us a call. Our team of professional packers utilizes their vast skills and knowledge. We also have top-quality packing materials to ensure your items arrive at their destination undamaged and on time. Hiring our packers saves your time and strength and ensures the safety of your items.
If you need storage, give us a call
Oftentimes, during a move a need for storage unearths. Whether you are between two homes, have a ton of excess items that cannot fit into your new home, or simply want to make extra space in your home, moving your items to our storage facility in the city of Tampa is the best possible solution. Our modern storage facility is clean, dry, and safe. And it will represent a perfect environment for short and long-term safekeeping of your items.
Choose your moving plan to best suit your needs and budget
We want to make our services accessible to a large number of customers. That is why we are trying to keep our prices fair. However, we also offer different solutions for cooperation. For example, you can hire our full services and let us handle the whole work. It will be a little bit more expensive. But you are still getting a better deal than most other residential moving companies Tampa can offer. On the other hand, if you want to make your move completely budget friend, but still have some kind of professional help for your most difficult tasks, our labor-only service is a perfect solution. To check our rates and offers, give us a call or get a free moving quote online.
Call us to ensure a safe and carefree move in Tampa
The times of hard and stressful relocations are long gone. Now you have müv – one of the best residential movers Tampa has to offer. If you want to collaborate with us on your next move, contact us and we will make sure that you experience a smooth and enjoyable process.
Few simple steps
Contact our business
Reach out to our Florida movers by phone, email or through our website.
Get your free quote
Give müv the details of your upcoming relocation and receive a no-obligation moving quote and a tailored plan of action.
Enjoy your relocation
Forget about the stress of moving while one of the top moving companies in Florida handles your move.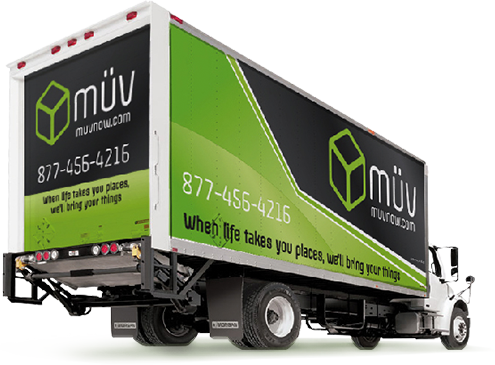 Sales Center Hours of Operation:
Monday - Friday: 9am-6pm
Saturday: 9am-1pm