Residential Movers Orlando
By choosing the right moving services in Orlando
you will be ensuring yourself a stress-free move
Get Your Moving Quote
"*" indicates required fields
Moving your entire home is not a small feat. It requires courage, determination, and a lot of energy. We are here to ensure that the entire process goes smoothly. So you can arrive at your new home fresh and ready for new beginnings. With müv by your side, you will be able to relax and enjoy the entirety of your relocation. Our team of expert residential movers Orlando will be there every step of the way. They will handle heavy-lifting, furniture disassembly, transport, and everything in between. You can rely on us to make your move as simple as possible no matter the scale or the distance. Contact us today and allow us to be there for your big move.
With müv you don't have to worry about your move
Our primary objective in any relocation that we conduct is to make the entire process as simple and as straightforward as possible. We have helped thousands of families move into new homes and have more than enough experience to handle even the largest relocation projects. So no matter what your needs are, you can rely on us to be there for you. There are many reasons why your relocation will be easier with us by your side:
We make moving easier by formulating a straightforward moving plan
Our residential movers in Orlando will take care of all heavy-lifting for you
They can even disassemble your furniture for transport
Aside from helping you move with ease, we offer packing and storage services as well
Book the most reputable residential movers Orlando has to offer and move with ease
We understand that moving can be stressful, especially when you have to pack and ship all of your possessions. That's why we work hard to justify your trust in us. We will always take good care of your belongings, ensuring that nothing gets lost or damaged in transit. We will make sure to arrive on time, work quickly and deliver your items as soon as possible. Throughout the years we have helped countless families move with great success. So choose the most reliable Orlando movers and move with ease. All it takes is a few simple steps and you'll be able to enjoy the best relocation experience imaginable.
Get in touch with our müv experts by calling us or simply fill out our free moving quote form
Our experts will review the situation, formulate a moving strategy and provide you with an accurate estimate, free of charge
Our residential movers in Orlando will arrive on time and handle your entire relocation
Reasons why moving with our household movers Orlando is the right choice
Picking a moving company is delicate. You have to entrust all of your belongings to what are essentially strangers. We understand that and do everything in our power to provide you will all the information you might need before you make a decision. We like to think of our relationship as a beautiful partnership that is yet to be formed. And soon enough, you too will be one of the people leaving us a 5-star review after your relocation is complete.
That's because we will be there for you, at every step of your relocation. When you are struggling with packing all of your possessions, we can land a helping hand. When you have a bed that's too big to fit through the door, we can help you disassemble and then assemble it again. Our Orlando residential movers will make sure that you have a relaxed, stress-free, and easy relocation ahead of you. All we ask is that you put your trust in us like so many people did before you.
Our prices are transparent and straightforward
With us, you don't have to wonder about how much your relocation is going to cost you. We believe that you should have all the facts before you sign your moving contract. That's why we are offering a completely free moving estimate. Without any obligation to book our services if you don't like them. That way, you can plan your expenses and have a truly stress-free household relocation in Orlando.
You'll have some of the best residential movers Orlando has ever seen by your side
When it comes to the quality of our Orlando moving crews, there's no contest. We have some of the best movers in Florida on our team. Each individual employed at müv will bring an unmatched experience and skill to your relocation project. So no matter what it is that needs to be moved, you can rely on our crews to do it safely and quickly.
Move anything anywhere with our wide array of moving services
We aim to make your relocation quick, simple, and stress-free, no matter what you are relocating. It could be a family home, an apartment, or even your entire business. You can rely on us to do it professionally, leave everything clean and tidy and provide you with a stress-free experience. Simply tell us what your needs are and we'll make sure to make it happen. You can rely on our Orlando movers for:
You are just a call away from a stress-free household relocation in Orlando
Don't risk the safety of your home or your belongings with amateur movers. With our affordable rates and unmatched skills and experience, you can have an enjoyable, worry-free relocation, anywhere in Orlando. All it takes is a single phone call and you'll have some of the best residential movers Orlando has to offer by your side. With years of experience, skills to match, and tools to safely move just about anything, your belongings will be in good hands. So contact us today and experience for yourself how simple and easy moving can be.
Few simple steps
Contact our business
Reach out to our Florida movers by phone, email or through our website.
Get your free quote
Give müv the details of your upcoming relocation and receive a no-obligation moving quote and a tailored plan of action.
Enjoy your relocation
Forget about the stress of moving while one of the top moving companies in Florida handles your move.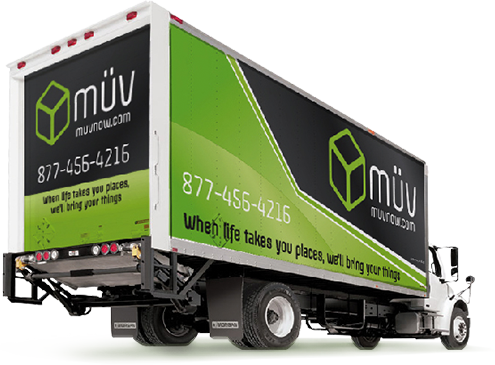 Sales Center Hours of Operation:
Monday - Friday: 9am-6pm
Saturday: 9am-1pm