Office Moving
Move your office with minimal downtime and without skipping a beat with expert moving professionals by your side.
Get Your Moving Quote
"*" indicates required fields
Are you moving your place of business and in need of experienced Florida office movers that you can trust? At müv, we offer a streamlined and efficient custom moving plan for Florida businesses. We specialize in a full range of commercial moving services including office relocation, furniture installation, shelving and racking installation, packing and unpacking services, and climate-controlled short-term or long-term commercial storage. Contact us to discuss how we can assist your transition and get a free quote today.
Moving an office becomes an easy project with experienced Florida movers by your side
Our number one goal when relocating your office is meeting your needs and exceeding your expectations. At müv, we're experts in moving any size facility, from a one-person office to a large corporation. You can be confident that your things will arrive safely and on-time. We invest in the latest technology, and state-of-the-art moving equipment, and only employ highly skilled and professional office movers in Florida to ensure your office furniture and equipment are handled with the utmost care. Our team carefully wraps and pads your office furniture and other delicate items to keep them protected from any damage that could occur during your office relocation.
Relocating a business requires careful coordination, scheduling, and planning. We've developed a comprehensive plan that allows our team to move quickly while cost-effectively accomplishing the many phases of your office relocation. Getting your free quote is the first step. To ensure everything runs smoothly, our diligent project manager is responsive and available before, during and after your move. Whether your business is moving to a new office down the street, or to the other side of Florida, we make sure that your move is done right and on schedule.
We are more than ready to help you keep your business up and running
With locations in Tampa, Orlando and Space Coast we are equipped and ready to assist in your business relocation endeavors. Besides moving your office efficiently, müv can handle all other types of moving and storage challenges you might face. We offer the following moving services:
What can you expect from your office relocation?
As your capable Florida commercial movers, müv prides itself on our quality services and commitment to successful office relocations. There isn't a moving company better equipped to handle and transport your office on time and on budget. With experienced coordination and supervision, the best equipment in the industry, experienced and professional moving crews, and our commitment to excellent customer service – we're confident müv will exceed your expectations. Let the professionals at müv handle your office relocation from start to finish, so you can focus on running your business without any interruptions. Contact us, get your free quote and let's start.
Few simple steps
Contact our business
Reach out to our Florida movers by phone, email or through our website.
Get your free quote
Give müv the details of your upcoming relocation and receive a no-obligation moving quote and a tailored plan of action.
Enjoy your relocation
Forget about the stress of moving while one of the top moving companies in Florida handles your move.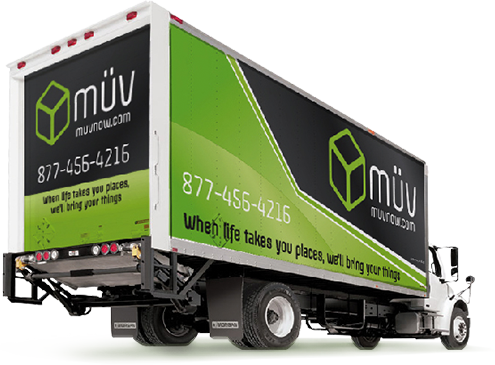 Sales Center Hours of Operation:
Monday - Friday: 9am-6pm
Saturday: 9am-1pm