Local Movers Orlando
By choosing the right moving services in Orlando
you will be ensuring yourself a stress-free move
Get Your Moving Quote
"*" indicates required fields
No matter where you are moving, every moving project is a process that takes a lot of time and effort. Relocation is a complex undertaking. However, it is a common assumption that local moving is easy and can be handled single-handedly. Actually, that is not true. If you want to avoid disasters and to keep your belongings safe during transportation, you should opt for the local movers Orlando has to offer. With the expert assistance of müv, you will make your local move simple and smooth. Your local move requires proper planning, organization, and safe handling of your items. This is exactly what our skilled and trained Orlando local movers will do for you. All you have to do is to get in touch with us and book your moving date on time.
Our Local movers in Orlando are the perfect choice for your relocation
If you want an efficient and smooth relocation, then having a moving company by your side is the right way. If you opt for movers in Orlando FL you will make a smart decision. It is very important which moving company is going to be your moving ally. In case you choose poorly, your relocation can turn into an unpleasant experience. Plus, there are so many moving companies out there, that you can easily be misled and make a wrong decision.
In order to be sure that you have chosen a reliable and professional moving company, make thorough research, read all about the moving company, and read the moving reviews. Our reputation speaks volumes about the service we provide. There are many reasons why we are the moving company that you need for your Orlando local move:
all of our local movers Orlando are experienced, trained, and devoted
our main priority is the customer satisfaction and we go back and beyond to achieve that
we will provide you with additional moving services if you might need them
our capable team of movers can handle any obstacle and move any kind of item
providing you with smooth and efficient relocation is our goal
We have an array of moving services to meet all your moving requirements
As an experienced moving company, we understand that every relocation is different and every client has its own unique requirements. That is why we have designed a wide array of moving services in order to serve our clients in a satisfactory manner. Apart from the basic services, we also have additional services to offer our clients, such as packing service. With our moving services, you won't have to bother with the most tedious moving tasks, but you can simply leave that to the professionals.
Move your home with trustworthy local movers Orlando trusts
The most common type of move is residential relocation. Our residential movers Orlando successfully handle such moves on a daily basis. The team of skilled Orlando movers will handle your household furniture, electronics, and fragile items with the utmost care. We know that each and every item in the home is special to you, therefore we hire only skilled, trained, and devoted movers.
Move your business with müv
When we talk about commercial relocations, we are aware that this type of move requires a higher level of efficiency and professionalism. We do not want your business to suffer, therefore we have a special team of commercial movers Orlando to handle your business relocation. If you want to move your business with minimum downtime, give us a call and seek a free moving quote. We will send you the most efficient and affordable team of Orlando movers.
Make your move easier with our packing service
The most stressful and time-consuming task of every move is packing. Luckily for you, there is a way to skip this part. Save your energy, time, and money and let our professional packing service Orlando handle this task. Our Orlando packing team has the knowledge, experience, and high-quality packing material needed to safely pack all your belongings. Rest assured that your items are in the safe and capable hands of our packing professionals.
Get a storage facility that suits your needs
When it comes to relocation, people always need extra space for their belongings. However, it is not easy to find a safe and secured storage unit to keep their possessions. In most cases, people end up with inadequate storage facilities that eventually damage their items. However, we are not only one of the most reliable local movers Orlando has, but we also provide storage services. To store your items properly and safely, get in touch with us. Our team of representatives will carefully listen to you and find you a perfect storage facility that will meet all your needs.
With us, as your moving ally, your local move will be a lovely experience
No matter if you are moving just a few blocks away in Orlando, Florida or a few miles away, local relocation is always difficult both emotionally and physically. Therefore, you will need someone to rely on and to be there for you every step of the relocation process. And this is exactly what you can expect from our local movers Orlando.
If you put your trust in us, our professionals will take care of some of the most time-consuming moving tasks and stand by you during the entire process. müv will carefully plan and successfully execute your move in a smooth and efficient way. Get in touch with us and your carefree relocation can begin.
Few simple steps
Contact our business
Reach out to our Florida movers by phone, email or through our website.
Get your free quote
Give müv the details of your upcoming relocation and receive a no-obligation moving quote and a tailored plan of action.
Enjoy your relocation
Forget about the stress of moving while one of the top moving companies in Florida handles your move.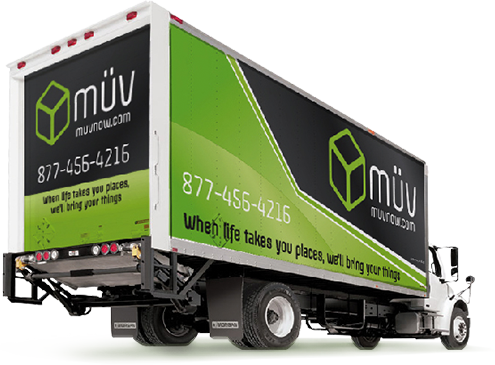 Sales Center Hours of Operation:
Monday - Friday: 9am-6pm
Saturday: 9am-1pm