Local Movers Tampa
Let our müv experts guide you in exploring a wide range of
moving and storage Tampa solutions
Get Your Moving Quote
"*" indicates required fields
Every relocation is a complex, challenging endeavor. The same goes for a local move – it entails a significant number of tasks, and careful planning is required to execute your relocation properly. But it does not have to be as stressful as you believe. It could be a piece of cake with the assistance of our trained and professional local movers in Tampa. At müv, we specialize in relocations in the state of Florida – specifically in the Tampa area. We are a trusted locally-owned and operated moving company, making us a reliable partner for your upcoming relocation. Being locals in Tampa, we can also offer amazing deals for our customers. Get your free quote today and start planning your relocation!
We have years of experience as local movers Tampa trusts
müv was established in 2015, with the commitment to providing a better customer experience, transparent pricing, and cutting-edge technology. Our professional moving team has years of experience when it comes to relocating Tampa residents. Our friendly staff maintains an extreme level of attention to detail as well as high customer satisfaction rates. In fact, this is what allowed us to earn the title of Top 10 Relocation Service Provider. We also maintain a very strong reputation on other moving review sites, such as Google and Facebook, and are very proud to be one of Google's guaranteed partners! When you choose us among all other moving companies Tampa has to offer, you will receive superior service at an affordable price. Get your free quote today and find out more about our services.
But there is a lot more to our story than that. We are one of the Tampa local movers that dedicate ourselves to the highest quality standards and pride ourselves on having extremely high customer return rates. Furthermore, we are one of the Tampa local moving companies that have significantly lower than average damage claims. We do everything in our power to achieve a safe transport of your belongings. Furthermore, with our state-of-the-art trucks and equipment, kitted out with leading technology, you can rest assured that your items will have the best possible protection. Our technology also allows us to minimize our carbon footprint, doing what we can for our planet.
Our moving services in Tampa are numerous
müv provides our clients with some of the best moving services Tampa has to offer, including:
Commercial moving – Need to relocate your office and need trustworthy movers? Choose müv and handle office relocation, furniture installation, shelving and racking installation, packing and unpacking in a straightforward, fast, and supremely safe manner. Our number one goal is to meet your needs and exceed your expectations! Our team of expert office movers in Tampa is capable of handling any commercial relocation, regardless of the size and complexity.
Residential moving – We can help you transfer to a new home, downsize, or move closer to work in a smooth and efficient manner. Our state-of-the-art moving equipment and highly skilled residential movers Tampa trusts will create a moving process that looks and feels very easy. We will carefully wrap and pad your furniture and other delicate items. This will ensure that they have optimal protection throughout the relocation!
Additional services you can expect from out Tampa local movers
Packing and unpacking services – Our packing experts utilize the best packing techniques and work with high-quality supplies. If you allow our local movers in Tampa to take care of the packing process for you, you will be able to have complete peace of mind knowing that your items are 100% properly packed! Our services include all the packing necessities that you may require for the moving day and to get settled into your new office or home.
Labor only services – We also offer an option for those who want to keep their relocation costs at the minimum but still want some convenience for their relocation. Our professional labor-only loading and unloading services are there to help you speed up the process and achieve higher safety. Our team specializes in relocating just about everything, from gun safes to bulky home and office furniture.
Climate controlled storage in Tampa – If you are looking for additional storage space before, during, or after your relocation, we offer on-site climate-controlled storage services, both for the short and long term. Our storage units will keep your items in mint condition throughout the relocation! All of our units keep a set temperature, no matter the weather.
Anything your relocation might need, we at müv can handle
But those are not all the types of services that we can provide. We pride ourselves on being able to offer almost any moving service our clients require. The best thing to do is to contact us directly if you have any special requirements. Our team is capable of creating unique solutions both in the planning stage and "on the fly". At the very least, we are one of the local moving companies Tampa has to offer that will provide you with expert moving advice – free of charge. When you come to müv, you get answers and solutions!
Giving back to the community has always been important to us
Being one of the top Tampa local moving companies, we do what we can to give back to the community. In fact, our company has a tradition of corporate giving. Alongside our partners, we work to help the homeless and animal shelters alike. We also hold food drives throughout the year. Our goal is to improve Florida communities through daily corporate giving practices. It is our belief that we all need to contribute to our community and make the world a better place, one step at a time. After all, if all of us contribute to the community at large, imagine how wonderful Florida can be!
Make your local move in Tampa a breeze- contact müv today!
When it comes to Tampa local moving companies, we stand at the very top. Our seamless operations model, highly-trained, thoroughly screened, professionals, and dedication to customer satisfaction are what brought us there. If you are looking to create a smooth, stress-free, and enjoyable moving experience by choosing one of the best local movers in Tampa, all you need to do is get in touch with us. Contact us today for a free quote and we will help you plan and execute your move as close to perfection as possible! We aim to be your Tampa movers of choice.
Few simple steps
Contact our business
Reach out to our Florida movers by phone, email or through our website.
Get your free quote
Give müv the details of your upcoming relocation and receive a no-obligation moving quote and a tailored plan of action.
Enjoy your relocation
Forget about the stress of moving while one of the top moving companies in Florida handles your move.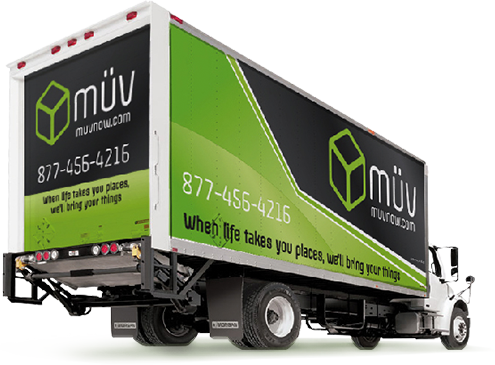 Sales Center Hours of Operation:
Monday - Friday: 9am-6pm
Saturday: 9am-1pm