Packing Services Orlando
Professional packing services Orlando movers offer will take care of the hardest part of relocation for you.
Get Your Moving Quote
"*" indicates required fields
Packing is the most tiresome process of relocation. It's difficult to pack up your entire life in a dozen or so moving boxes and leave your old home. Furthermore, the practical part of the task can be rather difficult as well. It requires a lot of attention to detail and it's time-consuming. However, packing is also the most important part of the relocation process. If you fail at this, you can find yourself in the world of trouble later down the line. It's very important to do this part right. Once you have everything packed and ready, it will be that much easier to get the transportation going. Therefore, if you don't have much experience with relocation, finding packers should be your number one priority. We at müv are more than happy to offer you the best packing service Orlando has to offer. Contact us today!
You have a hard job ahead of you, but we can help you
There's no part of the moving process that can slow you down like packing. That's why it's important to prepare and plan everything well ahead of time. Generally speaking, most professionals would recommend starting with the moving preparation as much as six months ahead of time. However, you don't need to stress about it. If you hire one of the best moving companies in Orlando, you'll have someone to take most of the heavy lifting off your hands. Packing, however, you could attempt to do on your own. It will require a lot of separating, categorizing, and throwing away. Furthermore, it could end up being more trouble than all the other work combined. Therefore, it could be worth your while to ask around for packing services in Orlando. It would definitely be less stressful that way.
Hire the best packing service Orlando has to offer and solve your problems
The most difficult part is getting started. It requires a lot of willpower to take a look around you and try to make an order. Getting your belongings in order is paramount before you start thinking about how to pack everything. It's a smart idea to clean everything first and pay attention to the items you come across while you do. Hiring someone to do that for you is also an option. Labor only services can also come in pretty handy. Therefore, if you want to do this right, it is true that you shouldn't let any grass grow under your feet. We understand that it can be hard to get started. Even finding reliable Orlando packing help can be a challenge. You should focus on the companies that offer:
a variety of services to choose from
an online moving quote
services near your location
professional packers who know what they're doing
One of the best moving companies out there
müv is a moving company that offers exactly what you need. We have experience with various kinds of moves. Furthermore, we offer moving and packing services the city of Orlando is proud to have. You can always rely on us to be there for you in your hour of need. Packing is our forte. All you need to do is provide the details of your relocation. Our movers will take care of your belongings with utmost care and attention to detail. From packing everything carefully to getting all of your belongings safely to your new location, we will take care of everything. There is nothing for you to worry about. When you have müv on your side, you can be sure that you have the best packers in Orlando.
We offer more than just packing service Orlando residents rely on
Apart from having some of the best packers Orlando residents rely on daily, müv also offers a variety of services that are bound to come in handy. If you're relocating, you could do with the help of our professional team. No matter the reason for your relocation, we are more than able to help. We can pack anything from smaller apartments to the entire household and even your office. You can count on us for any of the following
Our company's policy is that the client's always right
We treat each and every one of our clients with the respect they're due. You can always count on us to be prompt and efficient. Our company doesn't believe in doing things halfway. Furthermore, we understand better than anyone just how stressful relocation can be. It is a big expense above everything else. That's why our team offers a free online moving estimate to all of our clients. Tell us what you need us to do and we'll take care of it. You'll always know exactly where you stand with us. We nurture honest and open relationships with our clients and there are no hidden fees when you're striking a deal with müv.
Get the best packing service Orlando has to offer today
As one of the top providers of packing services Orlando prides itself on, we are one of the top moving companies in the area. müv is a reliable and affordable moving company that you can always count on for a great moving experience. Your belongings will be safe in our care. All you need to do is get in touch with us and tell us all the relevant details. We will take care of everything with maximum efficiency and on time. Contact us today and experience the quality of our services first-hand!
Few simple steps
Contact our business
Reach out to our Florida movers by phone, email or through our website.
Get your free quote
Give müv the details of your upcoming relocation and receive a no-obligation moving quote and a tailored plan of action.
Enjoy your relocation
Forget about the stress of moving while one of the top moving companies in Florida handles your move.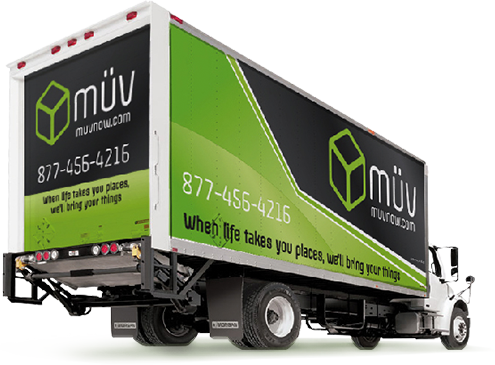 Sales Center Hours of Operation:
Monday - Friday: 9am-6pm
Saturday: 9am-1pm