Commercial Movers Orlando
If you hire some of the best commercial movers Orlando relies on, you ensure a safe and swift move of all of your belongings.
Get Your Moving Quote
"*" indicates required fields
Moving a business is a job for professional movers that have experience with this kind of move. Moving a home and a business are two different things. If there are any complications during the move your business will suffer, and that is exactly what you want to avoid. Only the finest commercial movers Orlando has to offer are the ones that can help you move your business safely and in a timely manner. Therefore, contact müv today and request a free estimate for your commercial relocation. Our Orlando commercial movers are one of the best in the business and will provide you with the smoothest move.
Why are our commercial movers from Orlando your best option?
Our movers have years of experience. It doesn't matter if you are moving your entire business or just one office they will know how to handle the move and make it simple for you and your employees. There will be nothing for you to do once you book our office movers from Orlando. We can take care of everything!
The moment you get in touch with us we will start working on your moving plan. Having a well-thought-out plan is important in order to have an organized move. You will know exactly how much time we will need to transfer your business. Communication is important to us, therefore, we will assign you a moving coordinator who will be there for you through the entire relocation.
Reputable commercial movers Orlando relies on the most
One of the things that make us one of the best office movers Orlando has is our efficiency. We know how precious your time is and we are not the ones to waste it. We will move your business in record time, therefore your business will not suffer. Our dedication to providing our customers with high-quality services has earned us a reputation as one of the most reliable office movers in Orlando. The satisfaction of our clients is the most important to us, therefore we go the extra mile to help you and ensure that everything goes according to plan.
Our Orlando office movers know the value of your belongings
Every move is complicated if you don't have the right help by your side. Now imagine moving a business on your own. It is deemed to be a disaster. Business equipment is very expensive and often quite heavy. This is why you need to be extremely careful when moving it. You need professionals that know their job. Our commercial movers are experienced and know how to properly handle your items. There is nothing that they cannot do! You can entrust us with your belongings and rest assured that everything will be properly secured.
Before we load your items in our modern and secure moving trucks we will pack and protect each item. We use high-quality packing materials in order to ensure the total safety of your items. Our movers use special packing techniques, therefore, your items will arrive at your new location in pristine condition.  We can proudly say that we have the best drivers in the business, that know which routes to take and that will make sure that everything gets delivered on time. Your business will be up and running in no time thanks to our team of experts!
müv offers more than just commercial moving services
We are more than just an Orlando commercial moving company. We believe that having a variety of moving services is important. Moreover, our services complement each other; therefore you will be able to mix and match in order to make your move even simpler. You can rely on our movers in Orlando FL to provide you with the following services:
We offer affordable prices that will not break your bank
Since we tailor our services according to your needs, there is no one price fits all. We are able to adapt to your budget all while making sure that you get high-quality service. From the start, you will be provided with a moving estimate. Our estimates are free and non-binding and above all accurate. Who says that you need to pay a ton of money to have a great moving experience? By hiring us you will ensure a stress-free and high-quality move for an affordable price. Therefore make sure to get in touch with us and secure your date.
Orlando, FL
Orlando is located in the central part of the state of Florida, with a population of 277,173.  This is one of the four biggest cities in Florida. While housing expenses are lower than the national average by about 11%, grocery prices are higher than the national average by about 2%.  The city is most known for Disney World and Universal Studios. However, Orlando is much more than that. The city has a great economy which makes sit perfect for businesses. Moreover, there is always something happening and the weather is warm all year round.
Contact müv and get the best moving experience
Make your life simple and secure your move with one of the most reputable commercial movers Orlando has to offer. Our reliable and trustworthy moving team will help you transfer your business from point A to point B efficiently and without any issues. You can rely on us to make your moving dreams come true and give you a memorable moving experience! Get in touch with müv via phone, e-mail, or through our contact form. We are a moving company in Orlando that you can trust!
Few simple steps
Contact our business
Reach out to our Florida movers by phone, email or through our website.
Get your free quote
Give müv the details of your upcoming relocation and receive a no-obligation moving quote and a tailored plan of action.
Enjoy your relocation
Forget about the stress of moving while one of the top moving companies in Florida handles your move.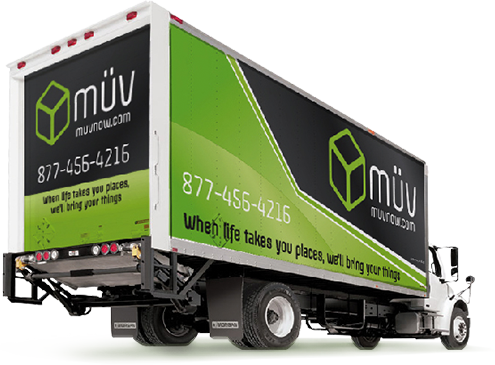 Sales Center Hours of Operation:
Monday - Friday: 9am-6pm
Saturday: 9am-1pm