Tampa Movers
Let our müv experts guide you in exploring a wide range of
moving and storage Tampa solutions
Get Your Moving Quote
"*" indicates required fields
Your relocation shouldn't be exhausting and time-consuming. With the right Tampa movers by your side, it can actually be simple, straightforward, and easy! You will be able to look forward to it, enjoy and have plenty of time to decorate your new home, spend time with family or deal with business tasks. With müv assisting you throughout the relocation process, you'll have the time and the energy to devote to more important endeavors. Meanwhile, our team of professional movers Tampa residents trust will handle everything related to your relocation and allow you to enjoy it. No matter how big or small your relocation is, you can rely on us to be there and make things easier. Contact us today and explore all the ways in which we can help make your relocation simpler.
How can you benefit from using our moving services in Tampa?
Moving might seem like something that follows a pattern. You prepare your belongings, put them in boxes, and transport them to their final destination. And while those steps are important, there are many nuances that can make all the difference. What müv brings to the table is a team of highly skilled movers in Tampa FL who will ensure the success of your relocation. Regardless of whether you are moving furniture, priceless art pieces, or musical instruments, everything will arrive on time and undamaged. We are considered one of the best moving companies Tampa has to offer for a good reason.  From packing your belongings using high-quality materials to transporting them in specially-designed moving trucks, we will make your relocation seem straightforward and easy. We can assist you in many different areas of your relocation:
Our packing crews consist of some of the most skilled packers with impeccable attention to detail. So all your items will be safely packed in quality moving boxes. That, in turn, will ensure that nothing gets damaged during transport.
When it comes to moving your items, our team of professional movers in Tampa FL will see to it that the entire process is quick and worry-free. Even though a task might be complicated, they make it look easy. So no matter what you are relocating, you can rely on them to be there and lend a helping hand.
If you need a secure space to store your items, our storage solutions will give you peace of mind. With 24/7 surveillance and top-of-the-line climate-control systems, your belongings will safe from any harm.
Book one of the highest-rated movers in Tampa FL in 3 easy steps
Our goal is to make moving as friction-free as possible. There are many ways in which we strive to achieve that. From providing you a way to relocate without lifting your finger to ensuring the safety of your items. But it all starts with the booking process. Once you get in touch with us, you won't have to wonder about the pricing or wait for days to hear back from us. The entire process is simple and quick. All that you have to do to enjoy the best moving and storage Tampa has to offer is:
Contact us or fill out a simple quote form on our website
We will provide you with an obligation-free moving quote – free of charge
Set a moving date and enjoy. Our movers Tampa will ensure the success of your relocation
What makes us one of the finest movers Tampa has to offer?
As the world evolves so does the moving industry. What once used to be a simple transportation job, now consists of high-level logistics and involves new technologies on an unprecedented scale. Instead of being stuck in the past, müv has evolved with the times. Today, we command a fleet of specially-designed moving trucks that ensure that nothing gets damaged during relocation. Likewise, we use cutting-edge technologies to keep track of your items and ensure that everything is accounted for once we arrive.
Enjoy a seamless moving experience with some of the best-trained movers in Tampa FL
At the core of our business are our moving crews. They are the ones that make even the most difficult relocations possible. Each team member has professional training, and years of experience in the moving industry and comes equipped with tools to match their skills and abilities. So you can be sure that both your items and your home will be treated with great attention to detail. If our word is not enough maybe our perfect review score will paint a better picture of how we handle relocations. Moving your belongings safely is our top priority. We don't leave any work half-done, and impossible is just another challenge for us.
We offer a wide range of moving services in Tampa
When it comes to moving and storage in Tampa, we are second to none. We not only offer a wide array of services that cover everything you might need during your relocation, but we do it with dedication and commitment. With müv by your side, you can always enjoy a high level of service and professionalism that will make you feel respected and cared for. Some of the moving services in Tampa that we offer are:
Aside from our regular moving services, you can also count on us to help with vide variety of smaller moving tasks, such as disassembling your furniture. Whatever you need, simply give us a call and inform us. We will do everything in our power to ensure a safe and worry-free relocation for you.
Enjoy a seamless moving experience with the help of some of the best movers Tampa has seen
With our Tampa movers by your side, nothing is too difficult or impossible – you will move to the city of Tampa and get to enjoy yourself in no time. You will have a team of dedicated moving professionals at your disposal, helping you and ensuring the success of your relocation. So don't compromise on quality or stress over the safety of your belongings. Chose some of the best movers Tampa has to offer and move worry-free. Contact müv today and schedule your relocation.
Few simple steps
Contact our business
Reach out to our Florida movers by phone, email or through our website.
Get your free quote
Give müv the details of your upcoming relocation and receive a no-obligation moving quote and a tailored plan of action.
Enjoy your relocation
Forget about the stress of moving while one of the top moving companies in Florida handles your move.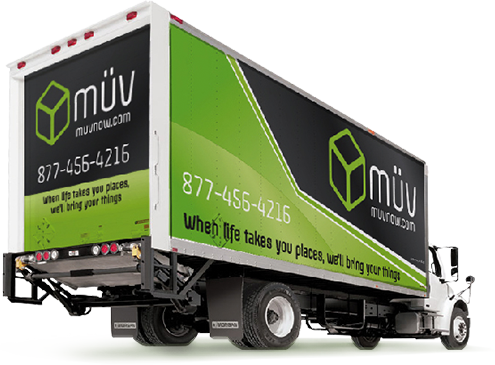 Sales Center Hours of Operation:
Monday - Friday: 9am-6pm
Saturday: 9am-1pm