Cocoa Movers
Most reliable movers Cocoa FL offers will ensure you have a flawless relocation experience.
Get Your Moving Quote
"*" indicates required fields
Relocation is a challenge many Florida residents face. If you yourself feel that the time has come to move to another city, there's nothing stopping you to test your luck. However, it really can be more of a challenge than you think. Florida is a lovely state to live in, but moving from or to Florida can be troublesome. You shouldn't give up or start to panic, however, All you need to do is to hire some help. And we know just the people. müv is a professional moving company that is always ready to help people relocate. We are known as one of the best movers Cocoa FL has to offer. Therefore, if you're planning on moving from or to Cocoa, you'd do well to get in touch with us and we'll do all that we can to help you.
Relocating is tough,  but you can do it with the help of one of the best movers Cocoa FL has to offer
It can be rather stressful to pack up and leave your old life behind. We understand that moving is a big stress. It's also a lot of work. We don't want you to have to go through all that on your own. That's why we're offering some of the best moving services you could hope for. It may seem pointless to hire professional movers if you have a car, for example. However, moving requires you to do a lot more than drive. There's a lot of packing, loading, and transporting that you need to do carefully and with attention to detail. It won't be easy. You can't manage it on your own. This is especially true if you've never moved before. Therefore, having professional movers to rely on can be of huge help. Put your trust in us!
Get in touch with us and get the best moving experience ever
Our moving company is one of the best moving companies in Florida. We employ hard-working and trustworthy Space Coast movers that are always happy to help our customers. You can count on us for a professional, yet honest and open agreement, which will leave both parties involved satisfied. We treat each of our clients with the respect they're due and we respect their time and resources. Our company is one you can rely on in your time of need because we truly understand and appreciate the difficulties one can face during relocation. That's why you can always count on müv. We offer:
friendly and reliable staff

transparent moving contracts with no hidden fees

a wide variety of moving services 

movers who care about their job and are always on time
Therefore, no matter what kind of a moving challenge you're facing, we're sure that we can overcome it together. All you need to do is get in touch with us and we'll help you with your Cocoa relocation in no time.
We are the Cocoa movers you can trust in your hour of need
Relocation can truly change your life in more ways than one. The city of Cocoa has a lot to offer in the way of amusement and professional improvement. That's why moving there is definitely the right decision for you. It can be rather scary to go into the unknown, but at least you won't have to worry about the heavy lifting. Our movers are conscientious and they will look after your belongings with care and they will be transported to your new location with maximum efficiency and on time. All you need to do is tell us what you need us to do and you can count on us to deliver high-quality services at affordable rates. No matter how complicated your relocation may seem, we guarantee that we'll be able to help you.
Our company offers to help you relocate at very affordable rates
We at müv understand that moving requires a lot of time and energy. However, most of all, it can be a rather costly affair. That's why we always offer transparent moving contracts with no hidden fees and no extra charge. Furthermore, we want our clients to feel like exclusive members of our club. That's why we offer a free online moving quote to all of our clients. All you need to do is to apply for it on our website, and you'll know how much your move will cost.
Count on us for a variety of moving services
We at müv try to keep up with the current trends in the moving industry. Therefore, we are constantly working on improving the quality of our services. We keep finding new and creative solutions to help people relocate. Regardless of the reason for your relocation, we are here to help and will do everything in our power to find the solution for your moving-related issue. You can count on us for any of the following moving services:
Furthermore, we offer storage services for anything you're not sure whether to take with you or leave behind. Not to worry. Our storage units are safe and well-monitored at all times. 
Get in touch with the best movers Cocoa FL has
Now that you know where to find the best movers Cocoa FL has to offer, you should waste no time. Most moving professionals recommend planning your move at least a couple of months ahead. Having reliable movers on your side can help you reduce the moving stress and take some pressure off. Therefore, you should get in touch with us at müv and tell us all about your relocation. Contact us today and experience first-hand the quality of our services.
Few simple steps
Contact our business
Reach out to our Florida movers by phone, email or through our website.
Get your free quote
Give müv the details of your upcoming relocation and receive a no-obligation moving quote and a tailored plan of action.
Enjoy your relocation
Forget about the stress of moving while one of the top moving companies in Florida handles your move.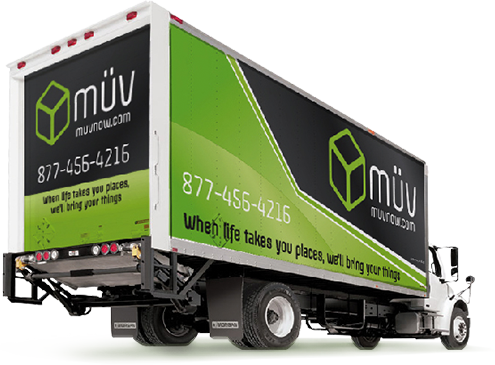 Space Coast
4045 Dow Rd Ste 105 Melbourne, FL 32934
+13213731231
Sales Center Hours of Operation:
Monday - Friday: 9am-6pm
Saturday: 9am-1pm