Melbourne Movers
Get Your Moving Quote
"*" indicates required fields
Moving anywhere, even across the street, requires careful planning and perfect execution. There's very little room for error and you can't afford to risk the safety of your property with shady companies. You need the finest of the fast, reliable, and trustworthy moving companies Melbourne FL has to assist you and make your upcoming relocation simpler. To help you every step of the way and allow you to truly enjoy and look forward to moving. With müv, you get a team comprised of some of the best movers Melbourne FL has to offer. But more importantly, you get an unmatched moving experience that will become a once-in-a-lifetime event you'll gladly retell to your friends for years to come. Reach out to us today and find out how we can turn your upcoming relocation into something to look forward to.
What can our movers Melbourne FL do for you?
Moving doesn't have to be difficult. When you have quality movers by your side, even the most complex relocation can become easy and straightforward. It's as simple as that. But what exactly can we do for you to ensure that you have a pleasant moving experience? What can we offer besides our wide range of moving services in Melbourne FL that will make this relocation the one to remember?
We are committed to providing you with a better moving experience than you'll find anywhere else. With our movers Melbourne FL by your side, every step of your relocation will be much easier. When you have movers that know what they are doing, you don't even have to be involved in your relocation. You can focus your time and energy on much more important things while being sure that everything is being handled with great care. 
Our professionals can handle even the largest-scale relocations
We can help you plan, prepare and even pack
Have large furniture? No problem! Just give us a heads up and we'll disassemble and assemble it again at your new location
We will keep your space safe and scratch-free
You can always rely on us to arrive on time and be there for you every step of the way.
We cover everything you might need during your Melbourne FL relocation
With us by your side, you are covered. Not just with small tasks, like handling large furniture. We can handle a wide range of moving types with ease. Our team of professional movers Melbourne FL has the tools, skills, and experience needed to make your dream relocation a reality. So all it takes is for you to tell us what you need to be moved, and we'll show you that it can be done with ease. We are experts in:
Need a safe place to store your belongings? Look no further than müv
Moving and storage often go hand in hand. But, you don't have to move in order to enjoy the benefits of having extra storage space. With our storage Melbourne you get a clean, safe, and easily accessible space to store anything you need. So you can use it as a short-term storage solution during a relocation or as a long-term space to declutter your home. It's up to you.
Book our movers in Melbourne FL today and enjoy your relocation
Since 2015 we have helped countless families and businesses find new homes across Florida. We have done both large-scale as well as small-scale relocations. We have moved everything from pianos to antique china collections. So no matter what you need to be moved, you can count on us to do it with great care. Now you too can enjoy the müv experience and come to think of moving as something to enjoy. It only takes three simple steps:
Get in touch with us and get your free moving quote
Together we'll make a moving plan that works best for you
Everything else will be handled by our team of some of the best movers Melbourne FL has to offer
Perks of having one of the best moving companies in Melbourne FL by your side?
We started our company with a single goal – to provide exceptional service at a competitive price. In order to achieve that we have invested in talented movers, new technologies, and most importantly into good relationships with our clients. Today, we are widely considered as one of the best moving companies Melbourne FL has to offer. So when moving with us you can expect a level of commitment and dedication that you will not find anywhere else, just like so many of our clients did before you. Our single most important goal during relocation will be your satisfaction. We'll ensure that everything goes according to plan and that your belongings are safe through the relocation.
We keep both your belongings and your space safe
Moving is not just about moving items from point A to point B. There's a lot more that goes into it than a few strong guys and a truck. For starters, we use protective gear, not just to keep us safe, but to ensure that your space is scratch-free and clean after we are done. We keep your walls, door, and floors safe. Additionally, we will carefully load your items onto a moving truck with special padding that ensures a smooth ride. An experienced driver will proceed to your delivery address, making sure that everything arrives on time and undamaged.
Moving with our movers Melbourne FL means having the freedom to enjoy your relocation
It doesn't matter if you are moving your home, office, or something in between. You can rely on our movers Melbourne FL trusts to provide you with exceptional service from start to finish. To be there for you every step of the way and ensure the safety of both your home and your belongings. Allow yourself to enjoy a stress-free and simple relocation. Contact us today and schedule your move.
Few simple steps
Contact our business
Reach out to our Florida movers by phone, email or through our website.
Get your free quote
Give müv the details of your upcoming relocation and receive a no-obligation moving quote and a tailored plan of action.
Enjoy your relocation
Forget about the stress of moving while one of the top moving companies in Florida handles your move.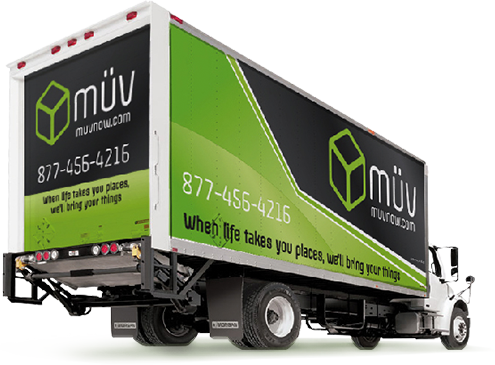 Sales Center Hours of Operation:
Monday - Friday: 9am-6pm
Saturday: 9am-1pm