Vero Beach Movers
If you hire some of the best Vero Beach movers, you ensure a safe and swift move of all of your belongings.
Get Your Moving Quote
"*" indicates required fields
Moving can be a challenging process. We at müv are fully aware of this and aim to relieve any tension you may be feeling. Your desires for your move are important to Vero Beach movers. We are prepared to provide you with a selection of our many services. With the help of our storage and moving solutions, your relocation will be completed quickly and conveniently. You won't need to worry about anything because we have all the tools needed for your relocation. Please feel free to get in touch with us whenever it suits you.
Have a perfect relocation with Vero Beach movers
Your relocation will be seamless and memorable thanks to our skilled Vero Beach moving company. We possess all the necessary tools for a professionally executed move. We know that you are concerned about the security of your possessions and the duration of the relocation. Our movers are professional and experienced. We are here to help you conduct a perfect move to the city of Vero Beach.
Be prepared with our moving and storage solutions
Sometimes, simply moving your possessions from one place to another is insufficient. A pleasurable experience should permeate the whole moving process. We know that you need more than one service when it comes to relocation. Therefore, we provide:
Our moving costs are among the most affordable ones
Fair costs are charged by our moving business for its services. We are aware of the need for our customers to receive top-notch service. We provide you with high-quality services at reasonable costs as a result. Schedule our services and request a free estimate to learn more about our moving expenses.
Get in touch with us
At müv, we aim to ensure that you have a perfect relocation. Therefore, contact us right away. The Vero Beach movers will fulfill all your requests.
Few simple steps
Contact our business
Reach out to our Florida movers by phone, email or through our website.
Get your free quote
Give müv the details of your upcoming relocation and receive a no-obligation moving quote and a tailored plan of action.
Enjoy your relocation
Forget about the stress of moving while one of the top moving companies in Florida handles your move.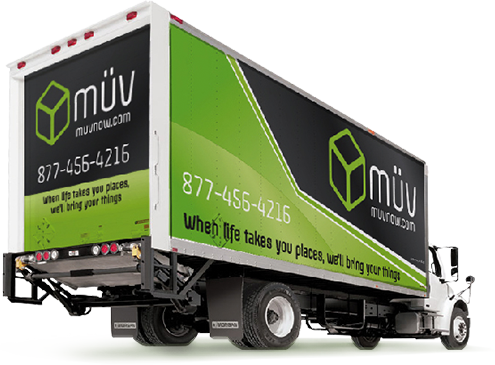 Sales Center Hours of Operation:
Monday - Friday: 9am-6pm
Saturday: 9am-1pm