Umatilla Movers
Get premium moving services tailored to your needs and provided by some of the best Umatilla movers.
Get Your Moving Quote
"*" indicates required fields
If you seek dependable and affordable movers to simplify your move from or to Umatilla, Florida, there is no better place to be. Our müv moving company has a team of some of the top-rated Umatilla Movers and they are at your disposal. Whether your move is small or large, be free to contact us now. With a variety of moving services, we will make your move pleasant, organized and efficient. Opt for one of the most reputable Umattila moving companies today!
Our experienced Umatilla Movers have excellent moving solutions
Even when you move locally, relocation brings stress that can turn the entire process into a nightmare. Luckily, our experts from Umatilla moving company have the experience to cope with the most difficult moving challenges. We will take the stress out of your move to Umatilla. Here are our customized moving services:
Our experienced and reputable Umatilla movers will meet all your needs
Even when you need to move several moving boxes or just your office inventory, there is no room for any complications on a moving day. When you know you can entrust your possessions to skilled and experienced movers, all the stress disappears. The main goal of our movers in the city of Umatilla is to help you get through your move smoothly.
Outstanding and affordable service is what you get from our Umatilla relocation company
Regardless of the size of your move, you are always looking to cut down on moving costs. And when you cooperate with Umatilla moving company, you can be sure you will get cost-effective services. Although we have many satisfied customers, we still have excellent pricing. Get a free moving quote today and avoid overspending when moving home or office.
Let your moving experience be enjoyable with the Umatilla relocation company
When the time for relocation comes, only reputable müv moving and storage specialists can save you from stress, mistakes, and overspending. Our Umatilla Movers will make sure that you have a great, organized move. Contact us now and secure your move with one of the best Movers in Umatilla, FL.
Few simple steps
Contact our business
Reach out to our Florida movers by phone, email or through our website.
Get your free quote
Give müv the details of your upcoming relocation and receive a no-obligation moving quote and a tailored plan of action.
Enjoy your relocation
Forget about the stress of moving while one of the top moving companies in Florida handles your move.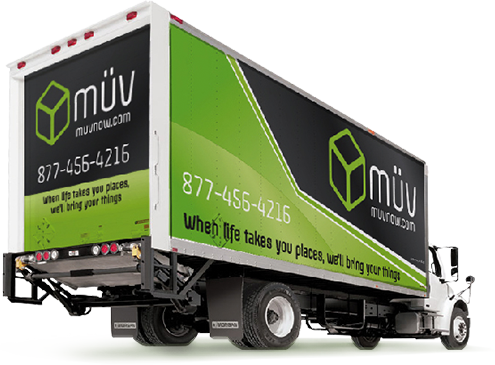 Sales Center Hours of Operation:
Monday - Friday: 9am-6pm
Saturday: 9am-1pm