Oakland Movers
Let our movers in Oakland FL relocate you with ease.
Get Your Moving Quote
"*" indicates required fields
Do you plan to relocate your home any time soon? If the answer is positive, then contacting us at müv is a decision that will make your move memorable and stressless! We work as one of the top movers Oakland FL has on offer, and rightfully so. Our goal is to serve a sleek, problem-free moving journey, which is why Oakland residents highly recommend us. All it takes is one call and our müv crew is there to organize your move from scratch and complete it in no time!
Well-versed Oakland movers you need
Moving, whether across the state or within your hometown, calls for a professional moving crew that knows how to execute it the right way. That's why our Oakland Movers are the ones you should rely on. Many benefits come with hiring our crew:
Safety – We prioritize our customers' well-being and the safety of their belongings. When you move with us, you have nothing to worry about.
Affordability – Oakland residents also know us as committed movers that deliver top-notch services at modest prices.
Reliability – Whatever comes up during your move, rest assured you will have a crew on your side that acts fast. They will easily modify your moving schedule in case of necessity. ž
Transparency – There are no undisclosed fees with us and we keep it honest with all our customers.
Overall customer experience – At müv, we do our best to make all our customers happy with their moving journeys. That's why we provide full moving assistance from the start of the move until it gets completed.
Our movers Oakland FL trusts deliver an excellent service quality
Excellence, punctuality, and time efficiency are what you get by hiring our Oakland movers. No matter how far you want to move, they are fully prepared to execute your move. They have all the tools and equipment necessary for a smooth relocation. In addition, they offer help with organization, so you can have more time for other tasks. The advantage of having our moving crew on your side is the lack of stress and chaos. Furthermore, our Orlando moving services are some of the best on the market you can find! All you have to do is pick the services you need and your wish is their command:
A free estimate without additional fees
We offer a commitment-free moving quote so you can get a better insight into the approximate expenses of your move. Also,  you don't have to worry about unexpected fees, since we keep it honest with our customers. Transparency is what makes us favored among many Oakland customers. All we want is the best moving experience for all those who choose us for their moving partners. Rest assured you won't be an exception since we will do our best to execute your move properly and make you feel safe during the relocation process.
Excellent customer experience
We are available in case something unexpected comes up during the move. Whether you have sudden work duties or a private situation, be sure our movers Oakland FL offers will be there for you. Rest assured we are fully ready in case of unpredictable occurrences.
Oakland FL offers a small-town experience full of possibilities
Those who prefer smaller places where life isn't as fast-paced as in big cities choose places like Oakland. In addition, there are so many advantages to living in this lovely town! Contrary to popular opinion, smaller places in Florida are all but uninteresting. In Oakland, taxes are lower and living is more affordable. Plus, real estate prices go much lower compared to the rest of Florida. This is quite inviting for those who work remotely and seek cheaper living options and a pleasant community combined. Grocery stores, coffee shops, and many other amenities are in close proximity, which makes daily life much simpler. It's easy to notice why Oakland FL is one of the popular small places in Florida.
Another benefit to the city of Oakland FL is proximity to the outdoor areas as well. If you haven't been a fan of biking or hiking, chances are you'll probably change your mind. Besides sports and the outdoors, Oakland residents enjoy various community gatherings, festivals, and other events that bring people together. A strong sense of community is typical for Oakland, which is why the town is also family-friendly. If this city sounds like a perfect place for you (and your family), hire our moving crew to carry out your relocation!
You are a phone call away from one of the best Oakland FL movers!
As one of the leading movers Oakland FL has on offer, we at müv commit our work to delivering a flawless moving experience. It's important to us that each of our customers is happy after a move, and thus start their new life in a new home stress-free! You can expect complete assistance provided by our team from the moment you contact us. Don't hesitate to ask us anything that interests you. We are expecting your call once you pick your next home and moving dates. 
Few simple steps
Contact our business
Reach out to our Florida movers by phone, email or through our website.
Get your free quote
Give müv the details of your upcoming relocation and receive a no-obligation moving quote and a tailored plan of action.
Enjoy your relocation
Forget about the stress of moving while one of the top moving companies in Florida handles your move.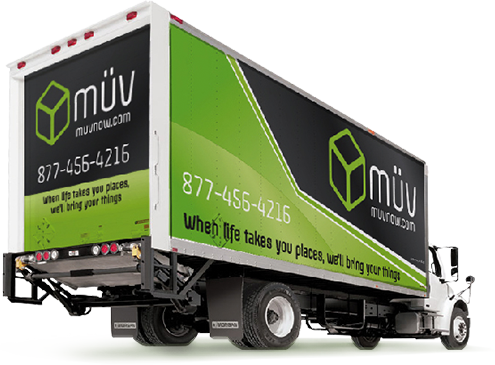 Sales Center Hours of Operation:
Monday - Friday: 9am-6pm
Saturday: 9am-1pm