Winter Park Movers
Reliable movers in Winter Park are your best ally for a successful relocation.
Get Your Moving Quote
"*" indicates required fields
In case you have second thoughts about your relocation and finding the right movers for you, we are here to disperse all the doubts you may have. Wherever you plan on moving, you are to rely on reliable movers to organize your move meticulously and deliver your belongings safely. With müv by your side, no worries should exist. With our professional team of movers, outstanding equipment, knowledge, and experience your upcoming move is doomed to succeed. Movers Winter Park guarantees you'll end up being truly satisfied with our services. And your satisfaction comes first. Contact us today and reach success with one of the best movers in central Florida.
Why should you rely completely on our movers Winter Park trusts?
First of all, we are a locally owned and operated company. Years of experience and knowledge have made us one of the best companies in the market. Our team is working hard to improve our knowledge and invest in extensive training that makes us better every time. Quality, transparent pricing, and skillfulness are the things we strive for. As a result, moving and storage Orlando has earned a strong reputation. Our clients' positive reviews are proof we are heading the right way.
Our friendly staff works hard to go beyond our clients' satisfaction. We are proud to mention that our team undergoes extensive training sessions in order to make your relocation impeccable. Furthermore, the equipment and trucks are following the development of leading technology. With this in mind, rest assured your belongings will reach your new destination safely and undamaged.
Serving our community is not just our obligation but also our satisfaction
Getting acquainted with our company you'll learn new things about us. Hopefully, having us as your partners will make you proud. We tend to take care of our community in every possible way. Providing food and shelter to people and animals in need is a small thing that doesn't take too much time or effort. However, it's a huge thing for those people and poor animals. Hopefully, many would follow our lead to make our community a much better and safer place.
Reach to us and give us a chance to become your most reliable ally
The müv is waiting for you to contact us by phone, email, or using our website. We need certain information about your move. As a result, expect to get a free moving quote with no obligation, of course. Moreover, you'll get a tailored plan for your move. If you find it suitable, reach out to us and we are to make arrangements. All you are left to do is to enjoy our services and an exquisite relocation.
We guarantee the best price for our services
Moving companies Winter Park offers exquisite moving services to fit all your needs. Of course, you will opt for what suits you best. As for the prices, we are here to adjust to your possibilities. Just give us your trust. By all means, we are to justify your confidence. Therefore, the services we tend to improve constantly are at your disposal:
Müv and its team guarantee safe transportation of your items
Our skilled staff guarantees to move your home locally with absolute precision. Paying attention to detail is what we do to make sure everything is perfectly arranged. Heavy lifting, disassembling, transportation, and everything else a residential move requires is our specialty. Thus, expect to move with ease and minimum stress with us by your side. Moreover, moving your office will also go smoothly with the right team of people handling your items.
 Additional services can facilitate your relocation
If you plan to have more time to solve other chores related to your move, let us pack your belongings. Using high-quality packing supplies, modern equipment, and techniques, your items will be safe with Winter Park movers. Furthermore, your valuables and other things may find a secure place in storage units. Climate-controlled storage units are a perfect place where our team monitors your items 24 hours a day.
Settling in Winter Park will be a positive experience for the whole family
Coming to this lovely city with a population of approximately 30,000 residents will become a beginning of an amazing journey. Just 15 minutes away from Orlando, the city of Winter Park offers a variety of parks, green spaces, and multiple outdoor activities. Also, plenty of things waiting for you to start enjoying. There's something for everyone. Galleries, museums, boutiques, and shops abound in beauty and opportunities for entertainment.
Also, one of the reasons people tend to move to Winter Park is the fact that many homes are within walking distance or a short drive from the main lakes.  Rest assured you'll revel in all the beauties from November to the end of May when the weather is mild and perfect for outdoor activities.
As for the costs, be aware of the higher overall costs. Furthermore, the housing costs are well above the national average which can create problems for your budget. Thus, the median home value is about $442,378.
Leave your belongings in the safe hands of some of the best movers Winter Park has to offer
Movers Winter Park will safely pack, lift, load, unload, and transport your possessions with absolute care. Our highly skilled staff is willing to follow our plan and fulfill your requirements. Müv's numerous services are at your disposal. Our main goal is to have our clients fully satisfied with the services we offer. Therefore, we guarantee you'll be completely pleased with your journey to Winter Park and our services. Reach out to us today and reach success with one of the best companies you can rely on.
Few simple steps
Contact our business
Reach out to our Florida movers by phone, email or through our website.
Get your free quote
Give müv the details of your upcoming relocation and receive a no-obligation moving quote and a tailored plan of action.
Enjoy your relocation
Forget about the stress of moving while one of the top moving companies in Florida handles your move.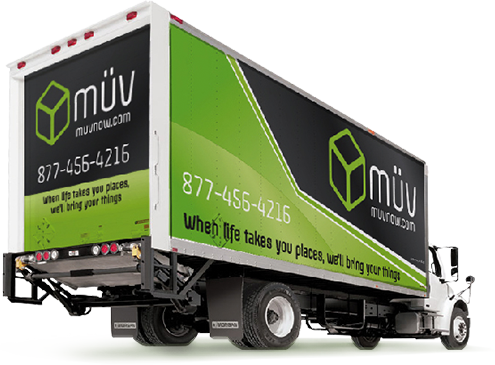 Sales Center Hours of Operation:
Monday - Friday: 9am-6pm
Saturday: 9am-1pm