Pasco County Movers
The most reliable Pasco County movers will ensure that you get top moving services at competitive prices.
Get Your Moving Quote
"*" indicates required fields
The last thing your relocation should be is exhausting. In order to remember it as a positive process, all you should do is put your trust in müv. Our team of professionals is going to handle your moving process with great care. Pasco County movers are going to consider each and every detail. It does not matter whether your relocation is big or small – we got your back. Therefore, wait no longer and get in touch with us today.
You are going to benefit from using our services
There are several important things that need to be properly taken care of during relocation. First, your belongings should remain in perfect condition. Second, all of the moving-related tasks need to be completed on time. Third, you should know that you can rely on your moving partners at any time. This is precisely what you can expect from us when you move locally to the gorgeous Pasco County. Think about which of our services to add to your moving contract:
One thing is certain – both you and your belongings are going to be in great hands. We are going to deal with the logistics as well as with the heavy lifting.
Contact Pasco County movers today and ensure a smooth relocation
Let professional Pasco County movers take care of your moving process. In this way, you will get to preserve your peace of mind, and you will have more time for yourself. Get in touch with müv and enjoy a seamless moving experience. We are dedicated moving professionals who are going to make sure your moving process runs smoothly. Our team of movers will relocate you worry-free, and you will be enjoying the comfort of your new home before you know it.
Few simple steps
Contact our business
Reach out to our Florida movers by phone, email or through our website.
Get your free quote
Give müv the details of your upcoming relocation and receive a no-obligation moving quote and a tailored plan of action.
Enjoy your relocation
Forget about the stress of moving while one of the top moving companies in Florida handles your move.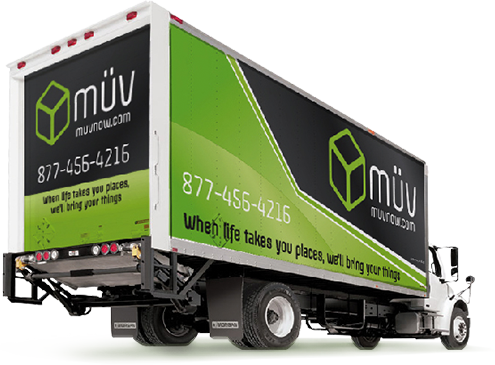 Sales Center Hours of Operation:
Monday - Friday: 9am-6pm
Saturday: 9am-1pm