Clearwater Movers
Our movers Clearwater FL relies on know how to make any relocation feel like a breeze.
Get Your Moving Quote
"*" indicates required fields
Local relocations are not as simple as they may seem. However, the good thing is that you have a chance to make this process simpler. All you should do is count on some of the most reputable movers Clearwater FL has to offer. Considering the fact that we have years of experience in this industry, you can be sure that your entire moving process is going to be handled with no great effort. Feel free to get in touch with müv and you are going to learn all of the details that may interest you.
Your professional moving partners will be there for you at all times
Even though you are not going to cross a great distance to reach your new home, it does not mean that your moving process is simpler. You need to complete all of the tasks as if you were relocating long-distance. In a situation of this kind, you should definitely have a professional partner whom you can completely rely on. The good thing is that Clearwater FL movers got you covered. We are highly experienced and we are always willing to tailor our services according to your moving needs. Just let us know what to do in order to help you and we are going to find a way to do it. Contact us on time and we will start preparing everything.
Let some of the most reputable movers Clearwater FL offers to provide you with premium-quality services
What is also important for you to know is that you can count on us to provide you with different services. In fact, they are of great quality and you can be sure that the tasks are going to be completed on time. One thing is certain – the opportunities for moving and storage in Tampa are more than great. The services our professionals can offer you are:
It does not matter how large or small your relocation is – contact us and enjoy a stress-free moving process. Our local movers in Clearwater FL will make your move an enjoyable ride.
Your belongings are going to be in capable hands
If it happens that you have relocated before, you already know how complex and how demanding a moving process is. Since you are required to multitask, it can easily happen to fail to complete a certain task or to complete it poorly. In order to avoid scenarios of this kind, count on the hard-working and skillful hands of our professionals. We have had extensive training and this helped us improve our skills.
You can be sure that we are going to pay attention to each and every detail. There will be no need to worry about whether your items will reach your new home safely or not. You will know that even fragile items of yours are going to be properly taken care of. Avoid trying to do everything on your own when you have a chance to get the help of a professional.
We are going to be highly attentive to both residential and commercial items
Yet another thing you should know about Clearwater movers is that we are going to be equally careful with your residential and commercial items. What is the most important to us is to deliver all of your belongings undamaged. Our one and only goal is to make you happy and to keep you satisfied. This is going to happen if we provide you with premium moving services and keep your items safe. You will see that, once you start unpacking the boxes, everything will be in its place. Our professional movers are highly attentive and they are going to do their job perfectly. Even when some fragile and valuable items are in question, you will know that we are going to take great care of them. Make your relocation a seamless process and let us help you.
Packing and storing your belongings are also our specialties
The packing part takes quite a lot of time. If it happens that you are relocating for the first time, you may not be in a position to have a good estimate on how much time you are going to need to pack everything. In a situation of this kind, you can feel free to rely on us. It does not matter whether you are relocating from a small apartment or if you are moving your large office.
We are going to make sure there are no unexpected surprises during your local relocation to the city of Clearwater, FL. The same goes when storing your belongings is in question. Our storage facilities are more than safe – there is 24/7 surveillance. In addition to this, the units are climate-controlled, which makes it possible for you to store items that require a certain temperature. As you can see, we are here to meet all of your moving needs.
Give müv a call and start with the preparations for your relocation
Good organization is the key to a successful moving process. Should you get in touch with some of the most reliable movers Clearwater FL offers on time, you can be sure that your moving experience is going to be seamless. We are highly dedicated to our work and to our mission. Since our goal is for you to keep a good spirit throughout the moving process and afterward, we are going to take a step further if necessary. You and your belongings are going to be in great hands – it's a guarantee. Now, the only thing left for you to do is to get in touch with us. Do this today and we are going to make sure everything is organized properly.
Few simple steps
Contact our business
Reach out to our Florida movers by phone, email or through our website.
Get your free quote
Give müv the details of your upcoming relocation and receive a no-obligation moving quote and a tailored plan of action.
Enjoy your relocation
Forget about the stress of moving while one of the top moving companies in Florida handles your move.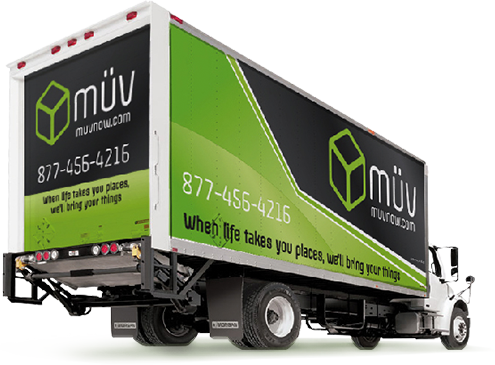 Sales Center Hours of Operation:
Monday - Friday: 9am-6pm
Saturday: 9am-1pm