Dunedin Movers
Best movers in Dunedin FL will ensure a swift and hassle-free relocation.
Get Your Moving Quote
"*" indicates required fields
If you've always wanted to live along the Gulf Coast, then now is your chance. It might seem like a difficult task to put into action. However, if there's anything that we can be sure of is that everything changes. Some things that seemed unimaginable just a few years ago became a reality lately. Therefore, if you wish to live in Dunedin, then you should start working on making your dream a reality. All the moving difficulties that may follow will have a solution. We know it and it's a simple one. You just need to find reliable movers Dunedin FL residents trust! müv is one of the best moving companies in Florida and we're happy to help with whatever kind of moving service you may need. Get in touch with us and you'll be in Dunedin in no time.
Distance is important, but not the only thing to consider
How successful your move will be, depends on a variety of factors. Firstly, it greatly depends on the distance you need to cross. The further you have to go, the more potential there is for something to go wrong. Of course, that shouldn't suggest that moving across shorter distances is necessary easy. It's just that most people think that distance plays a key role in the difficulty of relocation. It's true that the distance is important, but you should also consider a variety of other factors, such as:
the time of year when you're relocating

the size of your household

whether you're doing it alone

the difference between your old home and your new location
As you can see, there are a lot of things to consider when you're planning a move. Some moving experts would recommend that you start with your moving plan at least six months in advance. However, it's also true that you could make things a lot easier for yourself if you hire professional Tampa moving services
We are one of the most reputable movers Dunedin FL has to offer, you can put your trust in us
Our company is one of the leading Dunedin moving companies in the entire state of Florida. We are known for treating all of our clients with respect and valuing their opinions and their needs. Our moving reviews speak for themselves and you can be sure that we are more than ready to face any moving challenges together with you. We are here to help in any way we can to make your move a success. Our company has a policy of offering reliable moving contracts with no hidden fees, so you can be sure that you're getting exactly what you need at affordable rates. We understand that relocation is a big hit on a family budget and don't want to add to your long list of expenses. As we said, we're only here to help.
We like to simplify the moving process so our clients can avoid the challenges of relocation
Hiring our help is incredibly easy. All you need to do is to get in touch with us via phone or email. Furthermore, you can also apply for a free online moving estimate. All you need to do is provide all the relevant details of your relocation. Tell us where you're relocating from and where you're going. If you have some special requirements, you can include that as well. We'll then give you a quote and you'll be able to prepare for your relocation in advance. Our movers are reliable and you can count on them to respect your time and the trust you put in us. When you're relocating with our help, there is nothing for you to worry about. The city of Dunedin has never been closer than it is now!
Get in touch with the movers Dunedin FL residents rely on
What separates us from the rest of the moving companies Dunedin has to offer is the fact that we put our clients' needs and wishes above everything else. Whatever kind of relocation you're planning, we are the ones you should turn to. Our team has a lot of experience in the moving industry and we are always ready to listen to your problem with moving and offer an optimal solution. Our company offers a wide variety of moving services. Furthermore, we can make your relocation a pleasant experience that you will always remember with positive impressions. With our help, you'll find your way to Dunedin easily. Count on us for any of the following moving services: 
We'll be there for you every step of the way. From packing everything to storing items you don't want to bring or toss, we've got you covered. Whether you're relocating your home or your office, we know what to do to make sure that everything goes smoothly.
Contact us today!
Now that you know where to find some of the best movers Dunedin FL has to offer, it's time to get started. Relocations can take some planning, and it's always better to be prepared for any problems that may occur. However, if you hire professional Tampa moving services, then you're sure to have a much easier time with your relocation. müv is a professional company that you can turn to whenever you have any kind of moving-related issue. Contact us today and we'll take care of everything you need us to!
Few simple steps
Contact our business
Reach out to our Florida movers by phone, email or through our website.
Get your free quote
Give müv the details of your upcoming relocation and receive a no-obligation moving quote and a tailored plan of action.
Enjoy your relocation
Forget about the stress of moving while one of the top moving companies in Florida handles your move.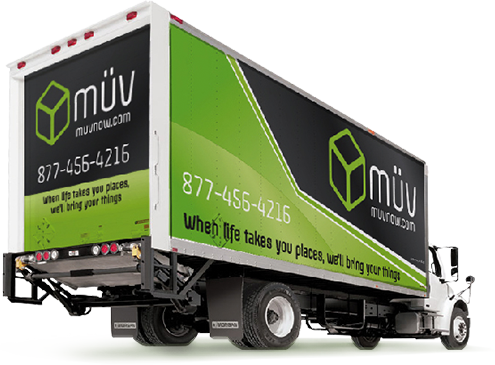 Sales Center Hours of Operation:
Monday - Friday: 9am-6pm
Saturday: 9am-1pm