Largo Movers
Trust our movers in Largo FL with your relocation and they will show you the joy of stress-free moving.
Get Your Moving Quote
"*" indicates required fields
When moving, you need a team of movers you can fully rely on. This is why we at müv are the ones you go to no matter the duration of your move. As one of the well-versed movers in Largo FL, we work diligently to make all our customers happy with their relocation. Furthermore, we strive to keep our services to the highest standards. By hiring us, you are securing a blissful move from the moment our movers come to our door and start working.
One of the best moving companies in Largo FL
It took us years of committed work and education to get to where we are today. However, we don't plan to stop! As the moving industry is growing, many innovative techniques and approaches to moving come up, and we want to be a part of it. That's why with us at müv, you have nothing to worry about. You will be served with no less than top-quality and at the same time affordable relocation services! Our entire team is there to make sure the move runs smoothly from the very first day, even in cases of unexpected events.
Our movers in Largo FL have enough experience to know what it takes for an excellent moving endeavor. That being said, you can count on their expertise no matter what changes come up during the move. Weather conditions, private matters, or work-related duties don't pose a challenge for our movers. They are able to quickly re-organize all moving tasks and adjust them to you. Rest assured your relocation is in safe hands thanks to our friendly and capable Largo FL crew!
All moving services you need are available in one place
We include some of the best Tampa moving services you can benefit from. From packing to storage – we got all your moving needs met:
No additional fees
The services you see in our offer are the ones that amount to the final moving cost. That being said, we never impose any types of extra fees, and rather keep it honest with our customers. Your trust is our top priority, therefore we want you to feel safe from the moment you book our free quote. Our crew will do the estimation and let you know about the approximate total expenses of the entire move.
A customer service you deserve
Our communicative and helpful staff is available to you for all questions and concerns. Besides quality moving and storage services, our guidance is also there at your disposal. Our staff will be glad to share more information about our company, our past work, and more. Don't hesitate to ask whatever interests you, and you'll be given the answers you need. When you're moving with us, you are getting full assistance until the end of your relocation journey.
Largo FL could be your next home
There are many reasons why people choose to move to the city of Largo FL. First and foremost, life is quality, but also cheaper than in many cities in Florida. For these reasons, those able to work remotely frequently move there. Commuting from Largo's neighborhoods (Whispering Pines, Fairway Villages…) to Tampa is quite easy. That's why young parents who prefer peace and quiet rather live in some of the neighborhoods and Travel to Tampa for work.
Your life in Largo will be all but dull. Proximity to beaches and outdoor areas is one of the advantages that living in this lovely city brings. Shopping and dining experience in Largo FL are also not to miss out on! Once you move there, you'll realize why this part of Florida is visited by a great number of tourists. However, don't forget to let us know about your preferred moving dates so we can organize and execute a hassle-free move for you! Life in another city begins much better if your move runs smoothly and stress-free.
Our movers in Largo FL are just a phone call away
Rest assured that our movers in Largo FL will execute your relocation in the best way possible. A friendly and courteous moving crew will also guide you every step of the way, and take care of your well-being. Relocations are stressful, and it's widely known that transportation from point A to point B is draining. However, with müv team at your disposal, it becomes much easier to handle. Moving can be a pleasant, long-lasting memory, which is what we fully believe in. So, wait no further, and contact our personnel as soon as you pick your next moving destination!
Few simple steps
Contact our business
Reach out to our Florida movers by phone, email or through our website.
Get your free quote
Give müv the details of your upcoming relocation and receive a no-obligation moving quote and a tailored plan of action.
Enjoy your relocation
Forget about the stress of moving while one of the top moving companies in Florida handles your move.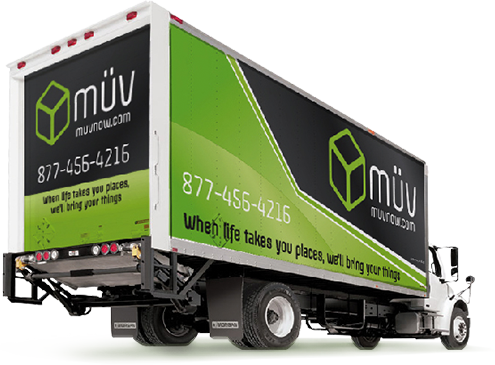 Sales Center Hours of Operation:
Monday - Friday: 9am-6pm
Saturday: 9am-1pm