Palm Harbor Movers
Secure an easy move by hiring some of the most trustworthy movers in Palm Harbor FL.
Get Your Moving Quote
"*" indicates required fields
Is your moving day happening soon and you are feeling overwhelmed because of that? Don't worry as we have a solution for you. Even though relocation requires a lot of dedication, with müv your only job will be to reach out to us. We have the crew, tools, and experienced for a successful moving day. You won't have to worry about a single thing during your relocation process. Whether you are relocating your home or your office, whether you are relocating across the town or across the state rest assured that your belongings will be in safe hands. Get in touch with us and let one of the most reliable movers Palm Harbor FL relocate you with ease.
How to prepare for the relocation day?
In order to be ready for your moving day, make sure to plan and organize everything on time. Our Palm Harbor movers will take care of your belongings. Still, there are other things that you will have to think about. First of all, take an inventory of your belongings and set your moving budget. After that, make sure to create a moving checklist that you will follow. This checklist should include:
Items that you will take with you and the ones that you will leave behind or donate
Belongings that you should pack into your essential moving bag
Utilities that you should transfer
Services that you will require from your movers
Once you are done with the preparation contact your movers to give you a free quote and let them deal with your belongings. With the right moving company by your side, it will be easy for you to focus on the other tasks from your checklist.
Seek help from one of the most professional movers Palm Harbor FL has
Established in 2015, müv has been successfully providing moving services to its clients for years now. Because of the right attitude, equipment, and devotion our team has, we have quickly become one of the most recommended moving companies in the Palm Harbor area. We carefully select our crew and give them the right training for the job. At müv, we understand how valuable your belongings are to you. This is the reason why we constantly invest in our equipment and trucks. You can rest assured that with our assistance you will not have to worry about the protection and transportation of your belongings.
We offer services that will cover every step of your moving process
When you are searching for movers in Tampa there is no doubt that it is crucial to find the team that will anticipate all your moving needs. At müv, we offer a wide range of moving services. We want to ensure that every aspect of your relocation has been covered. That way when your moving day arrives you will not have to worry about anything rather than transferring yourself to your new location.
Home moving doesn't have to be stressful
As we all understand how difficult it might be to change your home address we will do our best to make this relocation as smooth as possible. With our residential movers, you will not have to think about your household items. Whether you have a large art collection or just furniture we have the knowledge and equipment to relocate them. Rest assured that with one of the most skilled Palm Harbor movers your valuables will be safe and reach your new home without any damage.
With our movers in Palm Harbor FL relocation of your office will be a blessing
If you have decided to relocate your office it is certain that there are many things that you will have to plan and organize. As we understand the importance of business you can rest assured that with our commercial moving services your clients will not get affected by the relocation process. Be there for your clients and we will be there for you! Whether you have small or big office space our Palm Harbor movers will ensure that you and your clients don't get overwhelmed by the relocation. And by taking care of your belongings we will ensure to take all the moving stress out of your shoulders.
At müv, we know that packing is the most important part
Because of the number of moves that we did we have learned that by providing proper packing services half of our job is done. If your belongings are properly packed and wrapped there will be no possibility to damage them during the transportation. For that reason, we are investing in quality packing supplies, sturdy moving boxes, and the right padding for your belongings. Rest assured that with our packers your fragile and sensitive items will be well-secured and reach safely their final destination.
Store your valuables in our climate-controlled units
Even if you are relocating within the town of Palm Harbor we understand that there might be times that you will not be able to take your belongings with you. But because of their value, you will not be able to give up on them either. For that reason, we are offering you a safe and secure place to store them. With our storage solutions, your belongings will be under constant supervision and placed in temperature-controlled units. Our units are regularly maintained and pest-free. Entrust us with your valuables and we will take good care of them both short-term and long-term.
With müv, your relocation will be just another wonderful event in your life
As we have experience, tools, and a responsible crew there is no reason for you to stress over your moving day. Get in touch with müv and let us provide you with one of the finest moving options that you could get. And all that at a very reasonable price. Rest assured that if you settle for one of the most reputable movers Palm Harbor FL has your relocation will be efficient and on schedule.
Few simple steps
Contact our business
Reach out to our Florida movers by phone, email or through our website.
Get your free quote
Give müv the details of your upcoming relocation and receive a no-obligation moving quote and a tailored plan of action.
Enjoy your relocation
Forget about the stress of moving while one of the top moving companies in Florida handles your move.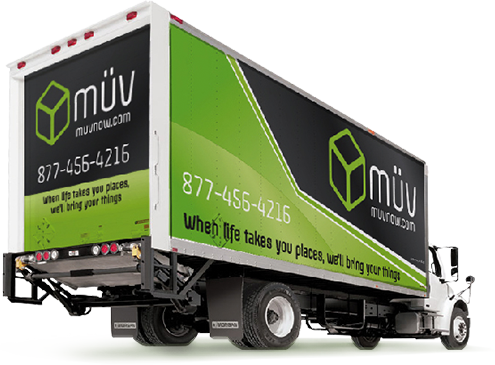 Sales Center Hours of Operation:
Monday - Friday: 9am-6pm
Saturday: 9am-1pm