Pinellas Park Movers
Our movers Pinellas Park FL are ready to show you the joy of stress-free relocation.
Get Your Moving Quote
"*" indicates required fields
Moving is an exciting new chapter in your life. Such a big event should be taken seriously. A successful relocation requires proper planning and excellent execution. Things can easily go wrong even if you are just moving down the street. You need the assistance of professional, trustworthy movers Pinellas Park FL is proud to have. Working with a reliable moving company will make your relocation simpler, faster, and safer. Instead of worrying about moving day, you will be able to look forward to it stress-free. müv is here to help you with any moving troubles you have. Our competent team will be by your side every step of the way. Contact us today and experience moving like never before.
Work with some of the finest movers Pinellas Park FL has seen in recent years
Your search for a competent moving team is over. Our company is among the highest-rated moving businesses in Pinellas Park FL. This did not happen overnight. It is a result of many years of hard work and countless successful relocations. And you do not have to take our word for it. The passion, dedication, and care we put into each move are reflected in glowing reviews and client experiences. In fact, many of our clients have become long-time customers, and choose muv whenever they need help relocating. The success we have seen is proof that commitment pays off.
Since 2015, we have always had a single goal – to provide excellent moving services at reasonable prices. Staying on top of industry trends, constantly learning, growing, and improving is what made it possible. As veterans of the moving industry, we continue improving with every project. More importantly, we help our clients in achieving their visions and goals. Your satisfaction is our main concern during a move. Contact our Tampa movers to discover how we can assist in your relocation.
Contacting our moving experts in Pinellas Park FL is straightforward
Getting started with your move could not be more simple. First, you should reach out to us via email, our online form, or email. Then, our customer support will need some information on your move. The type of move, location, and size of the inventory are all important details that determine how we will structure your moving plan. Moreover, if you have any special requests or questions, now is the time to inform us. Next, you will receive a free moving quote with no obligation. You will also receive your customized moving plan. Finally, you can relax and patiently wait for the moving day. Your Pinellas Park FL moving team will handle everything else.
One company and all of the services you need
Every relocation is its own unique experience. No two moves are ever the same, even if they look similar on paper. Our Pinellas Park moving teams approach every move with this in mind. They will customize their skills and knowledge to the current situation. We can easily carry out many different types of relocations. Whatever task you need to be done, we are here to give you a helping hand. Browse our catalog of moving services and find exactly what your next relocation needs:
The services we offer can be applied to any size of a move. Our professionals can handle small, medium, and large-scale relocations easily. With such assistance, you will not even have to lift a finger. Movers who know what they are doing can save your time, energy, and nerves. Instead of worrying about your moving day, you will be able to focus on the more important things in life.
Need help preparing your items for transport? müv has you covered
One of the first steps of preparing for moving day is packing your belongings. It is one of the most tedious moving tasks and requires excellent attention to detail. Luckily for you, our Pinellas Park moving professionals are trained in packing and unpacking. They know the best ways to pack items for transport, shipping, and storage. Moreover, we use the highest quality moving materials. Sturdy cardboard boxes, plenty of padding, moving blankets and tape ensure nothing breaks during transport. Large, heavy furniture is no match for our experts – we can disassemble and assemble any bulky items. Knowing your possessions will arrive at their destination safely will put your mind at ease.
Enjoy a fresh start in Pinellas Park
Pinellas Park is the fourth largest city in Pinellas County, with around 50,000 residents. Residents describe it as a safe and quiet community – perfect for families with small children. Despite its small size, there are plenty of things to do around the city of Pinellas Park. You can go to the mall, golf, and get groceries, all within walking distance. Nature lovers can enjoy hiking in Sawgrass Lake park – a 400-acre green area on the city outskirts. Moreover, there is also the Helen S. Howarth Community park. Here you can enjoy horseback riding at the equestrian center. And if you miss the buzz of big cities, Pinellas is close to Saint Petersburg and Tampa.
Hire reliable movers and see how simple moving can be
Whether you are moving your home, office or something else does not matter. Professional movers Pinellas Park FL residents recommend can make the entire process a lot easier. By working with muv, you get the expertise and knowledge of industry veterans. From start to finish, expert movers will ensure everything goes smoothly. Even if you just need help packing. Our employees are armed with the right tools, experience, and a can-do attitude. No job is too big or small for our dedicated team, and our approach is different for every situation. If you wish to see just how simple moving can be, contact us today and receive a free quote.
Few simple steps
Contact our business
Reach out to our Florida movers by phone, email or through our website.
Get your free quote
Give müv the details of your upcoming relocation and receive a no-obligation moving quote and a tailored plan of action.
Enjoy your relocation
Forget about the stress of moving while one of the top moving companies in Florida handles your move.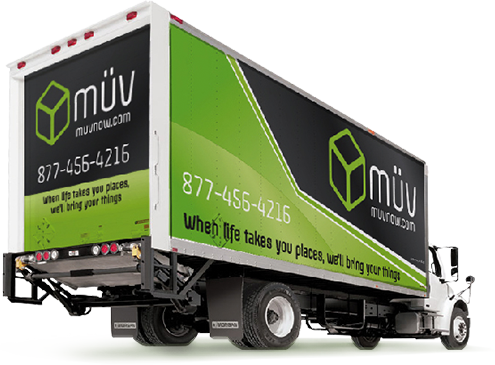 Sales Center Hours of Operation:
Monday - Friday: 9am-6pm
Saturday: 9am-1pm