Seminole Movers
Best movers Seminole FL are always ready and equipped to make your relocation feel like a breeze.
Get Your Moving Quote
"*" indicates required fields
If your dream has always been to live near the beach with a mix of both suburban and urban feel, then moving to Seminole is a great idea. The sunny state of Florida opens its door to you this summer! All you need to do is make the decision to relocate, which in itself can be rather difficult. We understand that it can be rather scary to leave your life behind and start a new one. However, it's precisely for that reason that we are here. A relocation process can be rather a difficult task if you're not sure what you're doing. It's best to contact müv and seek the help of the best movers Seminole FL has to offer. Your relocation will then be in safe hands and you can relax. Contact us today and get all the relevant information!
Relocating with our help is the only right way to go
Generally speaking, relocating can be rather difficult. Many factors influence your relocation that you need to consider well ahead of time if you want to be successful. However, it doesn't need to be all that complicated. The most important thing is that you give yourself enough time to prepare and not stress.
If you can find some help along the way, then you can be sure that your relocation is a breeze. Finding the right movers to help you is also a process. You can't just rely on the word of mouth. At the very least, you can ask people in your life that you trust if they've moved recently and ask them to share their experiences. Furthermore, you can browse for moving reviews, but you should know what to look for. Pay attention to the moving companies that:
Offer a wide variety of moving services
Employ trained and professional movers
Have experience in the industry

Provide a transparent moving contract without hidden fees
Get in touch with one of the best movers Seminole FL has to offer
müv is one of the best moving companies Seminole has to offer. If you're planning on relocating from, to, or within Florida, then you're bound to run into us. We're one of the most renowned moving companies out there. What separates us from the rest is that we treat each and every one of our clients as a member of our exclusive club. You can always count on our movers in Tampa for support and professionalism. From the very beginning, you will be able to enjoy the treatment of privilege and comfort. Furthermore, we understand that moving can be rather stressful and terrifying. Therefore, you can put your trust in us and be sure that we will repay it by being respectful of your time and energy.
Reach your goal in just a few easy steps with us by your side
Once you succeed in finding the right movers, the city of Seminole will be just a few easy steps away. And you won't regret your decision to relocate there. This tropical paradise has everything you could possibly need. From lovely sand beaches for you to enjoy to profitable job opportunities to take advantage of, you will find that this city has a lot to offer. You'll also have plenty of opportunities for socializing in the bars and cafes all around the city. The people of Seminole are warm and welcoming and it won't take you long to feel right at home. After your first week here, you'll be able to call yourself a Floridian. We would be more than happy to help you achieve your dream. Contact us today and we'll help you reach your goals.
We are able to simplify the moving process for you
Moving with us is incredibly easy. We pride ourselves on the way we simplify the complicated moving process. Our team of movers is hard-working and dedicated. They won't shy away from doing even the most difficult tasks. It's up to you to tell us what you need. Whenever you have any kind of moving-related issue, you can count on one of the most dedicated moving companies in Seminole to help you. Get in touch with us and tell us all about what you need us to do. We offer a variety of moving and storage services that are guaranteed to make your move a success. You can count on us for any of the following services:
Get in touch with movers Seminole FL residents rely on
Now that you know where to find the best movers Seminole FL has to offer, it's time to start planning. Relocating with the help of a professional moving company on your side is easier, but it may still take some time to plan. Furthermore, there is always a possibility for something to go wrong. That's why you need to make sure that your movers and you plan everything in time. You'll then be able to predict some of the more problematic aspects of your relocation and try to come up with ways to prevent them. It's always easier when you're not attempting a difficult task on your own. Furthermore, by having reliable movers on your side like muv to help you by providing Tampa moving services you need, you get a partner with a lot of experience in the moving industry. Contact us today!
Few simple steps
Contact our business
Reach out to our Florida movers by phone, email or through our website.
Get your free quote
Give müv the details of your upcoming relocation and receive a no-obligation moving quote and a tailored plan of action.
Enjoy your relocation
Forget about the stress of moving while one of the top moving companies in Florida handles your move.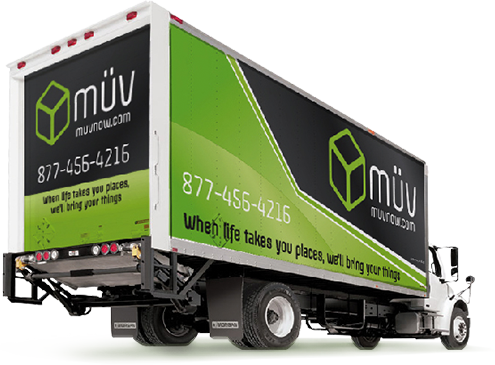 Sales Center Hours of Operation:
Monday - Friday: 9am-6pm
Saturday: 9am-1pm