Space Coast Movers
Partner with our Space Coast movers and ensure yourself a
premium moving experience you deserve.
Get Your Moving Quote
"*" indicates required fields
Deciding to relocate can be difficult but also rewarding. Depending on where you're moving to, and where you're moving from, you may run into some difficulties. However, if you decide to relocate to Space Coast in Florida, we would suggest that the rewards will definitely be worth any challenges you face along the way. If you're a fan of sandy beaches and surfing, and you need some Sun in your everyday life, relocation could be the answer. We understand that it's not that easy, but sometimes it can be. All you need is a good support system. Having professional moving experts like us at müv on your side can be a real life-saver. We are one of the top Space Coast movers out there, and we're here to help. All you need to do is get in touch with us.
Who are the best Space Coast movers, and how to find them?
Relocating without a plan is the worst thing a person can do. You can't just go rushing into relocation unprepared. It's a difficult job, especially for those of you who've never moved before. However, the first thing you need to keep in mind is that you shouldn't try to do everything yourself. Whether you rely on the advice of friends and family who've recently moved or you're scouting for professional moving and storage services, you will need someone to do some of the work for you. Finding the right moving companies can also take a lot of time and effort. You can't trust just anyone with your belongings. Therefore, you should be aware of some characteristics of respectable moving experts. A professional moving company:
will give you a free quote
offers a transparent relocation plan with no hidden fees
has a sound customer support system that is available for any questions you may have
employs trained and hard-working professionals as their moving crew
respects their clients' time and resources
Relocating is a costly affair – find moving experts who understand that
Therefore, the first thing you should keep a lookout for is whether your moving company offers a free quote on their website. Relocating is, first and foremost, a big hit on a family budget. You should also know that as at the müv understand this and we don't want to add to your long list of expenses. As we said, we are here to help in any way we can. When relocating with us, you can always count on a free online moving quote. As one of the best moving companies Space Coast has to offer, you can be sure that we are professional and dedicated. We understand that you are under a lot of stress right now. However, we want to reassure you and convince you that there is no need. You're doing the right thing. All you need is a bit of help.
Your Space Coast movers will guide you towards friendlier skies where you will surely find what you need
If you've only just started to think about relocating to Space Coast, then you're probably full of self-doubt and confusion. After all, even if all goes well with the relocation process itself, there's still a problem with your old life. It's difficult to leave all you've ever known and move to an entirely new life. Furthermore, you never know whether you'll find your way in an unfamiliar environment. Luckily for you, however, Florida's Space Coast is a beautiful place that welcomes all newcomers with open arms. Once you do get here, you'll see all your efforts come to fruition. Apart from lovely weather and sandy beaches, Space Coast offers a lot more. Whether you're looking for job opportunities, new friends, or favorable real estate pricing, you will find what you're looking for right here.
müv is so much more than your everyday moving company
Depending on your planning stage, the moving process may not seem like the most significant problem to you. However, doing it yourself is not advisable. You're going to need the help of professional Space Coast moving companies. And not just any moving company will do. If you have little experience with relocating, you're going to need the help of a full-service moving company. Luckily, we at müv offer various moving services that will surely be of use to you. We know how to handle anything from the smallest antique to the bulkiest office equipment. No matter where you are, no matter the reason for your relocation, müv has the solution to any kind of moving-related issue. Count on us for:
Call us, and we'll take it from there
If the time for relocation is now, or the moving day approaches gives you the anxiety, then it's time to contact us at müv. Our moving company is proud to be called one of the top Space Coast movers in the business. We are hard-working and conscientious. Our policy is that the client is always right. We respect your wishes and treat each and every one of our clients with respect. müv staff is never happier than when we get the opportunity to do what we do best – help people relocate. Therefore, if you find yourself with any kind of moving-related issue, contact us, and we'll be more than happy to help!
Few simple steps
Contact our business
Reach out to our Florida movers by phone, email or through our website.
Get your free quote
Give müv the details of your upcoming relocation and receive a no-obligation moving quote and a tailored plan of action.
Enjoy your relocation
Forget about the stress of moving while one of the top moving companies in Florida handles your move.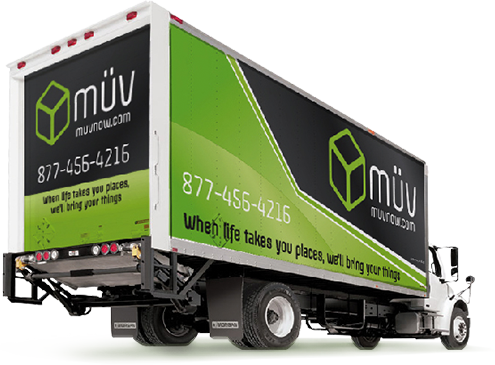 Space Coast
4045 Dow Rd Ste 105 Melbourne, FL 32934
+13213731231
Sales Center Hours of Operation:
Monday - Friday: 9am-6pm
Saturday: 9am-1pm