Storage Melbourne
Decide on the best storage solution by letting müv offer you with climate-controlled storage in Melbourne.
Get Your Moving Quote
"*" indicates required fields
In case you need storage space for your home, office, or business inventory, our moving company offers a simple solution. müv is a trusted Florida moving company, that specializes in providing a better moving experience to our customers. This is done through unique moving solutions and highly-trained moving teams. Alongside moving services, we also offer climate-controlled storage options. Having a modern, safe, and easily accessible place to store your belongings when moving can be incredibly useful. Our storage Melbourne FL facilities are top-of-the-line and suitable for storing all sorts of different inventory. Whether you need to put away a few items, or entire rooms of furniture, müv is here. To rent your own storage unit, contact us today.
Work with storage Melbourne FL experts you can trust
There is no doubt that moving is a complex undertaking. Whether you are moving down the street or across the state, it is never simple. The list of tasks you need to complete can seem never-ending. It is a stressful, time-consuming project. müv experts are here to offer you a helping hand. Our story is simple – we wanted to make moving accessible and easy for Florida residents. When you need advice from storage experts in Melbourne, turn to us for help.
One thing you should know about us is that we place customer satisfaction above everything. When you rent storage services in Melbourne, you get more than just a unit. You get access to modern, climate-controlled facilities. Moreover, our Melbourne movers have gone through proper training. They know how to prepare items for storage and keep them in mint condition. With their assistance, you will have no trouble putting your items away.
Request a free estimate and learn how the process works
Storage services can often seem too expensive for the regular person. The balance between price and quality is tough to achieve. Here at müv, we strive to make our prices accessible. This is because we want people to experience how easy moving can really be. We are confident that we have reached this goal. If you are unsure whether you can afford to rent storage in Melbourne, request a free online quote.
Alternatively, you can contact müv by phone. Give us a call, and some basic information about your next project. Based on your details, we will provide you with a unique plan and estimates. The final rate will depend on your inventory and the duration of storage. If you are planning to store fragile or delicate items, let our agents know. Don't be afraid to ask anything concerning storage units Melbourne residents recommend. Our customer service team will be more than happy to answer all of your questions.
Rent a storage unit for any occasion
The reasons why people need storage are varied. Perhaps you are moving into a smaller apartment, and need a place for bulky furniture. Or your office is cluttered with files and boxes you don't use. Maybe you are in the midst of a business move and need a safe place for your inventory. Whatever the case is, müv can find a storage unit for you. Depending on your needs, we can offer you short or long-term storage. Our Florida facilities can store almost anything, due to the modern climate-control system.
For example, renting a storage unit in Melbourne FL can make your home moving process easier. Some extra storage space can come in handy during a relocation. It means you do not have to move everything at once. Instead, you can move only your essential belongings. Decor, big furniture, and anything that is not necessary can wait for you inside one of our climate-controlled rooms. Our storage experts will arrange a suitable unit for anyone moving to our from Florida.
Find storage in Melbourne that fits your needs
Depending on the type of inventory you want to store, the occasion, and your budget müv can offer you different options. We can also offer help in the form of loading and unloading services. When it comes to storage, there are two main types:
Short-term storage – Can be anywhere from a few weeks up to a couple of months. It is most commonly used during a move. This option can give you flexibility when relocating your home or office. It is a good way to break up your move into more manageable steps. Additionally, it can be used when renovating. Doing repairs, painting walls and decorating is easier without furniture in the way. Moreover, you can use it to stash your valuables when traveling.
Long-term storage – If you need to store items away for more than a few weeks this is the option for you. It is an excellent choice when you are decluttering your home. It can be used as an extension of your closet or garage. Many people use it to store valuable possessions, art collections, and so on. It is ideal for this purpose, as it provides a secure, climate-controlled environment. müv offers expert packing services, to ensure your items stay protected in storage.
Give us a call and enter the world of premium moving solutions
Having large amounts of storage space in your home has become a luxury. These days, many people decide to rent out storage for a variety of different reasons. As one of Florida's premier moving companies, müv can help you find the optimal storage solution. Whether you are decluttering your home, doing renovations, or moving business our facilities will safely store your belongings. With climate-controlled rooms and top-of-the-line security, your items could not be in better hands. If you would like to learn more about storage Melbourne FL residents often rent, contact us and get a free estimate at your convenience. Our agents will help you decide on the best storage option based on your needs.
Few simple steps
Contact our business
Reach out to our Florida movers by phone, email or through our website.
Get your free quote
Give müv the details of your upcoming relocation and receive a no-obligation moving quote and a tailored plan of action.
Enjoy your relocation
Forget about the stress of moving while one of the top moving companies in Florida handles your move.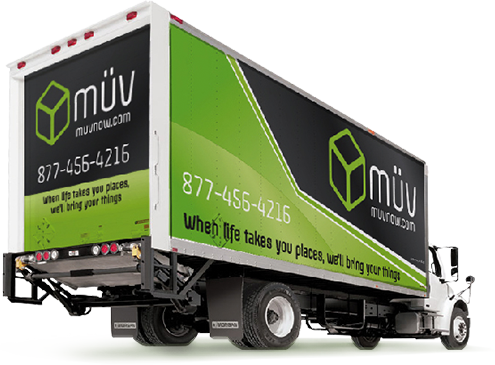 Sales Center Hours of Operation:
Monday - Friday: 9am-6pm
Saturday: 9am-1pm