Rockledge Movers
Our movers Rockledge FL trusts are a perfect choice for any type of relocation.
Get Your Moving Quote
"*" indicates required fields
Hiring reliable movers is one of the most important tasks during your relocation process. Whether you are relocating your home or your office you will need people that know moving procedures and will be able to organize the transportation of your belongings. Because this is such a time-consuming and exhausting job there is no reason to do it by yourself. At müv, we know this and we understand how challenging relocation can be. For that reason, we are offering services that will cover every aspect of your relocation process. Do not hesitate and get in touch with us. Let one of the most reputable movers Rockledge FL relocate you to your new destination.
What are the benefits of hiring movers Rockledge FL?
The main benefit of having reliable movers during your relocation process is that you will have time to focus on the other things. Whether you prefer to spend more time with your friends and family or focus on the administration and paperwork related to the change of address professional movers will have you covered. For that reason, do not overthink and contact one of the most reputable moving companies Rockledge FL and get your free quote today.
At müv, we are proud to say that we are one of the most recommended movers in the area. Founded in 2015 for years we have been providing moving services to our community. Rest assured that with us you will not have to worry about the miles as we cover both local and long distance relocations. Whether you need full moving service or labor only reach out to us, and experience all the benefits that you will get because of our movers:
Experience efficient relocation at an affordable price
Cover all the steps of your moving process by getting a full moving experience
Protect your valuables and get them safely to your new location
Relocation of your home will be a smooth transition
Any type of relocation can be difficult because of the tasks that need to be completed. Still, home moving is specific because you will not have to deal only with your belongings but your emotions as well. As we understand that you could feel overwhelmed because of the change of home we will ensure to provide you with a stress-free moving experience. Rest assured that with one of the most experienced moving companies in Rockledge you will not have to worry about your valuable and fragile household items. We will protect them carefully and transport them to your new home with caution. Be assured that with our crew by your side you will not feel sorrowful because of the change of address but only joy and happiness.
With one of the most skilled movers Rockledge FL has your business will not suffer
Relocation of the business can be a real challenge and a truly complex task. Because of the items that you might possess in the office, it might seem challenging to relocate them. Still, with one of the most skilled movers Rockledge FL has you will not have to worry about a single item. Because of years of experience in office moving, we are capable to relocate office items in any shape and size. Whether you have a simple office with a desk and a chair or a corporation with large furniture and electronics rest assured that we got you covered. There is no reason to worry about the transportation of your belongings when you can focus on your customers even during the moving process. Get in touch with us! Rest assured that our crew will not allow your unneeded downtime because of the relocation.
Let us protect your belongings and pack them with top-notch quality materials
When you need assistance from our Space Coast movers, you get professionals that will know how to protect your belongings. At müv, we are proud to say that we offer one of the most reliable packing services in the area. Our crew has patience, experience, and knowledge to protect any item you might think of. Because of the number of moves that we did we gained experience with different objects and materials. For our team, there is no item that is too difficult to pack. Rest assured that with one of the most dedicated moving companies Rockledge FL has your belongings will be properly packed and ready for transportation. Entrust your valuables to us and have peace of mind during your relocation process.
Entrust us with your excessive items and we will keep them safe
Moving to a new location means that you will have to deal with all of your belongings. There are probably many items that you probably don't even remember that you possess. Whether you are downsizing or you have items that you don't use but don't want to get rid of them our Rockledge FL movers have a solution for you. As a part of our services, we offer storage solutions for your excessive items.
Regardless of the period that you will need to store your belongings, you can rest assured that they will be in good condition. Because of our climate-controlled units, your valuables will not get damaged because of the changes in the temperature. Whether you are moving within the city of Rockledge or somewhere further rest assured that we will take good care of your belongings.
Get in touch with müv and let us move you with ease
Do not allow yourself to feel overwhelmed because of the relocation when it can be an enjoyable experience. Regardless of your final destination and the type of your move, all that you will need is a team of professionals to walk you through the process. So do not hesitate to contact us and let our movers Rockledge FL take care of your relocation process. Rest assured that with müv move has never been easier!
Few simple steps
Contact our business
Reach out to our Florida movers by phone, email or through our website.
Get your free quote
Give müv the details of your upcoming relocation and receive a no-obligation moving quote and a tailored plan of action.
Enjoy your relocation
Forget about the stress of moving while one of the top moving companies in Florida handles your move.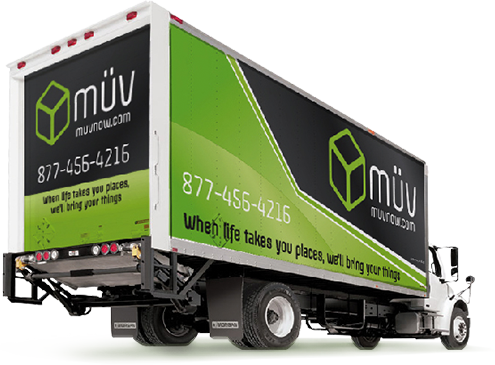 Space Coast
4045 Dow Rd Ste 105 Melbourne, FL 32934
+13213731231
Sales Center Hours of Operation:
Monday - Friday: 9am-6pm
Saturday: 9am-1pm