Charming places in Florida you might not know about
Get Your Moving Quote
"*" indicates required fields
Florida is a gorgeous state, everyone knows that! There are many charming places in Florida you might now know about, even as a Florida native. You can find them all over Florida, not just in the small cities not a lot of people know about. Even the big cities have some charming places you wish you knew about before. We at müv moving experts have made dozens of moves happen all over Florida, and we've seen firsthand all these places we're going to talk about. Let's jump right in! By the end of this article, you'll definitely find a place in Florida you will gladly go out and visit, or maybe even a new city you'd want to relocate to!
Salvador Dali Museum, St Petersburg
This museum, dedicated to one of the most important artists of all time, was established in 1982. It cost over $30,000,000 to be built, and once you step inside you'll understand why. Its entire structure was designed around the surrealism Dali was known. It has a large glass entryway, a spiral staircase, and a skylight named 'the Enigma'. The museum hosts a wide variety of events, workshops, fundraisers, food & drink events, etc. All of them are obviously inspired by the work and life of Salvador Dali. There is so much to see and learn in this museum, so you'll definitely have to visit it. As soon as you step inside, you'll be in awe of not just the entire structure, but also of his art that is displayed every step of the way.
The museum is the home to more of Dali's masterpieces than any other place on Earth. Its collection includes almost 100 oil paintings, 1,300 graphics, sculptures, photos, watercolors, and so on. It even has more of Dali's art than the museum in his hometown of Figueres, Spain! That's not something you wish to miss out if you're ever in St Petersburg. If you are in the process of moving to this town, be sure to visit this museum as soon as you can! Once your movers St Petersburg FL of choice have left your home and you've unpacked, head out to this museum to relax, unwind and learn something new! 
Ybor City, Tampa – one of the most charming places in Florida
Ybor City is a historic neighborhood located near downtown Tampa. Founder in the 1880s but Vicente Martinez Ybor, this place was once the cigar capital of the world. It was primarily populated by Cuban immigrants, along with Italian and Spanish ones, whose primary field of work was cigar manufacturing. After the town was established, for the next 50 years its factories produced and rolled hundreds of millions of cigars on a yearly level! Even to this day, cigars are one of the most important things in the lives of its residents. However, it wasn't always successful as it had periods of great turmoil. During the great depression, the demand for cigars drastically diminished, and the loss of jobs and poverty culminated during WW2. There were attempts to revive Ybor City, but it only happened in the 1980s.
Many young artists began to move to Ybor City in the 1980s, and that's when the gentrification process slowly but surely started. During the next few decades, the place was completely revitalized and is now a shining beacon of Tampa. It now has many great bars, restaurants, nightclubs, art shops, and so on. It is now officially designated as a National Historic Landmark District with several of its structures listed in the National Register of Historic Places. If you were already interested in moving to Tampa, we hope Ybor City has nudged you further in that direction. Get the best moving services in Tampa you can find and start packing! One of the most charming places in Florida is waiting for you with open arms. 
Beer Can Island, Tampa 
Beer Can Island, now known as Pine Key, is a small, man-made island located in Tampa Bay. You can only access it by boat, or by walking through a trail of mangroves, but only during a low tide. This white sand beach has no bathrooms, no tourists, no amenities, and has all the privacy you'd want. In order to actually go there, you have to register as a member on the island's official website. Don't worry, the membership is free but there are multiple options for you to choose from. Fun fact: in 2021, some of the owners put a part of the island on auction. Anyone could buy it, but the only condition was that they pay in Bitcoin. 
It's a great spot if you want to go out and relax with your friends. There are almost always some parties going on there, so it's definitely worth checking out. Tampa as a city really has plenty of charming places that not a lot of people know about, but that's completely understandable given its size. If you have an opportunity to move here, seize it. Get a new job, find the right home, book a reliable moving and storage Tampa FL company and get going. These charming places in Florida will always be there for you to explore and experience them. Maybe you can even dedicate your next vacation to going around Florida and visiting as many hidden gems as you can! 
Pinewood Cultural Park, Seminole
Pinewood Cultural Park in Seminole is a great spot to visit if you are brand new in the city. It provides multiple attractions and sites located on one big estate. On the grounds of this park, you will have the joy of checking out the Florida Botanical Gardens. It has a wide variety of both cultivated and uncultivated areas, but they are all well-connected by trails and signs. You can explore some very unique plants in this botanical garden, so be sure to do so. The other notable part of this park is the Heritage Village. It has more than 20 acres of historic landmarks and buildings, where the tour guides are giving insight into the area's history. Not just of the buildings and place itself, but also who the people who used to live here.
Seminole also has a few other charming places worth visiting. Most of them are natural areas and parks. The best ones we would recommend are Walsingham Park and the Sunken Gardens. It's also a botanical garden with hundreds of exotic plants and other types of life. Seminole is a place with a surge in population, given its hidden gems and proximity to St Petersburg. If you are also one of those people interested in living here, you'll be glad to know we're one of the highest-rated movers Seminole FL has to offer! 
John's Pass Village, Pinellas Park – a charming place in Florida like no other 
If you ever find yourself in Pinellas Park, you simply must pay a visit to John's Pass Village! It's a 1,100-foot boardwalk located at Madeira Beach, and it has a very interesting history. It's named after a pirate called John LeVique, who first sailed through this pass in 1848. One morning, after a hurricane hit the area, he woke up and saw that his island was cut in half by the storm. He also noticed a new pass was formed between the Gulf of Mexico and the intracoastal waterway. He sailed through this pass, which hundreds of boats now use on a daily basis. This is one of the most charming places in Florida, as it is a piece of old Florida perfectly blended with the contemporary lifestyle of the 21st century.
Along the boardwalk, you'll see almost endless options where you can sit down and relax. Restaurants with cuisines from all over the world, fresh sea produce, bars & cafes, gift shops, and similar spots can be found every step of the way. John's Pass Village actually has more places to eat and drink than any other spot on the Gulf Beaches. Of course, it has white-sand beaches where you can relax and take a swim. Plenty of tours for dolphin watching and similar activities are available too. It's a place that's best when you visit it in person. Words can't really describe its irresistible charm to its fullest extent. If you have a desire to relocate here, our movers Pinellas Park FL can't wait to take your call and help you in any way they can! 
John Chesnut Sr. Park, Palm Harbor 
Located in Palm Harbor, John Chesnut Sr. Park is one of the most beautiful parks and charming places in Florida. It spreads at 255 acres of land. It is the home of various wildlife, which you should definitely go out and explore. You can see many different species of alligators, turtles, hawks, vultures, and many more. Lake Tarpon is located within the park, which is five miles long and one mile wide. If you're wondering if you can fish there, the answer is yes! The lake accommodates boats with combustion engines, except the canoe trail where you can only use boats with non-combustion engines. However, you can't swim inside the park. There are also guided tours available with wildlife experts employed by the park, so any questions you may have about animals and plants will be answered. 
Bonus tip for Palm Harbor: there are many great scuba & snorkeling guided tours available at Crystal Lake. You can swim with and interact with marine life like manatees, dolphins, and sea turtles. While you are there, you can also see some gorgeous and majestic birds like pelicans, great blue herons, flamingos, etc. If you're a nature enthusiast, Palm Harbor is the right place for you. Hiring the services of reliable movers Palm Harbor FL has to offer will be a great way to start your stay in this city. When your relocation is complete and you've unpacked your boxes and made your new home feel like home, it's time to go out and explore! Thankfully, there are so many charming places in Florida for you to choose from, you'll have a hard time deciding where to go next.
Hollis Garden, Plant City
The final entry on our list is Hollis Garden, located in Plant City. It is a rather small but nevertheless very charming place in Florida, as it's only slightly larger than an acre. Small as it may be, it makes up for its lack of size in beauty and splendor. It has a wide variety of promenades and fountains which really make this place feel like magic. It is the perfect spot to escape from the noise of the big city and reconnect with nature. The garden is the home of thousands of different types of plants. Local, regional, non-native ones, flowers, trees, it really has it all. They are all marked with plaques that offer information and fun facts about them. What's also great about it is that the entrance is free! 
Plant City is an unincorporated community, and it's located between Brandon and Lakeland. Now we know it as the winter strawberry capital of the world. It hosts the annual Florida Strawberry Festival in February or early March. This festival makes people from all over the world head down to Plant City, to enjoy the festival and the city itself. Hollis Garden is definitely not the only thing that's worth checking out there! Many other charming places in Florida are located in this area, so we hope you get to see them all. Many of those you can find in Brandon as well, but we'll leave it up to you to go out and find them. If you're in the process of relocating to Brandon, your chosen movers Brandon FL can also share with you their favorite spots in the city. Don't hesitate to ask them for some recommendations!
Few simple steps
Contact our business
Reach out to our Florida movers by phone, email or through our website.
Get your free quote
Give müv the details of your upcoming relocation and receive a no-obligation moving quote and a tailored plan of action.
Enjoy your relocation
Forget about the stress of moving while one of the top moving companies in Florida handles your move.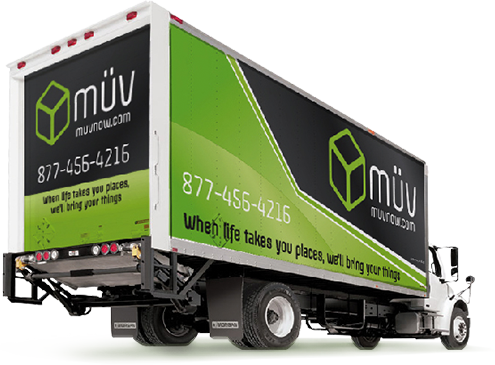 Sales Center Hours of Operation:
Monday - Friday: 9am-6pm
Saturday: 9am-1pm