Benefits of renting a storage unit during renovations
Get Your Moving Quote
"*" indicates required fields
Lots of people move their belongings to different places when doing home renovations. Generally, people will take their stuff to a friend, family, or even a neighbor. While that's a completely valid option, it's smarter to rent a storage unit for a period of time. There are multiple benefits to doing this. You're keeping your items safe, you don't depend on anyone and you know they're in good hands. People often do this when hiring one of the moving companies in central Florida for their relocations. But renting a storage unit during renovations is perfectly reasonable and a good option. There are also storages that are climate-controlled, meaning even the most delicate items won't get damaged even if they stay there for a while. There are also many other services, too. For example, you can get insurance and good security for your unit that you otherwise won't get.
You won't depend on anyone if you rent a storage unit for your renovations
Getting all sorts of things to someone else's house can make an unnecessary burden for them. They probably got enough space for their belongings, not yours, too. While that might work sometimes, sometimes it simply won't. They might be away for work or just won't have enough space. You shouldn't expect to be able to just drop off your stuff at someone else's home. That's why thinking about renting a storage unit in advance is a good idea. This way, you protect yourself from all sorts of reasons why your idea might otherwise fall apart. Add that to the bonus services you can get out of a storage unit, and you soon realize why lots of people do it.
Furthermore, there's no limit to the stuff you can put in your unit once you book it for a period of time. Sure, they have a physical limit – but you can always get yourself two of those. On the other hand, a friend's garage has only so much space. Meaning, even though someone else's home might be a good idea – if you have lots of stuff it simply won't suffice. That's another benefit why people will often book storage Orlando FL services, rather than ask a friend. On the other hand, your friends might even have the space to store your boxes – but it can be inconvenient for them. Especially if they have kids.
You don't have to worry about the security of your belongings
Speaking of children – the next big benefit of booking a storage unit is the fact it provides really good security. There's simply nothing that can happen to your stuff while they're in a storage unit. And even if there was something, plenty of storage companies will offer you good insurance protections. Most often, people will use these kinds of protections when they're leaving their belongings in the unit for a prolonged period of time. But it's completely reasonable for you to do it, as well. Especially if you're leaving expensive stuff there – or you fear something might happen. Renting a storage unit during renovations can also mean you're getting a climate-controlled unit. That's just stuff you won't otherwise get in a friend's house.
When you're doing home renovations, all sorts of nasty things can happen. Paint can get onto your new couch, you might spill some chemicals over your books, and so on. That's why putting your belongings somewhere else while your renovations are ongoing is a great idea. Many storage companies will offer you a unit based on the number of weeks, or even months. As you're only doing home renovations, you're probably going to need a unit for a week or two. More commonly, people who're hiring moving companies Orlando offers and decluttering will use a unit for a month or two. Although it's not common to do this for renovations, know there's such an option out there.
You're going to have much more free space for renovations if you keep your belongings in a storage unit
You're going to need lots of free space once you start doing your renovations. Especially if it means taking the floors off, installing new ones, and so on. Putting your furniture and other belongings in a storage unit is going to be a lifesaver when renovating your house. Otherwise, you're just making it harder for yourself because you're going to need to pay attention not to damage anything. It's a lot easier to do home repairs and renovations in an empty house, rather than going around furniture. This, plus avoiding potential damages is one of the primary reasons why people book units in the first place.
If you don't feel like packing your belongings into boxes in order to drop them off in a storage unit – consider hiring professionals. A lot of the packing service Orlando offers are going to be a great fit. You can get all of your belongings packed into good and sturdy boxes, and then it's only a matter of taking them to the unit. This way, you're doing everything you can. That includes:
Making sure your belongings are well-protected against all possible incidents. For example, you can get climate-controlled units.
Renting a storage unit during renovations also means you're going to have lots more space in your home.
There's going to be no dust, dirt, or otherwise anything you'll need to worry about.
Conclusion – renting a storage unit during renovations in a nutshell
People book storage units during the period of home repairs for lots of different reasons. Some worry about the possible damages, while others simply need an empty house to change their floors. Whatever it is, renting a storage unit during renovations is a good idea. You won't be on anyone's back by using their home, and you're going to be in greater control of your items. Based on the contract you sign with the storage company, you can also use many other services they offer. That can include extra security, extra insurance, and many others. In the end, it's all about protecting your items during a short period of time. Even the simplest of storage units will suffice – so don't bury yourself in research.
Few simple steps
Contact our business
Reach out to our Florida movers by phone, email or through our website.
Get your free quote
Give müv the details of your upcoming relocation and receive a no-obligation moving quote and a tailored plan of action.
Enjoy your relocation
Forget about the stress of moving while one of the top moving companies in Florida handles your move.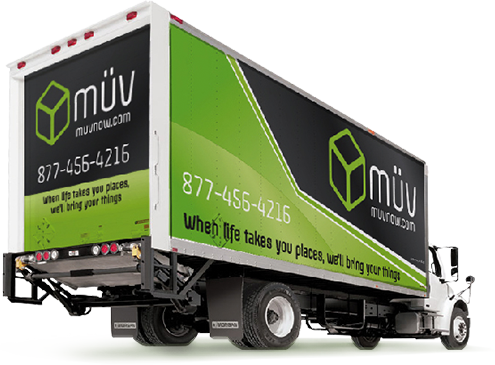 Sales Center Hours of Operation:
Monday - Friday: 9am-6pm
Saturday: 9am-1pm