Helpful advice for moving in with elderly parents in FL
Get Your Moving Quote
"*" indicates required fields
There is a growing trend of adult children moving in with elderly parents in FL. This arrangement can offer many benefits for everyone involved. However, it is vital to approach it with thoughtful planning and consideration. We'll share helpful advice and resources to support you. Count on the assistance of reliable moving companies in central Florida. Count on our help and practical tips.
Understanding Florida's senior living landscape: Finding the right community
Florida has long been a popular retirement destination, attracting a significant elderly population. As you prepare to move in with your elderly parents, it's crucial to understand the landscape of senior living in the state. Take the time to research popular cities and towns for seniors. Familiarize yourself with statewide resources and organizations that can provide support to seniors and their families. Partnering with moving companies Orlando offers can ease the transition to your new community.
Preparing for the move: Assessing needs and creating a plan
Before moving in with your elderly parents, take the time to evaluate the needs and expectations of everyone involved. Assess your parents' current health, anticipate potential future needs, and identify any mobility and accessibility requirements. Consider whether they will need assistance with daily activities or medical care, and how these needs may change over time. With the help of a packing service Orlando movers offer, you can ensure your parents' belongings are safely and efficiently prepared for the move.
It's equally important to evaluate your own needs and expectations, such as work and career considerations, personal space and privacy, and relationship dynamics with your parents. Determine how you will maintain a healthy work-life balance, establish boundaries to protect your privacy, and foster open communication with your parents to address any potential conflicts or concerns. Creating a financial plan is an essential step in the process. Budget for housing and living expenses, research government programs and benefits for seniors, and plan for potential long-term care needs. As you make these preparations, consider the costs associated with storage Orlando FL residents use for any items that may need temporary or long-term storage during the transition.
Choosing the right home is important when a person's moving in with elderly parents in FL
When selecting a home in Florida, consider the location and proximity to healthcare facilities, access to social and recreational activities for seniors, and any climate and weather-related concerns, such as hurricane preparedness. Explore various housing options, such as:
Multi-generational homes: These homes are designed to accommodate multiple generations under one roof, providing separate living spaces and amenities for each generation while still allowing for interaction and support.
Senior-friendly home modifications: If your parents' current home is suitable, consider making modifications to ensure it is safe and accessible for them. This may include installing grab bars, ramps, and stairlifts, widening doorways, or creating a more accessible bathroom.
Assisted living facilities: If your parents require more care than you can provide, an assisted living facility may be a more suitable option. These facilities offer a range of services and amenities tailored to seniors' needs, such as meal preparation, medication management, and social activities.
Settling in and adjusting to the new living arrangement
Once you've moved in, it's important to establish routines and set boundaries. Develop a daily schedule that takes into account your parents' needs and preferences, as well as your own commitments and responsibilities. Define household responsibilities, and discuss how you and your parents will share chores and tasks. Strike a balance between independence and assistance, allowing your parents to maintain their autonomy while still providing support when needed. Encourage them to engage in activities that promote physical and mental well-being, such as exercise, hobbies, and socializing with friends and neighbors.
Fostering positive relationships is crucial for a harmonious living environment. Maintain open lines of communication, engage in shared activities and hobbies, and build a support network within the community. This support network could include neighbors, friends, local support groups, and professional caregivers who can offer assistance and advice when needed.
Navigating Florida's healthcare system: Medicare, Medicaid, and finding the right providers
Understanding Florida's healthcare system is essential when moving in with elderly parents in FL. Learn about Medicare and Medicaid in Florida, including eligibility requirements and the enrollment process, and research coverage options and supplemental insurance. This will help ensure your parents receive the appropriate coverage and care for their needs.
Finding the right healthcare providers, such as primary care physicians, specialists, home health care, and emergency services, is also crucial. Research local providers, seek recommendations from friends and family, and consult with your parents' current healthcare providers to ensure a smooth transition of care.
Legal and financial planning: Essential documents and long-term care planning
Ensure you and your elderly parents have the necessary legal documents in place, such as wills and estate planning, power of attorney and healthcare proxies, and advance directives and living wills. These documents will help protect your parents' wishes and ensure they receive the care they desire, even if they become unable to communicate their preferences.
Planning for long term care in Florida involves exploring long-term care insurance options. It also includes understanding Medicaid planning and asset protection strategies. Choosing the right long-term care facility or services is also important. Research various facilities and services in your area, and consult with a professional, such as an elder law attorney or financial planner, to ensure you make the best decisions for your parents' long-term care needs.
The importance of planning when moving in with elderly parents in FL
Moving in with elderly parents in FL can be a rewarding experience, but it requires thoughtful planning and open communication. Following the advice in this comprehensive guide and seeking additional resources when necessary. You should create a positive and supportive living environment for both you and your parents. Embrace this journey with optimism and care, and cherish the precious moments it brings. By working together and maintaining a strong support system, including the assistance of moving companies in central Florida, you can ensure the best possible quality of life for your elderly parents in Florida.
Few simple steps
Contact our business
Reach out to our Florida movers by phone, email or through our website.
Get your free quote
Give müv the details of your upcoming relocation and receive a no-obligation moving quote and a tailored plan of action.
Enjoy your relocation
Forget about the stress of moving while one of the top moving companies in Florida handles your move.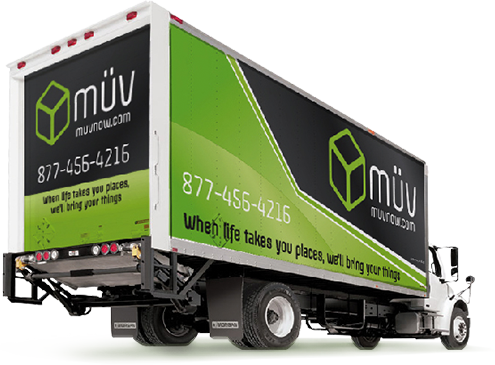 Sales Center Hours of Operation:
Monday - Friday: 9am-6pm
Saturday: 9am-1pm