Space Coast with kids: Where to go and what to do
Get Your Moving Quote
"*" indicates required fields
The Space Coast, located on Florida's east coast, is an incredible destination for families moving to the area. It has beautiful beaches, rich history, and strong connection to the world of space exploration. There's no shortage of exciting activities for kids. If you're planning a move to the Space Coast with kids, this guide will help you uncover the best attractions and experiences to keep your little ones entertained and educated. Partnering with professional Space Coast movers can make your relocation process smoother and more efficient, allowing you more time to explore the area with your family.
Discovering the wonders of space at Kennedy Space Center
One of the most iconic attractions on the Space Coast is the Kennedy Space Center Visitor Complex. This interactive museum offers a wealth of activities and exhibits for children of all ages. It's a must-visit destination for families. You can meet astronauts and touring the space shuttle Atlantis. Experience a simulated shuttle launch and visit the Rocket Garden. Your kids will have a blast while learning about space exploration. To make the most of your visit, consider purchasing a multi-day ticket. Don't forget to check the calendar for special events and launches. Moving there will require you to plan ahead. The müv moving experts can provide support and advice throughout the moving process, giving you more time to explore the fantastic attractions and activities the Space Coast has to offer.
Embracing nature at the Brevard Zoo
The Brevard Zoo is a fantastic place for families. Get up close and personal with animals from around the world. With over 900 animals representing more than 195 species, the zoo offers a diverse range of exhibits and interactive experiences, such as feeding giraffes, kayaking through the zoo, or even ziplining through the treetops. The zoo's focus on conservation and education makes it an excellent destination for kids. They can learn about the natural world and the importance of protecting it.
Dan at a beach in Space Coast with kids could be exactly what you need
The Space Coast is home to some of the most beautiful beaches in Florida.  This makes it an ideal location for families who love spending time by the water. Some of the best family-friendly beaches include Cocoa Beach, Satellite Beach, and Canaveral National Seashore. When visiting the beach with kids, it's essential to prioritize water safety and look for amenities like restrooms, showers, and picnic areas. In addition to the stunning coastline, the Space Coast also boasts numerous parks and nature preserves. Some of the most notable ones are the Merritt Island National Wildlife Refuge and the Enchanted Forest Sanctuary, offering opportunities for hiking, wildlife watching, and environmental education. If you are moving to Cocoa Beach, working with reputable movers Cocoa Beach FL relies on can ensure a smooth transition to your new home.
Unleashing creativity at the Foosaner Art Museum
Located in the Eau Gallie Arts District, the Foosaner Art Museum is a fantastic destination for families interested in fostering creativity and art appreciation in their children. The museum features a diverse range of art exhibits. It offers educational programs for kids, such as art classes, workshops, and summer camps. A visit to the Foosaner Art Museum can inspire young artists and provide an engaging way to spend an afternoon with the family.
Diving into history at the American Space Museum & Space Walk of Fame
The American Space Museum & Space Walk of Fame in Titusville offers another fascinating glimpse into the history of space exploration. This unique museum features an array of exhibits, artifacts, and hands-on experiences for kids, such as flight simulators, a space shuttle tile, and interactive displays. A visit to this museum can help children understand the importance of space exploration and inspire them to dream big.
Stepping back in time at the Historic Cocoa Village
The charming Historic Cocoa Village offers a delightful step back in time for families visiting the Space Coast. This quaint area features a variety of kid-friendly attractions, such as the Cocoa Village Playhouse, parks, and shops offering toys, games, and sweets. Spending a day exploring Cocoa Village is a fantastic opportunity for family bonding and learning about the history of the region.
Adventuring on eco-tours and wildlife encounters
Eco-tourism is a growing trend on the Space Coast, and there are several companies that offer family-friendly outings. They are focused on nature and wildlife. Some popular eco-tour options include airboat rides through the St. Johns River, kayaking in the Indian River Lagoon, or guided nature walks in the Merritt Island National Wildlife Refuge. These outings provide unique opportunities for children to observe wildlife, such as manatees, alligators, and various bird species, in their natural habitats. Participating in an eco-tour can help kids develop a deeper appreciation for the environment and the importance of conservation.
Making learning fun at the Space Coast Science Center
The Space Coast Science Center is another must-visit attraction for families with curious kids. This interactive museum aims to make learning about science fun and engaging for children. It has a wide range of exhibits and hands-on activities. Highlights include a planetarium, a dinosaur exhibit, and various live animal encounters. Visiting the Space Coast Science Center can encourage a love for science and learning in children. It can set them up for a lifetime of curiosity and discovery. If you're moving to Palm Bay, working with trusted moving companies Palm Bay relies on can help ensure a seamless transition for your family.
Tips for finding kid-friendly dining and accommodations
To ensure a memorable and enjoyable experience for the whole family, it's crucial to find dining options and accommodations that cater to the needs of children. When looking for family-friendly restaurants on the Space Coast, consider options that offer a variety of dishes and have a casual atmosphere, such as Squid Lips in Melbourne or Grills Seafood Deck & Tiki Bar in Port Canaveral. When choosing accommodations, prioritize options with kid-friendly amenities, like pools, play areas, or family suites. Comfort and convenience are key to making your family's move to the Space Coast a positive experience.
Space Coast with kids is a lot of fun
The Space Coast is a fantastic destination for families moving to the area, with a wealth of attractions and activities that are both engaging and educational for children. From space exploration and wildlife encounters to art appreciation and beach fun, there's truly something for everyone to enjoy. By taking advantage of the many opportunities for learning and bonding as a family, and partnering with reliable moving experts, your move to the Space Coast with kids will be an unforgettable adventure.
Few simple steps
Contact our business
Reach out to our Florida movers by phone, email or through our website.
Get your free quote
Give müv the details of your upcoming relocation and receive a no-obligation moving quote and a tailored plan of action.
Enjoy your relocation
Forget about the stress of moving while one of the top moving companies in Florida handles your move.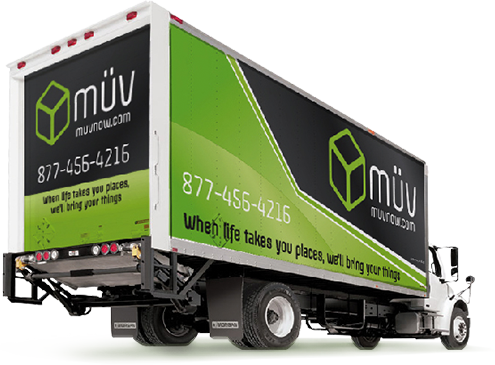 Sales Center Hours of Operation:
Monday - Friday: 9am-6pm
Saturday: 9am-1pm