Brandon Movers
Reliable movers in Brandon FL will ensure you move with ease like never before.
Get Your Moving Quote
"*" indicates required fields
If you are moving within or around Brandon, give us a call and enjoy a smooth and stress-free relocation with the help of the finest movers in town.  No matter whether you are moving your household or a business, müv has prepared a set of moving services that will turn even the most difficult relocation into an enjoyable experience. If you want your next relocation to be handled by some of the best movers Brandon FL has to offer, contact us. We will give you a free quote. And, if you like our offer, we will send you a team of moving professionals that will make sure you enjoy every step of the process.
We are one of the most highly rated movers Brandon FL has available
We understand that reliability is one of the most important issues when hiring movers. Unfortunately, even though the number of moving companies is higher than ever, it seems like the overall customer experience hasn't gone up. Fortunately, now you have müv – a moving company that is known for its reliability. We have been on the market since 2015 and during that time, we have built a reputation as one of the most trusted moving companies Brandon FL has to offer. We have a large team of hardworking professionals that are dedicated to one goal – providing you with the top quality service you deserve. So do not let your upcoming move be ruined by some incapable or fraudulent movers. Instead, call müv – a company that offers moving and storage Tampa residents trust.
We are fully equipped to handle even the most difficult moves
Our company wants to ensure that every person in Brandon gets top-quality moving services. In order to make that happen, we had to organize a team of the finest movers Brandon FL has to offer. Moreover, we have gathered a team of experienced coordinators that are making sure that every move under our command runs smoothly and efficiently. And we have all the necessary equipment and modern vehicles suitable for all types of relocations. There are many things that we can do. So, if you are planning a move, and you want to avoid unnecessary issues with broken items, hidden fees, late deliveries, or last-minute cancelations, we are the moving company in Brandon FL to call.
Choose moving and storage services according to your needs
The wide range of services is the only way to ensure that we will be able to cover every move that stands before us. That is why we have prepared moving services suitable for all types of relocations and customers. Therefore, you can call our Brandon FL office regardless of whether you are moving your family home or business. Here are some of the moving services we offer:
The best local moving experts in Brandon FL
Brandon is one of the best suburbs in the Tampa area. And it is quite a large suburb with a population of 115,911. So, you can imagine the number of relocations that are going on within this part of Tampa. One of the best moving companies Brandon FL has – müv, conducts a good number of those relocations. And, if you had an opportunity to read some of our reviews online or to talk to some of our previous customers, you will see that we are professionals with the highest reputation in the Tampa area. That is because we employ only local moving professionals that know the city of Brandon and the whole of Hillsborough County inside and out and are capable of ensuring a smooth transition of your home or office no matter the time of the week, weather, or other circumstances.
Move your home or business with minimum interruptions
We already mentioned that our moving company in Brandon FL handles residential and commercial relocations. If you are moving your home, no matter if you are moving across the street or across the town, we will make sure that your personal possessions arrive at your destination damage-free and on time. If, on the other hand, you are moving your business, our team of coordinators will make a perfect plan that will ensure a smooth and efficient relocation of your business. All with the aim of reducing the downtime as much as possible.
Let us pack your items and ensure their safety
No relocation process can go without packing. And, according to our experience, that is something that our customers fear the most. Packing requires a lot of time, energy, skills, knowledge, and good packing materials in order to be completed properly. We know that only on rare occasions people can pack without any issues. That is why we have organized a team of trained packers that will make this process quick and effortless for you. Simply give us a call, and a team of the finest movers Brandon FL has to offer will arrive at your place a few hours before the schedule. Naturally, armed with top-quality packing equipment and materials. They will carefully pack your belongings and ensure that they arrive at your new place in mint condition.
Keep your excess items in our Tampa storage facility
If it happens that you need storage, during a move or whenever give us a call as well. müv has one of the best storage facilities in Tampa suitable for short and long-term safekeeping of all types of items. Our storage is safe, clean, and pest-free and it is a perfect place to keep your excess items safe.
Get superior moving and storage services at competitive prices
We want to provide every person or business with easy access to quality moving services. And because we know that relocation doesn't come easy on the budget, especially when it's unexpected, we are keeping our prices affordable. To check our prices, give us a call, or simply contact us through our webpage where you can get a free moving quote and other important details.
Enjoy your moving process – call müv
If you are ready to experience a smooth and stress-free move müv is at your disposal. We are one of the most trusted movers Brandon FL has right now. And we will make sure that you enjoy your relocation regardless of the circumstances. To book us for your next move, contact us and we will come to your aid.
Few simple steps
Contact our business
Reach out to our Florida movers by phone, email or through our website.
Get your free quote
Give müv the details of your upcoming relocation and receive a no-obligation moving quote and a tailored plan of action.
Enjoy your relocation
Forget about the stress of moving while one of the top moving companies in Florida handles your move.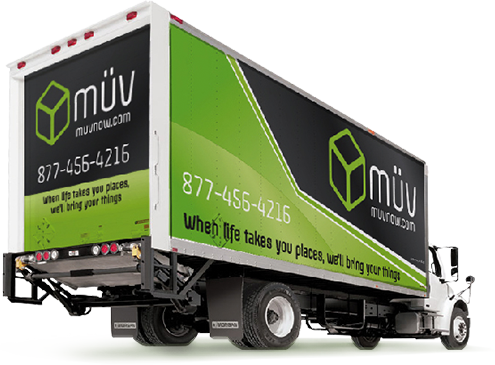 Sales Center Hours of Operation:
Monday - Friday: 9am-6pm
Saturday: 9am-1pm