How much does it cost to move a house in Tampa
Get Your Moving Quote
"*" indicates required fields
Many factors come into play when trying to calculate the cost of a move. It's never as simple as just calling your movers and booking a moving date. Both you and your movers have to know how many items will you bring, how many rooms in both houses are there, what is the distance, etc. Our company müv Now knows how complicated moving can get, but don't worry! We are writing this article precisely because of that. We will share with you all our knowledge and experience so when your moving day comes, you are very well prepared. Let's break down the details of how to calculate the cost to move a house in Tampa.
The distance between homes is an important factor when calculating the cost to move a house in Tampa
When renting a truck, there are many things you should know beforehand. We will share the average values for Tampa, FL. The base cost of renting a moving truck per day varies between $19 and $39. There is usually a mileage fee, which is normally between $0.6 and $0.99 per mile. On top of that, you will most likely have to pay for the fuel cost, but that of course depends on the distance between the two homes. The last thing you should know is that sometimes they will need a parking permit. It is only valid at on-street unrestricted parking spaces, but it can't exceed four hours. They are not valid at freight zones, no-park and handicapped zones, and similar. These are general and average guidelines, but get in touch with your residential movers Tampa of choice and ask them directly.
How big are the houses in question?
Another important factor when trying to calculate the cost to move a house in Tampa is the size of the home. Obviously, studio apartments will be the cheapest. They only require a maximum of two movers and a few hours to complete the process. But let's use an example of a 2-bedroom house and see what is the average cost for that type of move. The average total cost for this relocation would be $758. This move would usually include 3 movers and a total of 5 hours to complete all the tasks. That's $164 per hour. If you have a bigger house, the bill might end up larger. But like we said, this is just an example based on the average costs for Tampa relocations. To get a better idea and an understanding of what your total might look like, speak to your movers!
How much packing material will you need?
This is another important thing to be wary of. Even if you are not getting packing material from your movers Tampa of choice, you should still include this in your moving budget. Packing materials are essential for your move, so you really can't get by without them. Luckily, they are not even remotely close to being the most expensive thing in a relocation. To know exactly how much of these materials you will need, first make a detailed list of all the possessions you will bring with you to your new home. Once you have that written down, you will easily see how much of it you'll have to get. This will also be beneficial for your movers, as they will know just how much time and effort your move will require. With that information, they will be able to give you a more accurate estimate.
Are you bringing any sensitive items? 
Some moving companies will charge you extra if you are bringing some sensitive items. By sensitive items, we mean things like: 
Art pieces
Paintings 
Valuable collections, like dolls for example 
These things require special attention and extra care, so that's why you might be charged more. They can easily get damaged, and moving companies are aware of that risk. Thankfully, some of them offer partial insurance for your possessions, so make sure you explore that option. The final cost of moving a house in Tampa will definitely be affected if you decide to use this type of service. 
Can you save money when moving house in Tampa? 
Absolutely! We'll share with you some best tips for saving money when moving house. First of all, you can get cheap packing material on websites like Craigslist. Some people are even giving them away for free as they don't need for them anymore! This is really a great resource. Also, you can reduce your bill by selling stuff you don't need. Not only can you add some money to your moving budget, but you can even reduce the final bill with your movers as they would need to spend less time and effort to move and transport your possessions to your new home!
Storage services can amp up the cost of moving a house in Tampa
Renting a storage unit is definitely a big part of the cost to move a house in Tampa. If you need a storage unit, make sure to use only the most reliable storage Tampa FL has to offer. There are many of them in Tampa, but not all of them are the right fit for you. They also vary in price. We'll use once again the average prices for storage units and portable containers. A flat fee one-month storage rate for a 1-bedroom house is $118, while for a 3-bedroom one is $276. For portable storage containers, there are more fees involved. The average storage fee for 30 days is $99. The initial delivery is usually $74, while the final delivery fee is $91. Depending on where you want that container to be left or parked, you might need a parking permit. 
Few simple steps
Contact our business
Reach out to our Florida movers by phone, email or through our website.
Get your free quote
Give müv the details of your upcoming relocation and receive a no-obligation moving quote and a tailored plan of action.
Enjoy your relocation
Forget about the stress of moving while one of the top moving companies in Florida handles your move.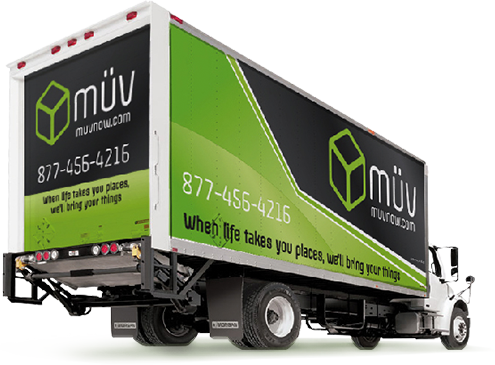 Sales Center Hours of Operation:
Monday - Friday: 9am-6pm
Saturday: 9am-1pm