Orlando home improvements after moving in: tips and tricks
Get Your Moving Quote
"*" indicates required fields
So you've decided to move to Orlando and you've finally arranged everything. Now you've just not sure if there is any work after moving in and unpacking. That's where we as one of the best movers Orlando are going to help you. We'll discuss Orlando home improvements after moving in tips and tricks. Understandably, people are concerned about this because relocations seem easy too; but when you look up online all DIY guides and things that need to be done, it isn't that easy is it? So let's dive in and see what can tips and tricks are we holding back from you.
The first home improvements after moving in are locks and smart home security systems
Let's get clear-Orlando is a fairly safe city and theft can happen almost anywhere in the world. But taking some precautionary measures is always a good idea. That's also what reliable moving companies in central Florida would advise you to do.  Understandably, a new neighborhood won't possibly instantly feel like the safest plane on the face of Earth; neither will new you feel safe with people that you've just met or haven't. Maybe people simply aren't sure that the previous owner didn't leave one extra key for them so they want to change the locks, just in case. Anyways changing the locks and locking all the doors will give you some peace of mind.
Monitored Smart Security System
Nowadays you can find a bunch of different security systems but some of the best are:
Frontpoint Quality DIY pick
Brinks  is the largest arsenal of safety sensor options
SimpliSafe is the most budget-friendly

ADT is one of the oldest in the business 

Cove

has the

best customer experience

Vivint  has the best overall rating

Ring Alarm has the best outdoor cameras

Wyze is the one with the most diverse gadgets
These are some of the top smart security systems. They all have different types of cameras, motion detection sensors, alarms, etc. So if it's up to you to pick your provider. Also, these services can go up to $35 a month and some started packs are about $600. These systems will offer you a sense of ease and they're not that hard to use. You can operate your house also remotely and you can place cameras as ring bells. If you have any smart security systems that you would want to carry away other than moving, packing service Orlando are also available. So we or any other reliable company can do this for you. It won't take us a lot of time and you can ask your provider to set you up with the system, try to DIY, and if it's not complex maybe we can help you too.
For any extra new gadgets, you can always check Youtube, Google, or Amazon. You'll be surprised how innovative and new Technologies are changing the home security industry.  The most interesting that we found was Counter Surveillance RF Signal Detector, which is used to detect hidden electronic devices.  The detection range is up to 16 feet and it can find hidden mics and cameras. This is a great way to do some Orlando home improvements after moving in.

Check out the shed and the garden
If you have go check it out and possibly change the lock, as well as the gate lock. Also if you have a garden there is possibly going to be some work done. If you want to plant some flowers or anything, it's best to start right away. So in the shed, you should build or buy some not-that-expensive shelves at a local DIY store or in an IKEA. We as local movers Orlando can help you by moving some of these items right away for you when it comes to gardening that isn't our specialty so we won't trouble you anymore.
By the way, if you don't have enough space in your new house or apartment there is a solution for that too. You can install some additional shelves and there are plenty of basement and attic ideas. On the other hand, if you're downsizing from a big house to a much smaller apartment you could use storage Orlando FL. This is the simplest solution for something that you don't want to throw away, keep in your new place or sell. Simply we offer safe and secure storage across Florida so you'll just have to pack your things or we can do it for you and put them in the storage. Our storages are safe and secured, there are surveillance cameras, motion detection sensors, and a 24/7 guard. Plus you'll have your key and you can access it any time you want 24/7/365.
Baby-proof your house
If you happen to have a baby this can be a bit more complex. You'll have to protect outlets and put baby gates around the house.  Baby gates are fairly simple to install and you can order them online or find them in a local store such as Walmart. There are different types of outlets that you can buy Plastic Outlet Covers or Self-Closing Outlet Covers are the two most popular types.
Orlando home improvements after moving in: tips and tricks in a nutshell
Thank you for reading this article. So the first improvements are the ones like security (changing locks, installing a security system, buying some more equipment, etc.); if you have a shed or a garden think about planting flowers and improving the shed (changing the lock and better organizing space); if you don't have any space left rent storage; finally baby proof your house by getting baby-proofed outlets and baby gates.
That would be it for today. We hope that you liked our Orlando home improvements after moving in tips and tricks. Have a great day and a stress-free move.
Few simple steps
Contact our business
Reach out to our Florida movers by phone, email or through our website.
Get your free quote
Give müv the details of your upcoming relocation and receive a no-obligation moving quote and a tailored plan of action.
Enjoy your relocation
Forget about the stress of moving while one of the top moving companies in Florida handles your move.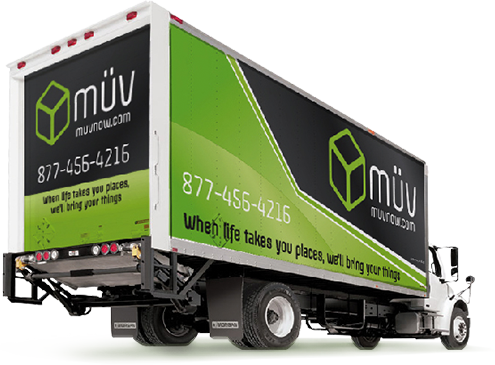 Sales Center Hours of Operation:
Monday - Friday: 9am-6pm
Saturday: 9am-1pm