How to find a reliable Tampa company to move your office?
Get Your Moving Quote
"*" indicates required fields
The process of moving your office can't be completed in two days. This job requires a lot of invested time but work and effort—both from you and your employees. Moving your office belongs to the group of commercial moves, and this job requires adequate professional help. But you can't leave the care of your things to just anyone, can you? That's why you need to find a reliable Tampa company to move your office. So, it would be best if you found office movers in Tampa to whom you can entrust the care of your belongings. During the office moving process, it will be necessary to move some sensitive things that concern your business, so you must know to whom you entrust this work. We will help you find a reliable Tampa company that will enable you to have a simple and easy move.
Before you start searching for a reliable Tampa company, determine your needs
Before you start your search for a reliable Tampa moving company, you need to know what you are looking for. Also, before you start looking for recommendations, look at online reviews and ask for free moving quotes, you need to determine your moving needs. Declutter before you start, and make a list of things you want to move. This will help you to have a clear picture of the work that awaits you. But it will also be useful when asking for moving quotes. The next important thing is to decide what services you need from a moving company.
So, when you start looking for a moving company, it's very important that you know what you want and what you need. Usually, when it comes to office moving, people use packing and storage services. Offices are usually equipped with expensive equipment that must be handled carefully. And packing such things can be a big challenge for you and your employees. Also, improper packing can lead to damage. And you don't need that. That's why you need a professional service, such as müv company can offer you. They are professional moving experts who can really help you.
Why do you need a reliable Tampa company to move your office?
We are sure that you will ask why you need a moving company. You've probably thought about renting a truck, hiring your employees to pack your office, or doing it yourself with a little help from the side. This way may seem the most profitable for you. But trust us, it's not. This way can lead to damage to your office equipment, the repair of which can cost more than the services of a professional moving company. Moving and storage Tampa companies have professional movers who are trained to do this job. This means that this job will be much simpler for them than for you.
Hiring a reliable Tampa company brings you many benefits:
You will save time and money
Professionals will pack your belongings
A moving company will think of everything
Safe transport
Less work for you
So, based on this, we can conclude that the help of a moving company during an office move is a must-have thing. So, now you will see how to find a real moving company.
Look around – Recommendations are the best way to find a reliable moving company
Ask around. If you know someone who has recently encountered the same job, ask for a recommendation. We are sure that they will want to tell you about their experience, whatever it was. Also, recommendations can be one of the best ways to find a reliable moving company. But, in such situations, you need to know that not every move is the same. This means that it might not suit you as well as your friends or acquaintances who recommended it to you. Therefore, always state your needs clearly. The company that meets all your requirements is the right company for you.
Look at online moving reviews when you searching for a company that can move your office
Moving reviews are also a type of recommendation. Only this time, those recommendations are from people you don't know. Also, moving reviews can be a double-edged sword. We will explain! If you decide to choose based on moving reviews, you must know that there are also fake reviews, which can lead you to buy into something that is not actually true. For example, a lot of positive words and not a single complaint, or very long comments can look fake. So, be careful.
Also, if you see all the positive comments without a single criticism, they can look like fake reviews. But, if you still decide to trust moving reviews and choose a moving company for your office move based on them, then ask for moving quotes.
Ask for moving quotes
Moving quotes are an indispensable part when it comes to hiring a moving company. What we can advise you, for example, if you are looking for storage Tampa FL, choose several companies and ask them all for free moving quotes. Moving quotes are estimates about your move. Such estimates are made based on the essential details of your move, such as the distance, quantity, and number of items you wish to move, as well as the desired services. When moving agents have done your estimate, you will receive a detailed report on your move, including the final price. If you want to book storage for your office, estimates will be made based on the storage unit size and the rental period.
Few simple steps
Contact our business
Reach out to our Florida movers by phone, email or through our website.
Get your free quote
Give müv the details of your upcoming relocation and receive a no-obligation moving quote and a tailored plan of action.
Enjoy your relocation
Forget about the stress of moving while one of the top moving companies in Florida handles your move.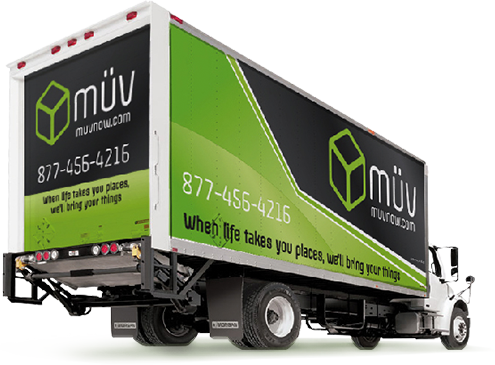 Sales Center Hours of Operation:
Monday - Friday: 9am-6pm
Saturday: 9am-1pm