Moving from Cocoa Beach to Palm Bay: 3 things to remember
Get Your Moving Quote
"*" indicates required fields
Moving is often one of the more taxing tasks we have to perform. It takes a lot of time, effort, and money. But, not only that, it's very mentally draining. So, you need a good plan to save yourself the mental and physical strain. Moving from Cocoa Beach to Palm Bay is considered short-distance moving, so it will at least be a bit easier. Today, at müv, we'd like to present the three things you need to keep in mind during your relocation to Palm Bay. Let's get into it!
About Palm Bay
The city of Palm Bay is located in Brevard County in Florida. It's in very close proximity to Melbourne, Orlando, and Miami, which means it's wonderfully connected by the interstate. You can expect a lot of sites for recreation, entertainment, and culture in the city. For example, the Wildlife Turkey Creek Sanctuary is a wonderful site where many endangered plants and animals find their home. For those who enjoy fishing, there are many good, legal fishing spots in Palm Bay.
The arts and cultures in Palm Bay are very developed, with many things to see and many events during the year. The Maxwell C. King Center for the Performing Arts hosts a lot of programs. Among them are symphonies, opera, jazz, ballet, Broadway musicals, and comedy shows. The Brevard Museum of Art and Science offers interactive exhibits and art classes throughout the whole year. And these were just to name a few. If you get the chance to live in this lovely city, you'll see how much there is to do and see, so contact your movers Cocoa Beach FL today, and set a good moving date. Boredom is not an option in Palm Bay!
1. Palm Bay neighborhoods
Many residents in Palm Bay live right on the border of Palm Bay and Melbourne. If you're looking to start a family and devote yourself to that kind of lifestyle, the best neighborhoods to choose from are Viera and Suntree. There are many sidewalks, it's very walk-friendly, a lot of shopping opportunities, and even a Zoo for the little ones! Your movers Palm Bay FL can help you out with choosing a neighborhood as well. They know the city better than anyone!
The northern area of the city is where most of the crime occurs. So, if you're just searching for a place to move inside the city, be sure to choose between Southeast and Southwest Palm Bay. Also, we've prepared a pro tip for all of you! If you're moving from Cocoa Beach to Palm Bay permanently, you need to register your car very quickly. You have only 10 days to complete the registration after you've started working in the state. Also, you have 10 days to enroll your little ones in school or kindergarten. When it comes to your driver's license, a period of 30 days is provided to complete all of the necessary changes. Be sure to have your documents neatly prepared before you start visiting the various offices! You don't want to be sent home just because a document is missing from the list.
2. Cost of living in the city
You might be happy to find out that the cost of living in Palm Bay is 10% lower than the national average. Utilities and other costs are also lower than the national average. But, the cost of food and groceries is around 6% higher than the national average. But, with the added bonus of no income tax in Florida, we're sure you'll be completely fine with the slightly higher food prices. Remember to book your Space Coast movers on time, so you get a reduced price. When hiring last-minute movers, which sometimes can't be avoided, you will pay quite a bit more.
Home prices are pretty average and moderately priced. An average home in Palm Bay would be around $117,000, but you can find homes that go for $85,000 and similar prices. It really depends on what you're looking for. If you're ready to spend a bit more and afford yourself a luxurious home, that home will be around $200,000 or more. Now, when it comes to renting, a 1-bedroom apartment can go for as low a rent as $550. Obviously, if you search for bigger apartments, they'll be pricier. But, it's nowhere near the insane numbers of NYC and other expensive cities around the US. Monthly utilities tend to be from $50 to $150, depending on how much electricity, water, etc., you use during the month.
3. Moving from Cocoa Beach to Palm Bay tips
The last thing you need to remember when moving to Palm Bay is these few moving tips. When moving on the territory of southern states, you need to be careful about weather. You should always use sun protection and go to the dermatologist often. Now, during the move itself, be sure to have enough water to keep yourself and your loved ones hydrated. Try to schedule movers during a cooler day as well! And try to avoid rain, if you can. Also, check out the FMCSA website to see if your chosen movers are licensed and registered.
If you're interested in acquiring higher education, the state of Florida has you covered! If you become a resident of Florida, you are eligible for many in-state scholarships for various colleges. Remember to always look at all of the options presented to you before making any concrete decisions.
And, our parting advice for moving from Cocoa Beach to Palm Bay is to stay prepared for hurricanes. You can never know if a hurricane will cause trouble, so it's best to have enough bottled water, canned food, flashlights, batteries, blankets, and even a generator for your home.
Few simple steps
Contact our business
Reach out to our Florida movers by phone, email or through our website.
Get your free quote
Give müv the details of your upcoming relocation and receive a no-obligation moving quote and a tailored plan of action.
Enjoy your relocation
Forget about the stress of moving while one of the top moving companies in Florida handles your move.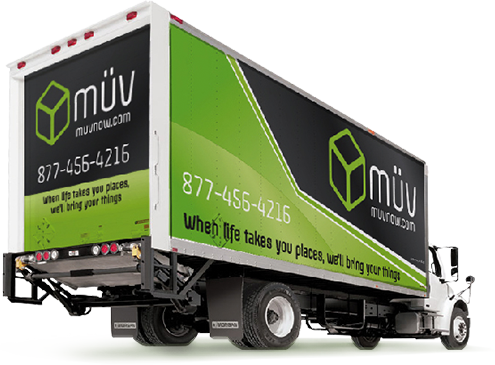 Sales Center Hours of Operation:
Monday - Friday: 9am-6pm
Saturday: 9am-1pm