How to thrift furniture for your new Tampa home
Get Your Moving Quote
"*" indicates required fields
Getting furniture for our new home is always exciting and it usually has a wonderful outcome. We will end up with some amazing pieces for our beloved home. If we are successful we will not spend a lot of money at all. And while there are many ways to achieve this, there is one that remains pretty underestimated. If you plan to thrift furniture for your new Tampa home, that is an excellent idea. Thrifting has countless benefits, and those who do it can sometimes hit a jackpot with certain items. Let's see what to expect and how to do it correctly!
Begin on time
You must begin this process way before you set the date with müv Tampa. This is mainly because thrifting furniture can sometimes last longer than you planned and it is good to have enough time on your hands. There is a chance that you will have to go a little bit further from your home and there is no reason to be late for your relocation deadlines. Carefully plan everything on time, and make sure to ask movers to help you set a suitable date. By the time they arrive to transport your items, everything should be ready. 
Time plays a huge role for another reason as well. If you need to make some changes to your thrift furniture before moving in, it is good to do it prior to moving. This way your items will have a chance to dry off and be ready for the moving-in day. Of course, if you feel like you don't have enough experience in furniture restoration it is better to leave it to professionals. Some mistakes will be too difficult to correct and you shouldn't be dealing with them while your relocation lasts.
When you thrift furniture for your new Tampa home, you must know what you are looking for
Thrifting can easily turn into a rabbit hole of looking for things and ending up getting those you don't need. Getting items for a much lower price and still in good shape is famous for making people get a bunch of them and quickly pilling up their space. Your new home in Tampa may not be the same size as your previous one, and if it's smaller you have to be extra careful. Even residential movers Tampa will need your inventory list before you schedule relocation so you must have it on time.
The best method is to simply make a list of items you need. Once you reach the shop, start looking for them and try to avoid getting something else. As soon as you are done and your budget is secured enough, you can proceed to treat yourself to something else. Getting a new lamp or vase will not cost you a lot and will be a perfect finale for your successful shopping. 
Try to find a resourceful store
No matter where you currently live, you should find a good thrifting store. Making double trips will take a lot of your time, and cost you more. You surely know someone who did this before you, and you can follow their example. In case you are a fan of thrifting you probably know a couple of locations yourself. Make sure to check them out as soon as possible. In case they can't offer what you are looking for, you will have plenty of time to continue your search. There are many thrifting stores in Tampa. If you have a chance to check them out, you will surely end up with a nice purchase.
when you find yourself in the shop, make sure to ask them about their policies and insurance. Some of them offer these to their customers and it will benefit you for different reasons. In case you find movers in Tampa and it turns out some furniture pieces are too big, it is good to know if can you return them. When moving, always have a backup solution ready, because you never know when you will need one. 
If you need some time to set up your home, rely on storage
Sometimes, using storage is extremely helpful especially when people decide to move or do some renovation work. It is good to mention that using it will be a perfect way to deal with the lack of space or similar issues. In case thrift furniture for your new Tampa home arrives earlier, you will have a perfect place to keep it safe. Storage Tampa FL can fit a lot of your items. You will not have to worry about where to place them until movers arrive. And even if you need more time after relocation, your items can be there for as long as you want.
The thing about thrift furniture is that you can always end up going with the least expected combination. Your new sofa could suddenly be more suitable for a different part of your home and you should have all the space you need to achieve the perfect outcome. 
Select to thrift furniture for your new Tampa home only if it fits
With the help of a trusted packing service in Tampa, you will not have to spend hours doing it on your own. Instead, focus on planning how to turn your new house or apartment into a home. Before you go to thrift furniture for your new Tampa home, try to avoid getting items that are beautiful but too large. You may not be so familiar with the new space and its abilities. It is best to wait until the rest of your items are set up. Once your relocation is over, you can experiment as much as you like, or even get some new pieces. The best thing about thrifting is that you can do it way more often than you can go regular furniture shopping. 
Few simple steps
Contact our business
Reach out to our Florida movers by phone, email or through our website.
Get your free quote
Give müv the details of your upcoming relocation and receive a no-obligation moving quote and a tailored plan of action.
Enjoy your relocation
Forget about the stress of moving while one of the top moving companies in Florida handles your move.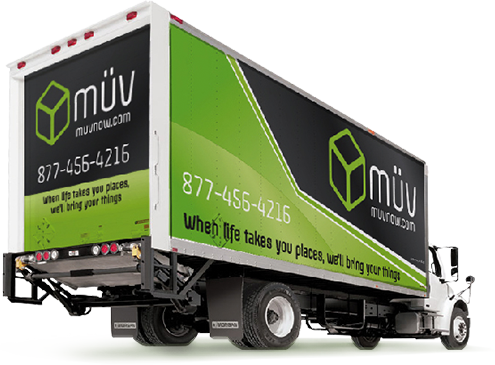 Sales Center Hours of Operation:
Monday - Friday: 9am-6pm
Saturday: 9am-1pm