The best attractions in Pinellas County, FL
Get Your Moving Quote
"*" indicates required fields
Pinellas County lies on the west coast of Florida. Its name comes from the Spanish words Punta Pinal, which means 'point of pines'. The most populated area is in Florida and is part of the Tampa-St Petersburg-Clearwater region. West of Tampa is Clearwater, which offers many vacation opportunities with its white sandy beaches. Tampa is the 3rd largest city in Florida and is known for its beaches and rich cultural heritage. St. Petersburg is the fourth largest city in the state. St. Pete offers world-class museums and a diverse entrepreneurial scene. Pineals County is undoubtedly an exciting tourist destination where 20,000 acres of nature preserves and parks are carefully maintained. If you decided to move here, müv now, will introduce you to some of the must-see attractions in Pinellas County.
Explore the scenic parks of Pinellas County
By moving to Pinellas County, you will have natural beauty at your fingertips. In addition to the sea and beaches, you can explore and immerse yourself in the beauty of many parks. The parks will provide many benefits, and you can spend your free time outdoors enjoying many activities.
If your new home is waiting for you in Pinellas County, trust the professional services of movers Pinellas County. The move will be efficient, and you will get services adapted to your needs.
Boyd Hill Nature Park
This nature reserve, located south of St. Petersburg, includes lakeshores, forests, and marshes. You can visit the park on regular tours, where you will see wildlife such as alligators, armadillos, turtles, and various exotic birds. If you like to feel the road under your feet, you'll have the opportunity to walk on unique trails through diverse habitats. If your ears are saturated with the city noise, this is a great way to escape to nature right around the corner.
Sawgrass Lake Park
Located in St. Petersburg, this local park is the perfect place to relax and take a short nature walk on a half-mile trail and a one-mile boardwalk. Sawgrass is also known for being home to the Gulf's largest maple swamps. You'll encounter alligators and see different types of birds like herons, storks, and ibis. Besides, you will see a sign for an observation tower. Visit it and enjoy the view and maybe the nice breeze.
To make your move successful, you need a reliable and well-coordinated team. The movers in Largo, FL, will ensure your belongings arrive safely at your new address.
Boca Ciega Millennium Park
A park is a perfect place for a quick walk. A popular feature for many people is the well-maintained walking path that leads to the observation tower overlooking the bay. In addition, the park gives a sense of calm and tranquility, so it's the perfect place to escape the tourist crowds. Boca Ciega has a place for picnics and exercise, and you can also watch birds. Don't forget to bring your dog, as you can walk it in the pet park. The younger ones can also enjoy the playground. Finally, you will find silence, woods, trails, and water.
The move should be organized on time with proper assistance, and your journey to your new home will be simple and smooth. To make your idea a reality, trust reliable movers Pinellas Park Fl who, with well-coordinated teams, will accompany you every step of your move.
Fort De Soto Park
One of Pinellas County's top attractions covers 1,000 acres and consists of five unconnected islands. It ranks among the best family beaches in America. It is also a favorite among locals.
Fort De Soto Park offers a wide range of activities beyond just the beach, as it is a grand fortified park. This historical monument is a fort built during the Spanish-American War. Although it was built during wartime, never a bullet was fired. Visitors can tour the cannons and prison cells. The park also has trails where you can paddle for over two hours. While you're rowing, you will discover the richness of the sea life. You can also get close to the animals such as dolphins, pelicans, sea turtles, and more. In the park, there is a beach and a playground for dogs. You can also camp and fish.
Wall Springs Park
The park sits in Palm Harbor, Florida, and includes a historic natural spring. There was a bathhouse until the 1960s of the last century. Today in Wall Springs Park, you can walk along the natural spring walkway and enjoy the view of the Gulf of Mexico from the 35-foot tower. Stroll along the scenic hiking trail that connects to the wonderful Pinellas Trail and enjoys being surrounded by tropical nature. Finally, take a break in the picnic shelter.
John Chesnut Park
It's one of the most beautiful parks in Pinellas County, with a marsh trail and a view of Lake Tarpon. The lush vegetation around you will remind you of Jurassic Park. Wildlife is everywhere, so keep an eye out for alligators. Park is a favorite vacation and picnic spot for Tampa and Clearwater residents. You'll experience nature from different angles on the park's three trails. On one side are wetlands, while on the other side are forests and, finally, waterways. The trails are suitable for family adventures and all ages.
Around the beaches
Florida's west coast is always on the list of the most beautiful beaches. The beaches stretch for 35 miles, and four of the state's top ten beaches are in Pinellas County:
Fort De Soto Park
St. Pete Beach
Clearwater Beach
Caladesi Island
St. Petersburg is one of the sunniest cities, with an average of 361 sunny days during a year. So it's no wonder that if you live here, you probably enjoy surfing, swimming or simply sunbathing on the beach.
Clearwater Beach
When talking about the best attractions in Pinellas County, Clearwater is a must-see destination. If you love sunshine, lots of sunshine, and beautiful beaches, it's impossible not to have heard of Clearwater. The place is still relevant and known for its various activities and good vibes. Just look at the white sand and crystal-clear water, and you'll find everything you need. If you don't want too many people, walk to the north side of the beach. And don't worry. You can't go wrong regardless of which part of the beach you choose.
To complete the experience, visit the Clearwater Marine Aquarium. The staff at this aquarium is primarily dedicated to the rehabilitation of endangered marine animals, such as dolphins, sea turtles, sharks, and many others.
Be sure to catch the sunset, which is known as unforgettable.
If you have no experience in moving, it is always best to hire professionals like moving companies Clearwater FL. Your belongings will be in safe and experienced hands, giving you time to arrive at your new home without worry.
St. Pete Beach
The rivalry between St. Petersburg and ClearWater Beach may be impossible to resolve. Both beaches are award-winning and known for their white sand and clear waters. Clearwater is the home of the historic Don Cesar Hotel, which opened in 1928. Access to the beach is easily available from many award-winning accommodations. Also, visitors are attracted to a good selection of restaurants and stores, as well as beautiful beaches. If you're looking for a more active vacation, there's fishing, kayaking, and paddle boarding.
Pass-A-Grille Beach was once used as a fishing and barbecue camp. The southernmost tip of St. Pete Beach remains a good choice for a quiet day of fishing.
Moving can be unexpected, but a good organization and a reliable moving company St. Petersburg FL will make the job work for you.
Caladesi Island
Along the Gulf Coast are one of the most unspoiled islands and one of the best attractions in Pinellas County. Caladesi Island is only accessible by boat or ferry, but it is well worth the effort. The island is located west of the city of Dunedin, near Clearwater. It can be reached by ferry from Honeymoon Island. Caladesi Island State Park has made the list of best beaches several times. You can also get to the island by renting a kayak and following the mangrove trails. It is a great way to get to the island while enjoying a bit of solitude. Just choose your spot on the sand along the way. Everything around you is a paradise for the eyes. There are paths along the dunes, from where you can admire the calm sea and the sea turtles moving quietly around you.
The beach is equipped with showers and cabins to change clothes. Also, concession stands, picnics, fishing, and marked kayak trails are provided. Caladesi Island is, not without reason, one of the best attractions in Pinellas County.
Sand Key
It is one of the most beautiful beaches in Clearwater. This beach is the hidden gem of the coast because many people don't even know it exists. However, if you visit it once, we're sure you'll come back again. When you need a break from the hustle and bustle, head to Sand Key. It is located across the bridge, south of Clearwater. As you enter Sand Key Park from the bridge, the entrance looks like a small park. If you are visiting the park for the first time, you can't even imagine that a pristine white beach and magical sunsets await you behind.
If your dream of living by the sea has come true by moving to Florida, start your move without rush and stress. With the professional support of movers Seminole Fl, your move will look just like that.
Pass-a-Grille beach
Pass-a-Grille is on the southernmost part of St. Pete Beach. The town has retained the laid-back spirit of old Florida. In this charming town, you'll enjoy the outdoor art market, rooftop bars, and restaurants. There are recreational venues such as tennis courts and a fishing pier. And the quiet beach is the perfect place to escape the crowds often found on St. Pete's municipal beach.
Alligator Watching
Alligators are probably one of the associations with Florida. That's why one of the most exciting experiences and the best attractions in Pinellas County is to see these ancient animals in their natural habitat. What is the best time of year to see alligators? It's the summer breeding season in May and June and the winter season, when alligators are frequently seen on land, sunbathing. Boyd Hill Nature Preserve and Sawgrass Lake Park in St. Pete are known as places where you can encounter an alligator. John Chestnut is also one of the places in the wild where you will meet these giant reptiles. Should we tell you to keep your distance and not feed them?
Florida Botanical Gardens
The botanical garden covers 182 hectares and consists of several different gardens. Visit them and learn something new about butterflies, cacti, tropical fruits, vineyards, and much more. You can also get married in the wedding garden. The garden opened in 1991, and in 2018, the Wetlands Walkway and Wildlife Overlook were added so you can learn more about the native flora and fauna along the rustic nature trails. Finally, let's mention that admission is free.
Moving can be a simple and efficient operation with moving companies Tampa. Leave the relocation to a reliable company, where relocation is an everyday occurrence, and focus on more important tasks.
Sponge docks
In the early 1900s, Greek sponge divers settled in Tarpon. The city became the sponge capital of the world, as it collected more than 90% of the sponges in the sea. Thanks to the sponge industry, a Greek community was created and became recognizable for other reasons. The Greek community has left a significant mark on this town, and in addition to the sponges, you will also find Greek markets, bakeries, and of course, an excellent range of restaurants.
The Dali Museum in St. Petersburg
The museum dedicated to the works of the surrealist painter Salvador Dali has a valuable collection of over 2,000 paintings. You will get an overview of Salvador Dali's entire career, from his impressionist and cubist beginnings to his last works in a more classical style. You can attend various events such as workshops, films, performances, and lectures. Furthermore, the Center for the Avant-Garde and the Dali Museum Library is also located in the museum.
Happy trails on your way to the best attractions in Pinellas County!
We hope to have brought you closer to some of the best attractions in Pinellas County. Unspoiled nature, picturesque beaches, lakes, and lush vegetation provide a place for visitors to relax and recreate. Plus, if you're ready to learn something new and explore, some interesting historical sites and museums will open up new perspectives. Of course, the list could be much longer, but we are sure that everyone will find entertainment and enjoyment in what they like and are interested in.
Few simple steps
Contact our business
Reach out to our Florida movers by phone, email or through our website.
Get your free quote
Give müv the details of your upcoming relocation and receive a no-obligation moving quote and a tailored plan of action.
Enjoy your relocation
Forget about the stress of moving while one of the top moving companies in Florida handles your move.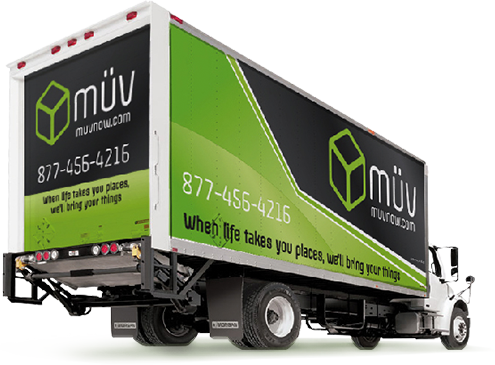 Sales Center Hours of Operation:
Monday - Friday: 9am-6pm
Saturday: 9am-1pm