How to write a helpful moving review
Get Your Moving Quote
"*" indicates required fields
Many people turn to online reviews when trying to choose a moving company. They do so because customer experience in any business is a key factor. When you can't decide between several moving companies, checking who is better rated and has more five-star reviews will nudge you in the right direction. After all, there are many, many moving companies in Central Florida, some better and some worse. User ratings are what will differentiate them. If you had recently moved and want to share your experience with future users, you should know how to write a helpful moving review. We will list all the important things that you should definitely include in yours.
When trying to write a helpful moving review, including the timeframe and location of your move
You don't have to get into the specifics like the address or exact date of your move! By this, we simply mean to add a general timeframe like the year and month of your move, as well as the city. This will help other potential users if they live in the same city or state as you. If you were trying to find the right moving and storage Orlando company this way, then for sure you were looking at these things. It helped you choose because you felt assured with your pick. Extend the same courtesy to other people. Moving and relocating is stressful enough. Someone will read your review and it will make a positive impact on their decision!
How professional and punctual were your movers?
Next up, you should include the level of punctuality and professionalism of your movers. Just like with any business transaction, arriving on time and providing a professional service is imperative. If the movers were late, that alone can leave a bad impression from the start. Excluding extreme weather circumstances where driving is almost impossible, they should arrive on time that you agreed upon. If they arrive late, that can potentially turn the whole moving experience sour. It's also a sign of a lack of professionalism. Punctuality is not the only way to measure professionalism, of course. Include in your helpful moving review how careful were the movers with your stuff. How attentive were they to your needs and wishes? Was their behavior professional from beginning to end? These are all important things to mention if you want to know how to write a helpful moving review.
Was the customer service at a high level?
Let's further expand on the previous point. Customer service and professionalism are intertwined. However, your movers can arrive on time and be professional in terms of how they handle your belongings, but the level of customer service can even then be below average. They can do their job correctly, but that doesn't mean they can't be rude in the process.
If you had an unpleasant experience with your movers where they weren't polite, were dismissive of the things you were saying, and so on, make sure to include that! No one wants to make the mistake of hiring bad movers, in any shape or form. Instead, help other people by knowing how to write a helpful moving review. They will be grateful that someone took the time to share their experience and help other people choose the most reliable local movers Orlando has to offer.
Were you surprised by anything? All surprises should be included in a helpful moving review
Surprises can be both positive and negative. Make sure to include anything that stood out. Doesn't matter if it was in a good way or a bad way. Maybe you were pleasantly surprised by their politeness and attentiveness. Even if you hired them based on a recommendation from someone you know, and still expected them to be polite, you can still be surprised by how polite they are. That's invaluable feedback to many customers. We all want our relocation to be a pleasant experience, so make sure to include in your review these types of things. The same goes for negative surprises. Maybe you were shocked by how little care they exhibited toward your boxes and belongings. If something was broken along the way due to their negligence, you must mention it so your moving review is indeed a helpful one!
Are you satisfied with the result of your move?
When trying to write a helpful moving review, near the end you should explain your general impression. Since there are a lot of moving parts that go into a successful relocation, your overall impression is the sum of all its parts. Maybe your relocation wasn't perfect, but it was still okay and overall pleasant. Mistakes can be made, and that's normal and human. Maybe some of the movers that came to your home were new, young employees without too much hands-on experience. If their mistakes were small and didn't cause any big inconvenience, you can still end up feeling satisfied overall. The result is all that matters. When you decide to write a helpful moving review, make sure, to sum up, your total experience in a clear and concise way.
Would you recommend this company?
In the end, along with the numerical representation of your experience, (usually 1 to 5, or 1 to 10), conclude your review with a very clear statement if you would recommend this company. Choosing the right residential movers Orlando has to offer can be a difficult task as there are so many of them. That's why we should do our best to get to know how to write a helpful moving review. It can save someone a lot of time and energy, and help them make the right choice! Reading through endless reviews can also be tiring, so make sure your review is clear, concise, and on point. Simply follow this guide and you'll do great.
Few simple steps
Contact our business
Reach out to our Florida movers by phone, email or through our website.
Get your free quote
Give müv the details of your upcoming relocation and receive a no-obligation moving quote and a tailored plan of action.
Enjoy your relocation
Forget about the stress of moving while one of the top moving companies in Florida handles your move.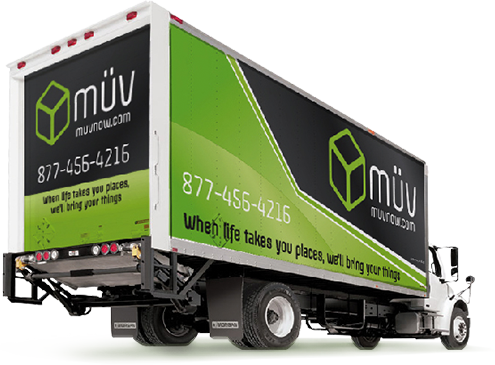 Sales Center Hours of Operation:
Monday - Friday: 9am-6pm
Saturday: 9am-1pm