Key facts about quality of life in Tampa
Get Your Moving Quote
"*" indicates required fields
The Tampa Bay region is a sprawling area that covers three cities: Tampa, Clearwater, and St. Petersburg. Each has its charm and diversity. If you're considering a move to Tampa, you'll enjoy the benefits of living by the sea and in a big city. Tampa, located on the north side of the bay, has a socially diverse and remarkably thriving Hispanic community. Interestingly, the city ranks in the top 20 U.S. cities with a high quality of life. According to studies conducted by Numbeo, Tampa's quality of life index is 177.02 on a scale of 240. It also has a high purchasing power index, a high healthcare index, and a moderate safety index. Therefore, the following are some key factors and facts about the quality of life in Tampa.
Tampa is a city of history, culture, and diversity
The city has developed under the strong influence of Hispanic and Latino culture. Ybor City, one of the oldest neighborhoods, was founded by Cuban immigrant cigar makers. The business later attracted workers from other parts of Latin America, as well as from, Italy, Spain, and Germany. Ybor City is a historical landmark not only of Tampa but of Florida. The surrounding area has become an entertainment center and has been called the Greenwich Village of Tampa.
One of the defining characteristics of Tampa, with a population of 399,734, is its diverse population. One-quarter of the residents are Hispanic or Latino, and one-quarter are black or African American. The median age is 36.5 years.
At müv Tampa, you'll find expert relocation assistance throughout Florida, especially in the Tampa area. Your belongings will travel safely and efficiently to your new location.
What to do in Tampa, FL?
The diverse communities of the Tampa Bay area provide entertainment and gathering places for residents. Each month, throughout the year, Seminole Heights artisans sell their wares at the morning market. Famous beaches can be found in Clearwater and St. Petersburg. At Fort DeSoto Park in St. Petersburg, you can fish off the pier or rent a kayak. Also, if you have a dog, you can take it to the dog beach or walk it in the dog park. Some of the most popular attractions you can visit in Tampa are:
The Florida Aquarium
ZooTampa at Lowry Park
Sunshine Skyway Bridge
Clearwater Marine Aquarium
Museum of Science and Industry
St. Petersburg, FL: Private inshore fishing tour of Tampa Bay
You can enjoy rich cultural content at the Straz Performing Arts Center, the fourth-largest performing arts institution in the United States. At the Straz, you can attend concerts, theatrical performances, and many other events.
You will also find the famous Tampa Museum of Art, which will surprise you with its rich collection of Roman and Greek antiquities. Florida's largest port and a major airport are also here. Food lovers will find a rich offering, including abundant and delicious Cuban meals.
Trust your move to professional local movers in Tampa who will meet your moving needs. With professionally trained crews and the right equipment, you will join the list of satisfied customers.
Health Care
Major cities such as Tampa, St. Petersburg, and Clearwater are centers of excellent hospitals. These hospitals are not only recognized as such in the region but also in the country. There are also many smaller clinics, walk-in clinics, ambulatory care centers, and urgent care centers in the Tampa area. In addition, over 80 home health agencies serve Tampa, striving to assist those who need help with daily activities.
The cost of living in Tampa, Florida
Although the cost of living has increased significantly in the last year, it is still 5% below the national average. Housing costs are also 11% below the national average. Added to this are other tax advantages. Tampa has no state income tax, and property taxes are about 2%. The sales tax in the city of Tampa is 7.5%. What is more expensive is the insurance costs. This involves flood insurance.
With the reliable help of a Tampa moving company, you will have the time and strength to focus on more crucial tasks. The furnishing of your new home after the move or the fulfillment of your business obligations.
Great educational opportunities
Your new family home is in Tampa, and you are looking at good schools for your children. It is another factor of quality of life in Tampa. The city is home to top-notch universities. There are two high-ranking universities: the University of Tampa and the University of South Florida. The University of Tampa is a private university known for its technology, engineering, and medical programs.
The Hillsborough County School District is the eighth largest in the country for younger grades. It is home to Tampa's Plant High School, one of the highest-ranked high schools in the country.
A favorable job market has contributed to a better quality of life in Tampa
Many people choose to move to Tampa because of its attractive business offerings. Tampa is experiencing an increase in the labor market compared to the U.S. average, and average individual incomes are slightly higher than the national average. The Tampa metropolitan area is recognized as the commercial, industrial, and financial center of West Florida. Leading employers are in the tourism industry, retail real estate, and health care. Digital marketing jobs are also increasing, so you can work remotely. In addition, there are many more opportunities for bilingual work due to the large Spanish-speaking population.
Affordable housing
You don't have to have a multi-million dollar income to afford a beach house in Tampa. The cost of living in Tampa is lower than in other parts of the country. The median home price is between $172,000 and $227,000. If you are renting, the median monthly rent is $1,000. Real estate offers are varied, and there is something for everyone, whether you are looking for an apartment or a family home.
Every move will bring you too many things to deal with, so storage Tampa Fl is always good to have on hand. If the quality of life in Tampa appeals to you, the next step is to plan and organize your move. Clean seas and sunny beaches await you.
Few simple steps
Contact our business
Reach out to our Florida movers by phone, email or through our website.
Get your free quote
Give müv the details of your upcoming relocation and receive a no-obligation moving quote and a tailored plan of action.
Enjoy your relocation
Forget about the stress of moving while one of the top moving companies in Florida handles your move.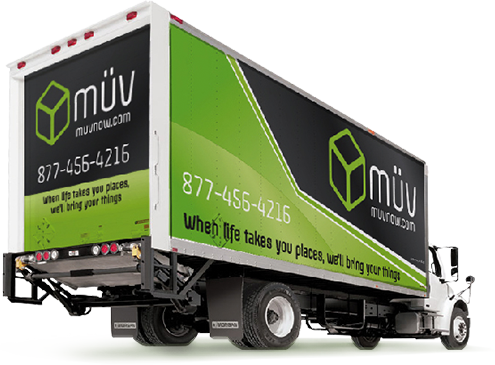 Sales Center Hours of Operation:
Monday - Friday: 9am-6pm
Saturday: 9am-1pm