Moving Checklist
Get Your Moving Quote
"*" indicates required fields
We can all agree how intense relocation can get. To ease the process, we have the moving checklist you can use to keep everything in line. A group of moving experts at müv has developed the list based on our ample experience in the moving industry. Contact us today for more tips regarding your move. 
45 Days Before Your Move
Call us to book your move – Our schedule fills quickly. Be sure to call at least 45 days in advance of your anticipated move so that we can reserve a truck and crew for you. 
Begin the purge – If you haven't used it in six months, you probably do not need it. Consider donating items rarely used or ones that you have multiple of to others in need. If you begin to get rid of things little by little, it'll make packing days much easier.  As always, consider the environment and recycle items for disposal instead of sending them to a landfill.
30 Days Before Your Move
Update your address – Notify your accounts, utility providers and subscription services of your new address. Update your "home address" in apps that provide food delivery, ride sharing, etc. so that you don't accidentally dispatch these later to an incorrect address. Don't forget to update automatic shipments from places like Amazon and others that deliver prepared meals, etc.
Notify your HOA or building management that you've hired movers – Most management companies require you to reserve an elevator for your exclusive use during your move and some HOA's have restrictions on the times and days you can have movers. 
14 Days Before Your Move
Arrange extra care for children and pets – There are a lot of moving parts on move-day. Make sure your pets have a comfortable place to relax during the move and consider having a child care provider available so you can focus on your move. Believe it or not, moving is also stressful for children and pets. 
Get your packing plans together – If you're packing your own home, purchase all the packing supplies you'll need such as boxes, tape, markers for labeling, bubble wrap and other essentials. If you feel overwhelmed, we are happy to schedule a pack day to complete the tasks for you. 
7 Days Before Your Move
Confirm your plans – Review your confirmation letter from müv to make sure everything looks correct. Make sure your date is still on target, your address and phone number are accurate, and confirm any small details that need to be addressed like extra boxes needed or items you weren't planning on keeping but now will be bringing with you. 
The Night Before Your Move
If possible, sanitize the bathrooms and kitchen in your new home before you move in. Making sure your refrigerator is clean will make for a quick transition of your chilled items from your old refrigerator to new. 
Pack an overnight bag – Have a change of clothes handy as well as your toiletry items. Keep medications and other important person items with you so that they don't get lost in the sea of boxes you may have after your move. 
Have food and drinks handy – Buy cereal, milk, and other easy breakfast items so that there's food available the morning after your move. Keep snacks readily available during the move as well as while you unpack. Make sure to have drinking water, protein bars, chips, or whatever you need to stay energized during the move. Don't forget the water bowl and food for your beloved pets! 
Your moving checklist is ready
Once you have crossed off all of the items off your moving checklist, you should be ready to move. Get in touch with expert movers to obtain a free quote and expedite the whole process.  
Few simple steps
Contact our business
Reach out to our Florida movers by phone, email or through our website.
Get your free quote
Give müv the details of your upcoming relocation and receive a no-obligation moving quote and a tailored plan of action.
Enjoy your relocation
Forget about the stress of moving while one of the top moving companies in Florida handles your move.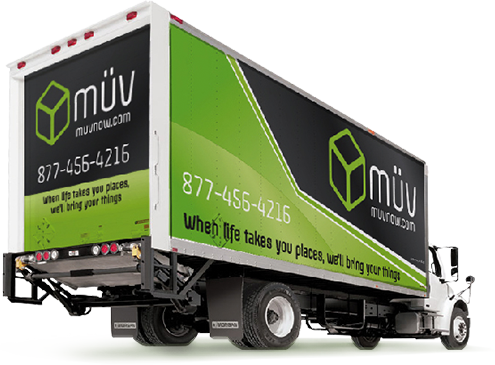 Sales Center Hours of Operation:
Monday - Friday: 9am-6pm
Saturday: 9am-1pm