Pack Like The Pros
Get Your Moving Quote
"*" indicates required fields
Without a doubt, packing is one of the biggest tasks when moving. If you'd like help, our professional packers would be happy to wrap and pack your items for safe transport – contact us for a free quote. If you prefer to pack your own things, we've compiled our best professional packing tips to help set you up for a successful, stress-free move.  
Purchase quality packing materials
Boxes can get heavy! Purchase high quality, strong boxes and packing tape to keep your items secure. Keep personal belongings clean and free from damage with packing supplies like packing tape, labels and markers, scissors or box cutters, rope or bungee cords, bubble wrap, packing paper, stretch wrap, and mattress bags. It might be a good idea to purchase a moving kit that includes all of the major essentials and a variety of different size boxes.  If you are re-using old boxes, make sure they aren't damaged and can hold weight and cover any previous labelling.  
Assembling boxes
Most moving boxes have clear instructions for assembly, but make sure that any signage saying "this way up" is facing the right way. Secure your boxes with tape, wrapping it around the corners and edges. Make sure you get enough boxes, to avoid overfilling them and risk damaging your belongings.  
Labelling boxes 
When labeling your boxes, list what's in each box, which room you want them placed in when you arrive, and if any contain fragile or hazardous items. If a box is fragile, you'll want to mark which way should be facing up.
Professional packing tips
Place heavy items in small boxes and light items in large boxes.
Pack the heaviest items at the bottom, evenly distributing across the base of the box. 
For heavy items like books, use a suitcase with wheels for easy transport.
If you're running low on packing paper or bubble wrap, you can use clothes, towels or blankets to help pad your delicate items.
Packing your bedroom
After you break down your furniture, keep all screws and bolts together in a sandwich bag and tape them to the piece of furniture they belong to. If you want your movers to disassemble and reassemble your furniture, make sure you organize it with your müv representative in advance.
Packing your living room
If you're disassembling cabinets, book cases or dining tables, lay something on the floor to protect it from scratches. If breaking down and rebuilding your items seems too complicated, we suggest hiring packing and unpacking professionals to do it for you.

When moving your television, computer and other electronics, it's best to use the original box they were delivered in. If you don't have your original television box, you may purchase one at any of our locations. Take a picture of the plugs before you unplug them so you'll know what goes where when you're ready to reconnect them.

Place your potted house plants in a plastic container and stuff the edges to ensure the pot does not move around and the plant is supported.
Packing your kitchen
Individually wrap your plates with packing paper or place disposable plates in-between them. You may want to put paper or bubble wrap in-between your pots and pans if there is a non-stick coating that could be scratched off. Avoid overload your box and making it to heavy.
Before you begin wrapping and packing utensils and cutlery, you'll want to wash your hands. Purchase knife protectors to avoid injury from sharp knife blades. Hold sharp knives with the blades facing away from you and place them all the same way when wrapping them in two sheets of paper for extra protection. Wrap glassware with bubble wrap and place them with the widest part of the glass facing down. Reinforce the box with packing tape, and clearly label it 'fragile.'
Packing your bathroom
Pack linens and towels in large boxes or empty trash bags; you can also use them to wrap delicate items or secure items in boxes. Leave out enough towels for your family to use when you arrive at your new home. 
Check the dates on your medicines and throw out any that have expired. Use up cleaning supplies, most moving companies don't like to transport half-used bottles of bleach or other hazardous items that could leak.
Pack your garage or shed
Clean and empty your lawn equipment, and store sharp tools in a clearly labelled box or sealed toolbox. Keep the items you need to assemble your furniture to hand.

Fertilizers or hazardous substances cannot be transported. So, make sure you dispose of these appropriately along with any half-empty paint cans.   
Packing your valuables
Jewelry
Pack your jewelry and smaller valuables first. Prevent your jewelry from getting tangled by storing it in their original boxes or packing them tightly in small boxes. You can also stuff paper around the edges to stop them from moving around. Carry these items on you instead of in boxes inside of the moving truck.
Electrical goods
Disconnect your dishwasher or washing machine beforehand, packing and unpacking moving teams will not disconnect them for you. Empty items and drain them if necessary. Defrost your freezer, give it a thorough cleaning, and leaving the door open. After it's fully defrosted, tape the door shut and secure the wires. 
Important documents
You'll likely need your driver's license, birth certificate, social security card, bank and credit card details soon after your move. Instead of sticking them in a box, keep them all together in a folder and put them in your suitcase when you move.

For more moving resources, read our blog or contact us for a free, no obligation packing and moving quote. 
Few simple steps
Contact our business
Reach out to our Florida movers by phone, email or through our website.
Get your free quote
Give müv the details of your upcoming relocation and receive a no-obligation moving quote and a tailored plan of action.
Enjoy your relocation
Forget about the stress of moving while one of the top moving companies in Florida handles your move.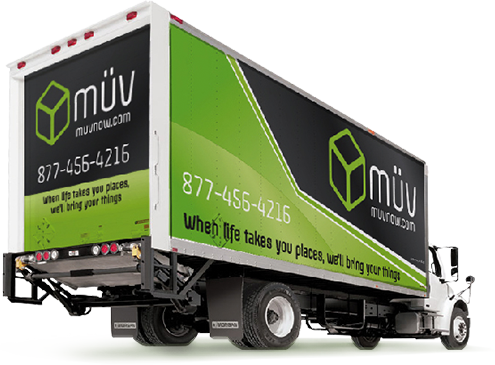 Sales Center Hours of Operation:
Monday - Friday: 9am-6pm
Saturday: 9am-1pm