Storage ideas for one bedroom apartments
Get Your Moving Quote
"*" indicates required fields
The minimalist lifestyle has become very popular in the past years. The reasons are various, from financial problems to embracing the true meaning of life. Whatever your reason for living in a small space is, you know that storage is always a problem. There is never enough space, and there is always clutter somewhere. Moving is a time when this usually changes, because everyone wants to have the chance to pay their movers less. For that reason, you can hire müv, and you will have the most affordable move possible. But once you get to your new apartment, you will still need a few storage ideas for one bedroom apartments. Because you can never have enough space.
What are some good storage ideas for one bedroom apartments?
While one bedroom apartments are not the smallest possible space that you can get, they are still quite cramped. For a single person, it can be the perfect space, but a family could use more. These apartments are usually around 600 square feet, and you will pay different prices for them depending on the city that you live in. But no matter how well you organize your items after moving with some movers Tampa has to offer, you could use more storage ideas for one bedroom apartments. Some of the best ones we can give you are:
Use shelves
Put furniture pieces to good use
Mount your TV
Shelves
It doesn't matter if you are planning to rent storage Tampa FL residents also use, or you just want to make your home more spacious, shelves are a good solution. Vertical spaces and walls are usually not part of the possible storage space. While open shelves can make your clutter look even worse, shelves with doors are a great way to add decor to the room and hide clutter at the same time. Just be aware of the weight that the shelves can carry before you overpack them because they could easily end up falling off the walls.
Use furniture the right way
Furniture pieces are very functional, in every room in our homes. But since many people struggle with storage space, creative individuals have come up with a handy solution. They turned regular furniture into extra storage space. The sofa, ottomans and bed can easily be used as extra space for hiding away extra items that you don't use every day.
Mounted TV
Nowadays, TV's only keep getting bigger, and they do take up space. Having a cluttered TV stand not only looks bad, but also disturbs you when watching. And the stand itself will take away precious space that you might already lack. Mounting your TV is a safe way of lifting it off the floor while using vertical space. Just make sure that your TV gets to your new home by hiring a packing service Tampa. Today TV's are fragile items, and you will need skilled people to do this.
Storage ideas for apartments with one bedroom help you enjoy your move
Even though one bedroom apartments seem like a small space to live in, many people live in even smaller places. We hope that our storage ideas for one bedroom apartments will make your space cleaner, and the people living there happier. And we bet that all you want after a stressful move is to be at peace in a new home.
Few simple steps
Contact our business
Reach out to our Florida movers by phone, email or through our website.
Get your free quote
Give müv the details of your upcoming relocation and receive a no-obligation moving quote and a tailored plan of action.
Enjoy your relocation
Forget about the stress of moving while one of the top moving companies in Florida handles your move.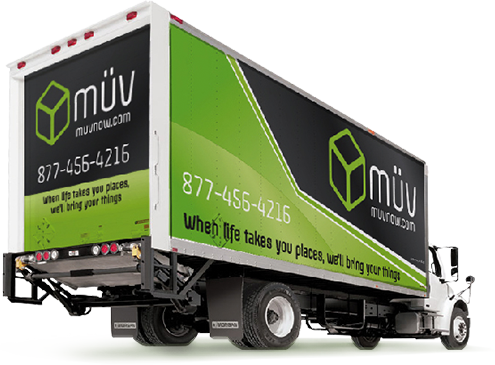 Sales Center Hours of Operation:
Monday - Friday: 9am-6pm
Saturday: 9am-1pm