The Challenges of Moving Into a Ranch Style Home
Get Your Moving Quote
"*" indicates required fields
Thinking about moving into a ranch style home? Also called rambler houses these types of homes have mostly been popular in the mid-20th century. However, it looks like they are regaining their popularity once more. But why is that? And more importantly what are the challenges of moving into this type of home? In the following article, expert Central Florida movers will show you all the pros and cons of relocating into a ranch style home.
What Exactly Is a Ranch Style Home?
For starters, it is important to explain what exactly is a ranch style home. Ranch style home is a single-story house with an open floor plan and usually has a large dedicated patio. Now, while the most important feature of these types of homes is that they do not have a second floor, it is important to note that many have a basement that can be used for guest bedrooms, home theaters, home gyms, laundry, etc.
Most popular types of ranch style homes
It is also important to know that there are several different types of ranch style homes. Here are some of the most popular:
California ranch-style home
These types of houses come in an L- or U- shape design with a rich yard in the middle. These are usually built in a Spanish-Colonial style that incorporates a flat roof and they are usually built from local materials. The biggest advantages of these homes are an easy transition from indoor to outdoor space and more light inside the home.
Suburban ranch-style home
Suburban ranch style houses are built on concrete foundations with attached garages. These are usually smaller than California ranch-style homes.
Split-level ranch-style home
Even though the biggest feature of ranch-style homes is that they are on a single level, there are also split-level exceptions. From the outside, these homes look just like a typical ranch style home but they have short flights of stairs that can lead up or down.
Raised ranch-style home (split-foyer homes)
These are usually built into a hill so you have to go up to get to a living room, kitchen, or bathroom while the basement, garage, and similar areas are built into the ground.
Storybook ranch (Cinderella ranches)
These are the most modern types of ranch style homes that put a lot of emphasis on a rich exterior. Steep roofs, decorative windows, attractive trim, pretty brick or stone chimneys, and exposed joists are just some of the features that storybook ranch style homes offer.
Disadvantages of Moving Into a Ranch Style Home
If you are considering moving into a rambler house, you have surely already seen the advantages of moving into such a home. However, when people are blinded by pros they often do not see the cons that, in some cases, might be even more important. So here are the problems of relocating into a ranch style home.
Increase cost of construction and future add-ons
Increased monthly cost
Possible lack of privacy
Smaller yard
The increased cost of construction
The biggest disadvantage of ranch style homes is that they are expensive to build. This is mostly because they require a bigger lot to be built upon. Now, if you are not the one that will be building one and you are simply renting it this is something that shouldn't worry you too much.
Increased monthly cost
Before you start searching for some local movers Orlando has to offer, it is important to understand that these types of homes are costly to maintain. Because of a single-floor layout, they are difficult to heat up and cool down, which leads to increased energy bills.
Lack of privacy
Lack of privacy is probably the biggest disadvantage of ranch style homes. First, your living room, bathroom, and kitchen will all be on the same floor. Also, these types of homes usually incorporate a more open living space with no clear separations between living and private areas. This can be particularly problematic for families with teenagers as well as people that often throw parties. Guests can easily wander into your private areas in such homes. Think about this before you hire movers in Orlando FL and move into such a home.
Smaller yard
As we already mentioned because of the flat layout, ranch style homes require more land. This means that such homes usually have smaller yards, which is a paradox since one of the main pros of living in such homes is the easy transition between outdoor and indoor spaces. Now if you want to have a pool or a garden or simply like to spend your time outdoors in your backyard, moving into a ranch style home might not be the best solution. Naturally, there are ranch style homes that are built on huge lots. However, those are more expensive to buy and rent.
There Are Also Numerous Advantages to Living in Ranch Style Homes
Those are the main challenges of moving into a ranch style home. The good thing is that most of these problems shouldn't affect you as someone who is buying or renting such a home in Orlando. You do not have to worry about construction costs and because of mild weather, you also do not have to worry about increased utility bills. So if you can cope with privacy issues and maybe a smaller yard, you will certainly enjoy many benefits that these types of homes offer  – benefits like flexibility, indoor-outdoor connection, easier maintenance, etc. If that is what you are looking for, then call your movers, rent some good storage Orlando FL has to offer, and start preparing for a move.
Few simple steps
Contact our business
Reach out to our Florida movers by phone, email or through our website.
Get your free quote
Give müv the details of your upcoming relocation and receive a no-obligation moving quote and a tailored plan of action.
Enjoy your relocation
Forget about the stress of moving while one of the top moving companies in Florida handles your move.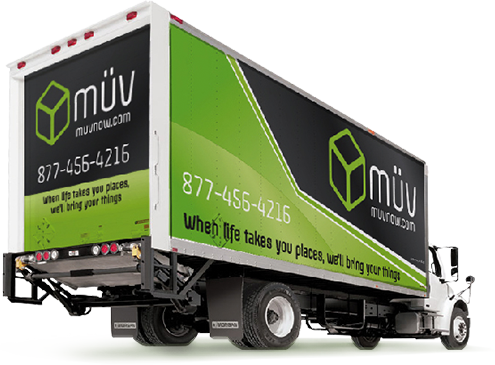 Sales Center Hours of Operation:
Monday - Friday: 9am-6pm
Saturday: 9am-1pm