Guide to Student Life in Tampa
Get Your Moving Quote
"*" indicates required fields
There are many fun things to do and explore when it comes to student life in Tampa. It's going to be a wonderful experience for you, not to mention your future career prospects. Many students decide to move to Tampa thanks to the local educational institutions. And there are a lot of local universities! First off, the University of South Florida is the largest in the area. It has an enrollment of over 50,000! But you have other options, as well. Tampa Uni, Hillsborough Community College, Saint Leo Uni, and others. With so many different options and choices, it's no wonder many people want to use the services of the reliable müv company to move to the area. But student life isn't only about a good university; you'll quickly learn why!
Exploring Different Options When It Comes to Your Education in Tampa
There are a lot of different options for you to choose from when it comes to higher education in Tampa. Here are some of the choices you'll want to explore. Keep in mind that these serve to show you just some of your options. There are other higher education institutions in the area you might want to explore!
However, these are representatives of what you might wish:
The University of South Florida. The largest institution in the area, widely known for its very high research activity (classified by the Carnegie Classification of Institutions of Higher Education). It also ranks within the top 100 universities in the USA. Moreover, as US universities are well-known academic institutions, that also places them among some of the best higher education institutions in the entire world. After all, there's a good reason why 40-50,000 students decide to enroll there each year.
The University of Tampa. This privately owned institution is ranked 21st in the Regional Universities South ranking. Moreover, it's the 34th school when it comes to Best Value Schools. Being established in 1931, nowadays it has a total undergraduate enrollment of 9,838 students (fall 2021), an urban environment, and a campus area of 110 acres, providing for excellent student life in Tampa.
Saint Leo University. Another great choice for those who want to study at a privately-owned Catholic school located just 30 minutes away from Tampa. It's rated #331-440 in the list of 443 National Universities across the US. There are 7,843 undergraduate students enrolled. The university provides 46 bachelor's degrees and charges students $23,100 in tuition and fees.
Social Life Makes a Huge Difference for Student Life in Tampa
We strongly believe that the good life of a student in Tampa is a lot more than just selecting a good school. When you're done studying and the finals are behind you, you'll want to have the possibility to do lots of fun stuff. That is precisely why Tampa is such an excellent choice. Thanks to its great location, just next to the ocean, there's a never-ending show of parties, cultural activities, and otherwise fun opportunities. The city's strong economy provides a variety of different student jobs, meaning you can spend your summers working and enjoying the Tampa weather and beaches. Imagine that! Use that to your advantage by using companies for moving and storage Tampa offers!
As a student in Tampa, there are several options when it comes to having fun in the city. The city is recognized for its active nightlife, with a diverse selection of bars, clubs, and restaurants. Whether you want to dance the night away or just have a drink with pals, you'll find something to your liking! Ybor City, SoHo, and Channelside are all prominent nightlife districts in Tampa. These neighborhoods have a range of entertainment alternatives, such as live music, comedy clubs, and sports bars. Many students are using the services of local movers in Tampa to relocate to the area and start their new student life there. And you can, too! There's a good reason so many people love studying here.
Spending your time in the city and exploring different Tampa opportunities
Busch Gardens and Lowry Park Zoo are two of the city's parks and wildlife preserves where you may spend the day exploring and enjoying the Florida sunshine. Furthermore, because of the city's proximity to the Gulf of Mexico, you may easily spend a day at the beach or on a boat. There are also many more leisure activities available, such as indoor rock climbing, go-karting, and paintballing. In addition, there is a flourishing arts and culture scene in the city, with various museums and theaters to explore. As a student in Tampa, you'll never be bored because there are so many possibilities! And thanks to the city's strategic position St. Petersburg, Lakeland, or even Orlando are not too far away! The possibilities are truly endless when you're a student in Florida.
Moving to the Area and Starting Your Life in Tampa as a Student
Relocating to attend university is most often one of the first major relocations for lots of students. That's why it can seem scary to do it, but there's no reason to! After all, it's similar to lots of other kinds of moves. Don't worry about anything, as you have plenty of time to prepare for your student life in Tampa. There are many moving companies you can choose from in the area. Moreover, lots of them offer extra services, such as storage Tampa FL service, that you may need! Even if you're staying in a dormitory, local storage options can help you keep your excess belongings in a safe and readily accessible place. With the right movers, you can be in Tampa in no time — or just in time for your University begins!
References:
https://carnegieclassifications.acenet.edu/lookup/view_institution.php?unit_id=137351
https://www.usnews.com/best-colleges/university-of-south-florida-1537
https://www.usnews.com/best-colleges/university-of-tampa-1538
https://www.usnews.com/best-colleges/saint-leo-university-1526/overall-rankings
https://www.bestplaces.net/economy/city/florida/tampa
Few simple steps
Contact our business
Reach out to our Florida movers by phone, email or through our website.
Get your free quote
Give müv the details of your upcoming relocation and receive a no-obligation moving quote and a tailored plan of action.
Enjoy your relocation
Forget about the stress of moving while one of the top moving companies in Florida handles your move.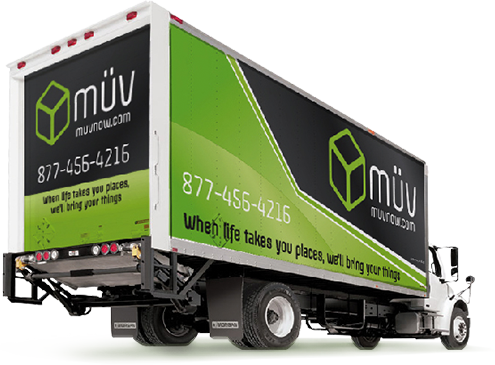 Sales Center Hours of Operation:
Monday - Friday: 9am-6pm
Saturday: 9am-1pm