Ultimate Moving Checklist
Get Your Moving Quote
"*" indicates required fields
You have your new home or office all picked out and now it is time to move! The first thing to do is to make an ultimate moving checklist that includes all of the tasks that need to be completed. Let the fear of forgetting to do something disappear with our ultimate checklist for moving. To help keep you on track and eliminate the stress of moving, müv has gathered the most important information. The list details the essential steps and includes a suggested timeline. If you're starting less than eight weeks before your move date, that's okay, you can customize this list according to your own timeline, and add steps or leave out ones that don't apply.
What Is the Ultimate Moving Checklist
As you can imagine, there are some tasks that need some time to be prepared and done. But, keep in mind that when you hire home movers in Florida, even if you misread something or you do not plan it correctly, these professionals are here to help you out.  Separate the tasks for each month during the process of the relocation.
The best time to start is a couple of months before the moving day. And the most helpful thing you can do is to lace the checklist someplace visible. That would be in a place where most of the family members spend time. The kitchen, the living room, it does not matter, as long it is visible to everyone. At the same place, make sure you have placed the contact information about labor only movers in Florida you have hired. So that when you need some piece of information, you can easily get in touch with them.
Two Months Out
Start saving for moving expenses (packing supplies, movers, hotel stay, storage, etc.)
Create a "moving file" that includes all documentation and records associated with your move.
If you're hiring movers, schedule an in-home estimate or get a free online moving quote.
Do a complete home inventory of what stays and what goes.
Collect any unwanted items – it's time to purge!
Start packing items that you don't need until after you move (storage items, filing cabinets, holiday décor, gardening equipment, etc.)
List things that need to be repaired, replaced, or cleaned up before you move.
If you have children moving to a new school district, now is a good time to register them with their new school and start transferring their records.
Six Weeks Before Moving Day
Hire your moving company and finalize your contract.
Donate unused items to charities (keep donation records to deduct at tax time).
Plan a garage sale or sell any items left after donations on online marketplaces. This will also help you determine how many items you have. This is the most important information you will have for the packing services you opt for.
Get copies of school, medical, and pet veterinarian records.
Let your bank and credit card companies know that you will be moving.
If you need to change healthcare practitioners, ask your current providers for referrals in your new location.
Label video, audio, and computer cables and take pictures of the plugs for easy reassembly.
Take measurements of your new home or office to make sure your furniture will fit. Measurements are also helpful if you need to buy items to fill your new space.
A Month Until Move In
A month before your moving day is the right time to speed up and double check some of the tasks. You should:
Arrange for your movers to assess what needs to be moved.
File your change of address with the U.S. Postal Service.
If you're packing your items yourself, buy moving supplies – things like boxes, tape, markers, moving blankets, and plastic bins.
Pack your items room by room – make sure to organize your items, wrap anything fragile, and label your boxes.
Contact your utility and service providers (electric, gas, telephone, internet, cable, water and lawn service, insurance agent,) to arrange a date to discontinue or transfer services.
If you're currently renting, arrange for your landlord to return your security deposit.
Also, if you are renting or you are staying in temporary housing, you should hire storage services in Florida, so you will have a safe place to put your valuable items and stuff you have no room for.
Collect any items that you let friends and family borrow.
Arrange for your pets and plants to be transported.
Use up items you will not be able to move easily, like frozen food, pantry items, and aerosols.
An additional tip that comes along with an ultimate moving checklist
If you are traveling with your pets, you should know important details about the permission you will need for that. There are some countries and cities that require you to have special permission for relocating your pets to a certain state. Make sure you have checked them and prepared the documentation. Also, the pet must be checked by the local veterinarian and be healthy to travel. Do not live your pet without its routine. They will feel like something is changing. But if they have the same route and they eat and sleep at their usual time, you will not have a stressful pet to relocate.
Two Weeks Before the Moving Day
When there are only two weeks left before your moving day, it is time to check if you have everything necessary.
Avoid having to rearrange heavy items after moving day by sketching your home or office and marking where you want your items to be placed. You can hire Florida office movers to help you with your office supplies.
If you're moving during the week, let your employer know that you'll be taking time off work.
Collect valuables and documents that will travel with you (not in moving boxes):

Birth certificates
Marriage licenses
Vehicle titles and registrations
Insurance paperwork
Medical records
Bank records
School records
Veterinary records
Fine jewelry and valuable items
Final Week Is for Completing Your Ultimate Moving Checklist
Hiring movers in Florida will save you a lot of time, especially when the final week of your moving process comes. In any case, you have to:
Pay any outstanding bills with local businesses.
Set aside items you're carrying with you, like:

Cell phones, tablets, and chargers
Prescription medicine
Car keys
Travel clothing

Collect items you've hidden, like a spare house or car keys.
Get medications refilled.
Pack a box with essentials like:

Bedding
Toiletries
Light bulbs
Basic tool set
Kitchen essentials if you plan to cook

Deep clean your current and new home or office.
Arrange for deliveries of any new items like appliances, and furniture.
Empty and defrost your freezer and refrigerator.
Why are essentials important?
If you have an essentials bag, you will not be in an unpleasant situation. This means that you will have everything ready for your first night in your new home. Or in temporary housing. That is why packing everything you need is important. Charge your phones the night before the move. And check if you have all your papers gathered together. If you have an essentials bag and you have just experienced long-distance relocation, you do not need to unpack right away. You will have everything you need in this bag. So the first night or two, you can use it to relax and freshen up after the long ride.
Moving Day Has Arrived
If you want to know every little detail about the moving day, read our blog section and you will find all the valuable information. However, the most important things you should do are listed below:
Exchange cell phone numbers with your movers and give them precise directions to your new home or office.
Take pictures of your current home or office and perform a final inspection.
Check all closets and drawers to make sure you are not leaving anything behind.
Lock all windows and doors to protect the home or office that you are leaving.
Leave garage door openers and keys for the next owner.
Make sure someone is available to direct movers and answer questions.
Make sure you have your payment ready for the moving company and cash on hand should you like to tip your moving crew.
You Made It!
After checking to make sure utilities are set up in your new home or office, it's time to catch your breath. You made it! Hopefully, by following our ultimate moving checklist, everything is ready. You have made the right decision to contact us and let us help you during the process. Now you can enjoy it.
Few simple steps
Contact our business
Reach out to our Florida movers by phone, email or through our website.
Get your free quote
Give müv the details of your upcoming relocation and receive a no-obligation moving quote and a tailored plan of action.
Enjoy your relocation
Forget about the stress of moving while one of the top moving companies in Florida handles your move.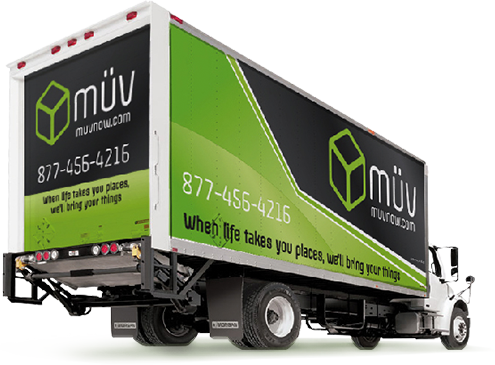 Sales Center Hours of Operation:
Monday - Friday: 9am-6pm
Saturday: 9am-1pm