5 Precautions to Take During Relocation
Get Your Moving Quote
"*" indicates required fields
When a move knocks on your door, many things will change radically. There are many crucial things on your to-do list. One of the priorities is to ensure your belongings arrive safely at your new address. At the same time, many things need to be done as quickly and efficiently as possible. It's a lot of work, so be sure that help is both welcome and necessary. During the move, in addition to protecting the stuff, you also need to protect yourself. Packing, lifting heavy items, and working on the ground require experience and strength. Therefore, to be well prepared for moving day, Central Florida movers has prepared five precautions to take during relocation.
The Precautions You Need to Take During Relocation
Every move brings certain risks if you are preparing it alone. However, with our tips, even better, with the help of a moving company, nothing will go wrong. Precautions you need to take include:
not overloading the boxes,
getting the right equipment,
knowing how to lift the items,
clearing the way,
getting some rest.
Don't overload the boxes
During the packing process and all the moving rush, you will probably try to fill the boxes as quickly as possible with the maximum number of items. An average-sized box can hold 100 pounds of books, but that's not good for your back. Packing boxes are designed for a certain weight, but ask yourself if your knees and back can handle it. It is recommended that you pack no more than 50 pounds in small boxes and less than 60 pounds in medium boxes. Pack a maximum of 70 pounds in large boxes. Extra-large boxes are suitable for large items, but not for those that are too heavy.
Also, consider what you can safely pack in a cardboard box. Hardcover books are too heavy for a cardboard box. Plastic containers are more practical and shouldn't overfill either. When the time comes to lift, ensure you have a friend's help and the right equipment. Don't overestimate your capabilities. That is one of the most important precautions to take during relocation.
Get adequate moving equipment
Don't wait until moving day to realize that you are missing appropriate equipment. You don't need the extra stress in these circumstances. Don't be guided by the idea that you can do everything yourself. Help, in the form of proper equipment, is necessary for safely transferring items from one place to another. Hiring professional support, such as movers in Orlando FL, will make the whole process much more convenient and easier. With experienced crews, the right equipment is an integral part of their job. If you decide to handle this part of the job yourself, think about what you need ahead of time.
Moving dolly – There are two types of carts: the two-wheeled appliance dolly and the four-wheeled furniture dolly. You can rent or buy them.
Furniture sliders – With the help of plastic or rubber glides, you can move furniture easier instead of carrying it. Moving furniture can be one of the most tiring tasks, and furniture glides will make it more effortless.
Gloves – Use them to move sharp or slippery objects and to protect yourself from injury. Choose gloves made of an appropriate material.
Straps – These are used to wrap items and join or tie them together. They come in various materials: paper, steel, plastic, and fabric. It all depends on the type of material you are holding together.
Strong duct tape – An essential part of your equipment when moving. It will help transfer items from one place to another. At the same time, it is flexible. Putting tape on the bottom of furniture will protect the floor from scratches. Taping the boxes will make them more durable.
One of the precautions to take during relocation is the application of safe lifting techniques
Once we have learned how to pack items safely and what equipment we need, then the next step is to learn how to lift and move stuff safely. The hustle and bustle of relocation can cause tension too. All it takes is a little carelessness to cause serious injury. Be aware that you don't do this kind of work every day and that back injuries, cuts, knee injuries, or sprains can easily occur. The best decision is to leave this job to professional moving companies. Otherwise, when handling heavy objects, there are certain precautions to take.
When lifting your back, always keep it straight and bend it with your knees.
Do not arch your back when carrying heavy objects. Rotate your whole body with your feet.
Keep heavy items close to your waist to keep you upright.
Use proper gloves and hold the object you are carrying firmly in your hands.
Do not play superhero while loading the truck. Be conscious of your capacities, and don't hesitate to ask for help. If you don't have a lot of experience and resources, packing can be a time-consuming process. Luckily, opt for packing service Orlando has to offer because the professionals will do this part of the job efficiently and safely, making it easier to transfer items.
Make exit routes passable
We know that preparing for a move can create a chaotic situation in your home. We are surrounded by tons of items to pack, furniture and boxes. Remember, one of the precautions to take is to clear all passages of obstructions. That includes hallways, stairways, and exterior accesses to your home. To stay organized, review your route ahead of time. Provide outside access if there is mud, water, or ice. Your safety must come first. If you don't know what to do with some of the items, there is always storage Orlando FL has. These storage units are adapted to your needs in safe conditions.
Get a good night's rest before moving day
Finishing work at the last minute is not a solution. It will inevitably lead us to stress and anxiety in which we will not be productive. Start your preparations on time and maintain your daily routine. We also need good nutrition, fluid intake, and rest. Otherwise, we put our bodies in a state of stress that can lead to various accidents. Lack of sleep makes us lethargic and irritable in a situation requiring us to make many decisions. Also, during moving day, take breaks, eat balanced meals and drink enough fluids. These precautions will be helpful for a smooth arrival in a new home.
Don't Take the Moving Preparation Lightly
You have seen what precautions to take during relocation. Don't underestimate the moving process and make sure you do everything from the list. That is the only way that your relocation goes smoothly and that you enjoy your new home as soon as possible.
Few simple steps
Contact our business
Reach out to our Florida movers by phone, email or through our website.
Get your free quote
Give müv the details of your upcoming relocation and receive a no-obligation moving quote and a tailored plan of action.
Enjoy your relocation
Forget about the stress of moving while one of the top moving companies in Florida handles your move.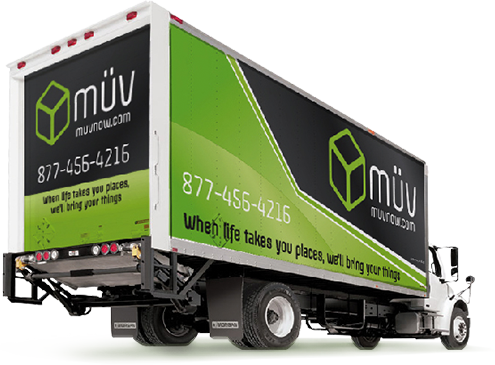 Sales Center Hours of Operation:
Monday - Friday: 9am-6pm
Saturday: 9am-1pm