4 key things to know before moving to Orlando
Get Your Moving Quote
"*" indicates required fields
One of the biggest cities in the Sunshine State of Florida, Orlando is becoming an increasingly popular place to live in. People who love living in a warmer climate and like a great mix between work and play are especially drawn to this city. However, if you are unsure about your move yet, müv Florida is here with 4 key things to know before moving to Orlando.
1. Leisure time
Before we delve deeper into key things to know before hiring movers and relocating here, we should remember to talk about leisure time. After all, we all need to spend our time having fun and not just working. Endless possibilities of relaxation and entertainment are one of the critical things you need to know about before you move to Orlando.
Restaurant scene
For all of you who enjoy a good meal and drink, Orlando will not disappoint. New restaurants are opening every day in Orlando, and the food scene here has a lot to offer. If you love fresh seafood and southern cuisine, you will love this city. However, if you are more of a beer or a wine type, you will fit right in. Breweries are incredibly popular here, and every year The City Beautiful holds an annual Wine Festival.
Sights and attractions
If you are a fan of the outdoors and beautiful landscapes, Orlando is the city for you. One of the key things that make The City Beautiful beautiful is the scenery. If you are a fan of theme parks, you will love living next to some of the biggest ones. The list (yes, a list) of theme parks includes:
Disney World
Universal Studios Theme Park,
SeaWorld.
And if you are more of an outdoor type who likes kayaking or hiking, you will have no problems doing that without ever leaving the city. Orlando is surrounded by beautiful nature, which is one of the many things you do not want to miss out on once you move there.
2. Cost of life
Cost of living is one of the most important factors to know before moving someplace. Luckily, Orlando has a low cost of living, making it a great place to live. Because of its relatively low cost of living, it has become a popular place, especially among international ex-pats. If you are moving from a state with a higher cost of living, the move can eventually pay for itself and even for moving services in Orlando.
Overall, the cost of living in Orlando is around 5% lower than the national average. More specifically, housing and transportation are the key things you will spend less on. However, groceries and utilities tend to go higher than the national average. Groceries are on average 2% costlier than in the rest of the state, and utilities are almost 10% more expensive.
Real-estate market
Rent almost always takes the most significant chunk out of your paycheck. This depends on more than one factor, such as your neighborhood, your salary, and the type of household. However, Orlandoans usually spend around 40% of their salary on rent, and the median rent for a one-bedroom apartment is $1,473 and $1,751 for a two-bedroom.
3. Job opportunities
As residential movers Orlando know, people usually move due to changing jobs. This is one of the key things you will have to check before moving. Orlando is home to many Fortune 500 companies' headquarters. According to a study done in 2019 by WalletHub, Orlando was ranked the third best city in the US among 180 other cities. The unemployment rate in Orlando is continually dropping and is expected to outpace the national average.
Popular job sectors
If you work in the hospitality sector, you won't have a problem finding a job in Orlando. This sector had a rough time during the pandemic but is expected to have the most significant growth at 8.1%. As the Boomers generations retire, white-collar jobs will be growing in demand. The professional and business sector, however, always is in demand nationwide.
4. Why the climate should be one of the key things to know before moving to Orlando
If you want to settle in for a longer time, you should be aware of the climate. Orlando is beautiful and sunny, but it might not be the best option for you if you are more of a winter type. This city gets hot and humid during the summer. If you are the type of person, who despises the hot weather and doesn't like a warm summer day by the pool or on the beach before you call on local movers Orlando, you might look into some other places. However, a year-round warm climate has its perks as well.
If you are a person who depends on air-condition to survive the heat, that means that Orlando may not be as affordable. As we mentioned, utilities tend to cost more here, which will definitely affect your cost of living.  Orlando is perfect for people who can relax and enjoy a lazy Sunday by the beach which are only an hour drive away.
Final thoughts on key things to know before moving to Orlando
We are all different kinds of people, and different things are important to us. Of course, there are more than 4 important things to know before moving to Orlando, and only you know what's important to you. Hopefully, our guide to the city of Orlando has captured the universal key things you should know before you decide to change addresses. Since moving can be stressful and a generally tough decision to make, you can always rely on professionals who can make a move easier. We have no doubt that with this guide you will make the decision that-s right for you.
Few simple steps
Contact our business
Reach out to our Florida movers by phone, email or through our website.
Get your free quote
Give müv the details of your upcoming relocation and receive a no-obligation moving quote and a tailored plan of action.
Enjoy your relocation
Forget about the stress of moving while one of the top moving companies in Florida handles your move.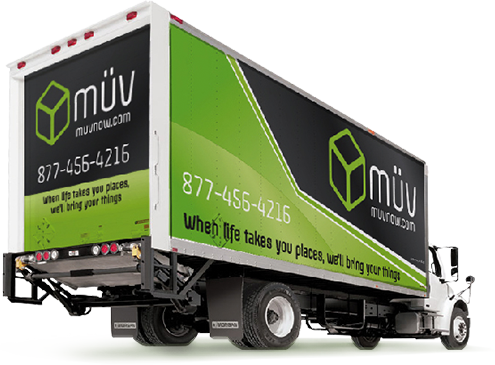 Sales Center Hours of Operation:
Monday - Friday: 9am-6pm
Saturday: 9am-1pm